For the second time this week, ageing media kingpin Rupert Murdoch has had his fundament handed to him on a dish as the feud between the Murdoch-owned newspaper The Sun and comic-turned-activist Russell Brand ramps up.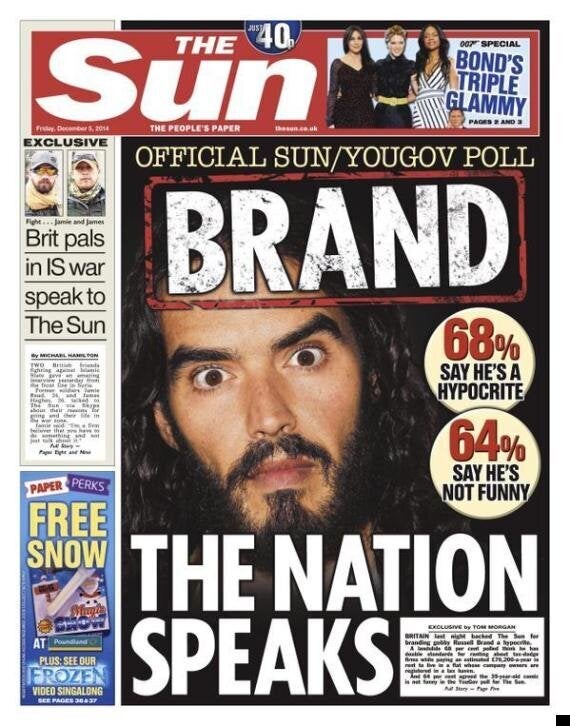 The Sun's front page claims that 'the public is on our side'
Responding to Friday' story, Brand launched an extraordinary attack on the newspaper and its Antipodean owner over its pretense to represent Britain's working class. "Why is The Sun so keen to prevent ordinary working people from having a voice?" he said on his online news show The Trews.
"They know if they attack me, the issues don't get discussed. The issues are big companies are avoiding tax while ordinary people are getting shafted. The Sun says it's the paper of the people, your Sun, Britain's Sun - but it isn't.
"It's the paper of corporate Britain, of corporate America; it's the paper of crushing ordinary working people, of disparaging and criticising people when they're suffering the most. Victimising us, turning ordinary working people against on another.
"It's about exploitation of ordinary working people, creating sensationalism whilst ignoring the people it's supposed to help."
"It's rented," shot back the activist, before telling the reporter, "I'm not here to talk about my rent, mate. You're a snide."
In his latest rant, delivered from the back seat of a car, Brand decried Murdoch for exploiting tax loopholes paid for by corporate lobbyists, and the CEO of polling company YouGov, Stephan Shakespeare, a man who once tried to become a Tory MP.
"So we know from the Sun's ad hoc survey run by a bunch of Tories that 64% of people think I'm not funny. Do you know what I think is less funny, that Rupert Murdoch pays people to create laws that means he doesn't have to pay taxes to support a society while running a newspaper that claims to support ordinary working people."
Brand adds: "Should we be boycotting The Sun like the people of Liverpool? Should we be giving money over to an organisation that doesn't respect us?"