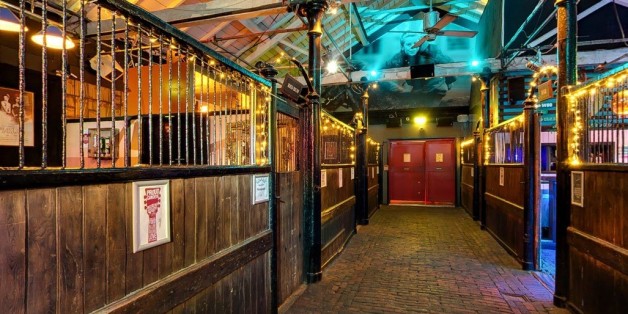 proud
A London bar owner has said he is putting principles before profit by canceling a lucrative Christmas booking that asked if the venue was gay because "it's against some people religion" (sic).
Alex Proud, owner of the Camden club that bears his name, wrote a searing email in response to the enquiry sent by a (unnamed) major international car firm.
Some BIG companies (who will remain anonymous) tolerate homophobia. We do not. You should not. >> pic.twitter.com/NDeYG50ryX

— Alex Proud (@AlexanderProud) December 6, 2014
The email reads: "We have our Christmas staff party booked for next Friday at Proud.
"Some of our staff have been told that proud is a Gay bar, is that correct? We need to know as it's against some people religion so we will need to make them aware."
To which Proud replied: "I think best we cancel your visit. We are pretty gay and a lot of gay stuff happens here.
"Gay drinks, gay food, gay loos etc…
"Sorry to disappoint.
"Booking cancelled."
Proud told BuzzFeed: "I think some people think homophobia is a thing of the past – there were a lot of people out there who think it's a fair question. A lot of people think you can justify homophobia using religion.
We are gay. Our food is gay, our loos are gay. If you don't like it you are not welcome. http://t.co/et7716NMxL

— Proud Camden (@ProudCamden) December 6, 2014
"Proud Cabaret is a cabaret club so it's absolutely full of queens, 30% of my staff are gay! It's an extremely fun, vibrant, incredibly gay-friendly place. I'm proud that many of my staff represent all sorts of minorities."
Proud Camden has cancelled the booking for a Christmas Party after homophobic emails. Good on them! pic.twitter.com/ek5WjB4IOy

— Luke Karmali (@lukekarmali) December 8, 2014
Well done @AlexanderProud for declining a homophobic party booking at @ProudCamden. Compare his great response to @CanteenLondon last week

— CllrJonathan Simpson (@CamdenJonathan) December 8, 2014
well done this man. no excuse for homophobia. i have nothing but contempt for those who display it. http://t.co/fq1CKVpWyC

— Sameena Zehra (@sameenazehra) December 8, 2014
There is no place for homofobia in #Camden. Thanks @AlexanderProud! http://t.co/gPJWcGJ76q

— lazzaro pietragnoli (@lazzarop) December 7, 2014