Natasha Bolter, one of Ukip's most high-profile women candidates, defected from the Labour party in September.
The 35-year-old claims that Bird propositioned her over dinner on the day that he interviewed her as a prospective candidate, according to The Times. Bolter denied having a relationship with Bird, who she says sexually harassed her in her Ukip interview
Bolter said she was propositioned by Bird after he invited her for dinner at his London club following her interview: "He asked if we could continue the interview at the Oxford and Cambridge Club that evening," she said.
"I thought it was because I was nervous. (But) when I went I could see that he wasn't really interested in what I had to offer as a politician."
"He took me down to the snooker room and said 'I find you very attractive'. He said, 'Would you like to come home with me?'," Bolter told The Times.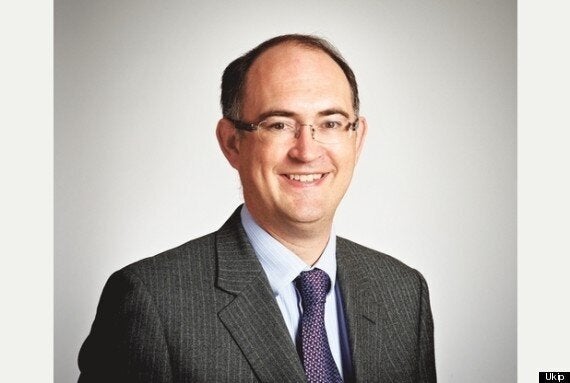 Roger Bird has been suspended on full pay
Mr Bird told the BBC: "We were in a relationship briefly, but that relationship developed well after she had been admitted to the approved candidates list, so her selection was not connected to that."
Ukip said Mr Bird had been suspended on December 7 pending a full investigation into the allegations relating to candidate selection.
A Ukip spokesperson commented: "Unfortunately, UKIP has had to suspend Mr Bird pending a full investigation into allegations made against him. The party has acted swiftly and decisively and will not tolerate impropriety of any kind amongst its staff."​​
Ukip disputed reports that Ms Bolter had now quit the party after the Times reported she had pulled out of the hustings to become the party's parliamentary candidate for the winnable seat of South Basildon.
A spokesman said her claims were being taken "extremely seriously".
The party says external human resources consultants have been involved in the process, which follows its constitution. Bolter was a headline speaker at Ukip's conference this Autumn
According to his LinkedIn profile, Mr Bird had been Ukip general secretary since July 2014 and had previously been finance director at Astrum Education and Alpha Plus Group. He has also served as the party's chairman in the South East.
A former Conservative councillor in Wandsworth, south London, Mr Bird quit the Tories in 2009 and switched to Ukip a year later.
He was named last year as Ukip general election candidate in the Surrey constituency of Mole Valley.