John Cleese recently appeared on the Graham Norton Show, alongside Taylor Swift and cricketer Kevin Pietersen, and he's revealed now that something happened on the show that evening that changed his whole attitude to his career.
Graham's final guest that evening was Neil Diamond, who was persuaded to entertain the audience with his most famous song, and John Cleese admits he was overwhelmed by the response.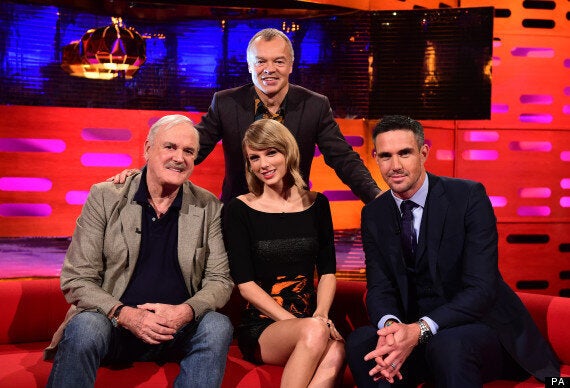 John Cleese appeared on the Graham Norton show alongside Taylor Swift and Kevin Pietersen
"I know less about music than anyone you've ever met," he tells HuffPostUK, "but I watched the whole audience singing along to 'Sweet Caroline', and I realised they were all happy.
"It was the same at the O2 in the summer, when the Pythons were performing.
"I suddenly saw these 16,000 people, unified by one thing of liking this kind of comedy. There was a friendliness, a warmth, a bonhomie.
"Everyone's having a good time, and that's fine, because I've reached the point now where I think we can't fix society, humans are too weak, run by their own egotistical means, so we're always going to be run by people a bit selfish."
John admits this has been a recent change in attitude for him, after years of decrying his comedic craft, of which he remains an acknowledged master.
"Before, I was very likely to say things like I'm terribly famous but I didn't invent a cure for cancer and be entirely sincere. But these two experiences really got to me, it was something of an epiphany."
Although 'Fawlty Towers' remains one of the great favourites in any poll of most beloved comedies, John also reveals to HuffPostUK why he is never tempted to try to reboot it, or create any kind of sit-com.
"We got the emotions right, people loved it," he says happily of his 1975 masterpiece, that never seems to date like other comedies, and still stands up to repeated viewing.
"You wanted it to be as good as possible, and it's done and you're proud of it, and then you suddenly realise that the bar has now got too high.
"If I ever tried to do Fawlty Towers-type sitcom again, everyone would say, "Well, it's got its moments, but it's not as good as Fawlty Towers", so there's not much point in doing that.
"About 20 years ago, I realised what a dreadful thing it was for Orson Welles to have made 'Citizen Kane' so young. All he did was make a masterpiece, but people are always judged by the masterpiece. So you have to do different things."
For John, this has involved writing psychology books and making films as well as reuniting with the Pythons, but his new memoir 'So, Anyway' concentrates on his childhood and early adulthood. Further volumes on his later life are promised.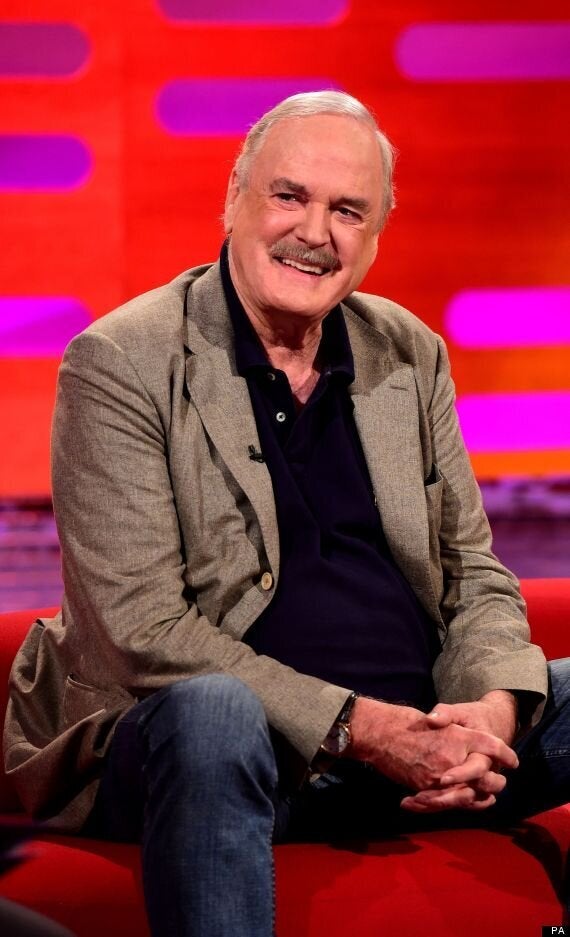 John Cleese explains why he'll never reboot 'Fawlty Towers' or even make another sitcom - "the bar's too high"
He says it was a joy to write, despite having to relive his ineptitude with women, which he says stayed with him until he was 35 – due, in part apparently, due his attending an all-boys school, and having an emotionally distant mother.
"When you look back on evenings spent in despair, being dumped by a girl for the third time in a month, you can look back without any self-pity at all," he chuckles.
"So it's much easier to write about, you may remember what happened, but you don't experience any of the angst, so it makes it very pleasant."
Related