If you've been outside recently or even looked out the window you won't be surprised to hear the UK is being battered by a so-called "weather bomb".
Stormy weather is causing disruption across parts of the UK with power cuts, ferry and train cancellations and difficult driving conditions.
The Met Office has issued an amber ''be prepared'' warning for the west coast of Scotland, the Highlands and Islands, Orkney, Shetland and Northern Ireland. Weather bomb! Giant waves crash over Whitehaven lighthouse
A weather bomb - known as explosive cyclogenesis by meteorologists - happens when there is a rapid fall in pressure in the central section of an area of low pressure.
The level has to fall by 24 millibars in 24 hours in our latitudes to be classed as a weather bomb.
They happen most frequently over sea near major warm ocean currents, such as the western Pacific Ocean near the Kuroshio Current, or over the north Atlantic Ocean near the Gulf Stream.
Dr Steven Godby, an expert in natural hazards at Nottingham Trent University, told Huffington Post UK: "Infamous examples of weather bombs include the storm that wreaked havoc during the August 1979 Fastnet yacht race, claiming the lives of 15 competitors, and the 1991 Perfect Storm off the north east coast of the United States, which was the inspiration for the novel and film that told the story of the sinking of the fishing vessel Andrea Gail."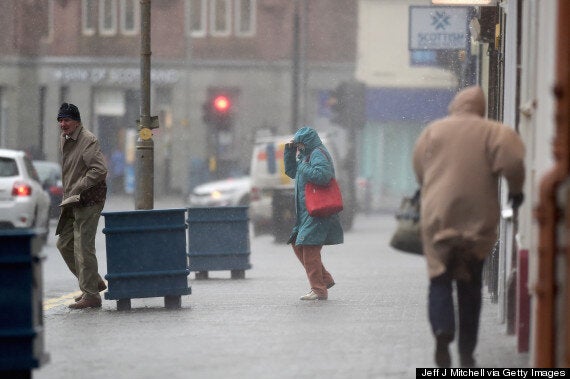 A windy, rainy day in Troon, Scotland
A gust of 81mph was recorded in Tiree at 10am while South Uist was hit by a 79mph gust at 9am and Islay by a 77mph wind at 5am, according to the Met Office.
Winds of around 50mph have been recorded in north-west England and North Wales, where yellow "be aware" warnings are in place.
The whole of the Western Isles was left without power after an outage just before 7am.
Scottish Hydro Electric Power Distribution said its engineers were working to restore supplies to the 17,500 customers affected.
Elsewhere, a rescue operation was launched to help a fishing vessel which issued a Mayday call at around 5.30am after it was hit by a wave that smashed windows on the bridge.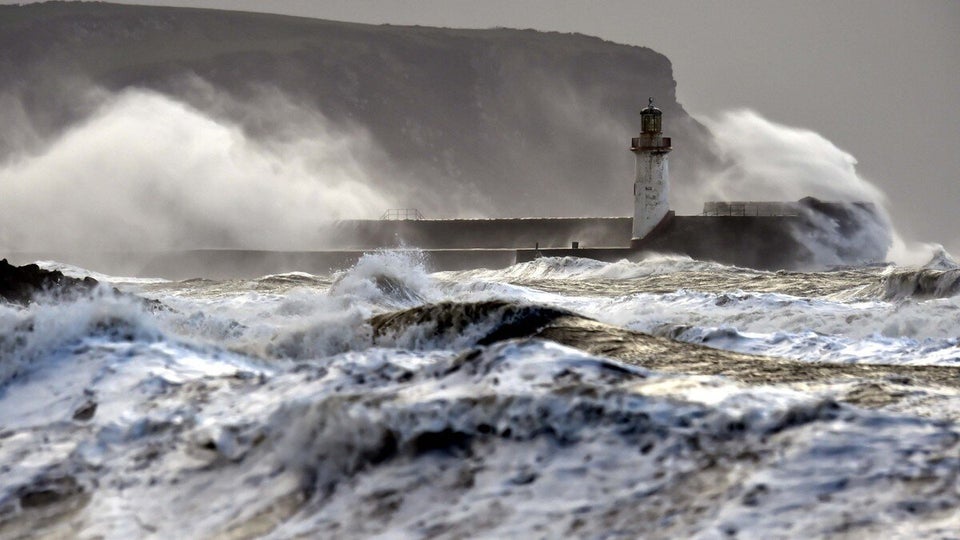 UK weatherbomb
The Shetland Coastguard rescue helicopter and Stromness Lifeboat were sent to the scene off Orkney.
The lifeboat is escorting the British-registered vessel, which has a Spanish crew, to Westray in Orkney. None of the 16 crew are thought to be injured.
In Aberdeenshire around 20 cars were freed after they were stuck in icy conditions at Cairn O'Mount, while the Forth Road Bridge was closed to high-sided vehicles and the Tay Bridge was only open to cars.
Steve Willington, chief meteorologist at the Met Office, said: "Very strong winds are likely to affect northern and central parts of the UK from early Wednesday and last through until early Thursday as a very deep low pressure system moves slowly eastwards between Scotland and Iceland.
"A period of severe gales is likely over northern and central Britain, as well as the potential for storm force winds over north-western coastal areas of Scotland."
The process behind the storm - rapid cyclogenesis - is known colloquially as a weatherbomb.
Fifteen flood warnings and 12 flood alerts have been issued by the Scottish Environment Protection Agency (Sepa).
Many ferry services operated by Caledonian MacBrayne, which operates in the west of Scotland, have been cancelled or disrupted while the Argyll Ferries service between Gourock and Dunoon has been suspended.
There were also disruptions and cancellations on NorthLink Ferries services between Orkney, Shetland and the mainland, while P&O said its Larne and Cairnryan sailings were operating with delays of up to at least two hours, with disruption expected throughout the day.
Several train services will be cancelled as a safety precaution, Network Rail and train operator ScotRail announced.
Western Isles Council said all its schools and nurseries will be closed as police have advised the public not to travel unless it is absolutely necessary.
All depots, libraries, museums and sports facilities in the Western Isles are also shut.
Several schools and nurseries in the Highland Council area have been closed.
Scotland's Deputy First Minister John Swinney told BBC Radio Scotland: "It is important to keep this in context.
"It's not a surprise that Scotland faces severe winter weather, we face it to a greater or lesser extent every year. This morning we're wrestling with a number of different issues."
He added: "I think it's important to remember that this is weather which is characteristic of winter weather in Scotland and what's important is that we take the necessary steps to prepare for it.
"That involves the public authorities preparing for it but also members of the public being aware of the circumstances as well."
Councils south of the border insisted they are prepared for the plunge in temperatures, with gritters ''out in force'' and depots filled with about 1.3 million tonnes of salt.
Popular in the Community