The Government is facing fresh questions over whether it sought to cover up "embarrassing information" about alleged British complicity in torture after details emerged of meetings between UK ministers and officials and the US Senate Intelligence Committee investigating the CIA's abuse of detainees.
As revelations continued to emerge from the controversial report, Labour leader Ed Miliband was also forced to defend his brother and former leadership rival David, who was foreign secretary between 2007 and 2010.
The report was published on Tuesday with no references to British activities - though it revealed the CIA has falsely claimed its torture had foiled terror attacks on Britain.
Details of 24 meetings since 2009 between UK politicians and diplomats and members of the committee have now been disclosed following a Freedom of Information Act request.
Home Secretary Theresa May, Labour former minister Lord West and the UK's ambassador to Washington held meetings with the US politicians while they were working on their inquiry, the information obtained by human rights group Reprieve showed.
Downing Street has confirmed that British spies spoke to their US counterparts to discuss potential redactions to the damning report on "national security grounds".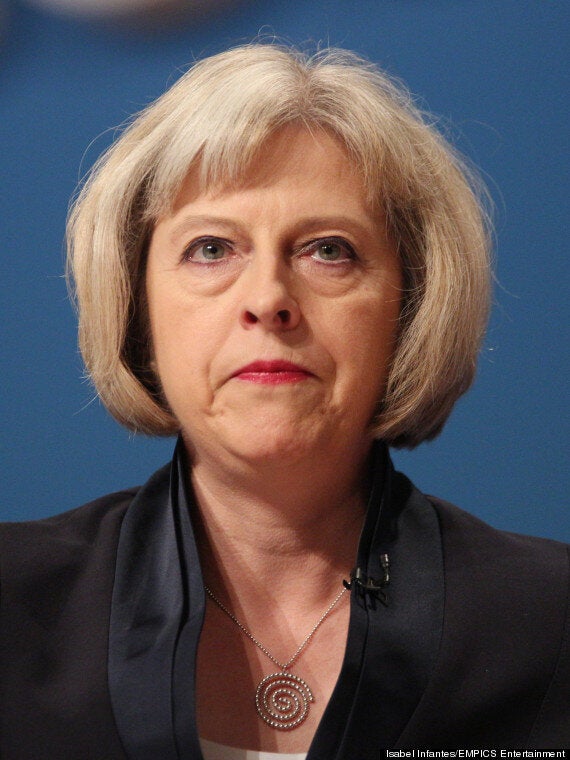 Theresa May was among those who tried to keep Britain out of the report, it was reported
But details of the meetings led to further questions about the extent of British influence over the report.
Reprieve spokesman Donald Campbell said: "We already know that the UK was complicit in the CIA's shameful rendition and torture programme.
"What we don't know is why there is no mention of that in the public version of the Senate's torture report.
"There are important questions which members of the current and the previous governments must answer: did they lobby to ensure embarrassing information about the UK was 'redacted' or removed from the report?
"Theresa May and Lord West - a former Home Office minister - both met with the Senate committee while it was working on this report. They need to provide clear answers on whether they sought to lobby the committee to keep embarrassing information about the UK out of the public eye."
In a letter to Reprieve in July, William Hague - then the foreign secretary - said: "The UK Government has not sought to influence the content of the Senate report.
"We have made representations to seek assurance that ordinary procedures for clearance of UK material will be followed in the event that UK material provided to the Senate committee were to be disclosed."
Downing Street confirmed yesterday that there had been contact about the content of the report.
Asked whether Britain had asked for details of UK activities to be blacked out - or "redacted" - from the US report, a Number 10 spokeswoman said: "My understanding is that no redactions were sought to remove any suggestion that there was UK involvement in any illegal torture or rendition.
"There was a conversation between the agencies and their US counterparts on the executive summary. Any redactions there would have been on national security grounds."
But some 24 hours earlier the Prime Minister's official spokesman was asked about redactions sought by the UK and said there had been "none whatsoever, to my knowledge".
"There was a conversation between the agencies and their US counterparts on the executive summary. Any redactions there would have been on national security grounds," a Number 10 spokeswoman said.
The Home Office declined to comment on Mrs May's meeting with the committee in July 2011.
The CIA's director has defended the controversial "enhanced interrogation" programme.
In an unprecedented televised press conference in response to the Senate report, John Brennan acknowledged that "abhorrent" tactics had been used by the agency, but insisted that lives had been saved as a result.
Mr Brennan conceded that it was "unknown and unknowable" whether the harsh treatment resulted in intelligence which could have been gained in any other way but said there was no doubt that detainees subjected to the treatment offered "useful and valuable" information.
Meanwhile, at an event in the City of London, the Ed Miliband was asked whether his brother David had questions to answer about what he knew.
He said: "He has talked about these things in the past. I know how seriously he took these issues when he was in government.
"He answered questions about this in the House of Commons while he was in government. He is never somebody who would ever countenance the British state getting engaged in this kind of activity."
He added: "The government itself here in Britain previously announced an inquiry into these issues but then held off that inquiry because there are court cases ongoing.
"I think it's right to let those court cases and those issues take their course."
A full judicial inquiry may still be required into allegations of British complicity in the torture if police and parliamentary probes fail to answer key questions, Nick Clegg has said.
Clegg said he was absolutely sure that at the present time torture "cannot, will not and is not being used under any circumstances by British agencies or indeed on our behest".
He said the report included the "devastating assertion that it (torture) didn't actually keep us safe" and may in fact have led to resources being wasted on false trails.
UK intelligence agencies did ask for redactions to the report into torture by the CIA - as speculation about Britain's role in the practice mounted, it has been reported.
Home Secretary Theresa May was among the British figures who held 24 meetings with the senate committee as it prepared its report, to lobby to keep Britain out of it, The Daily Mail reported.
David Cameron has declared himself "satisfied that our system is dealing with all these issues".