Russell Brand has called Nigel Farage "a poundshop Enoch Powell" in an eagerly-anticipated Question Time dustup between the pair.
The controversial comedian said the controversial Ukip leader was "not a cartoon character" and compared him to the 1960s politician who famously said immigration would bring "rivers of blood" to Britain.
It was a feisty exchange between two figures both making in-roads into mainstream British politics that prompted Boy George to call it the best edition of Question Time ever.
When the panel was asked whether Britain is really "overcrowded" after a relatively calm period of debate, Farage began insisting it was and immigration was to blame.
Brand won the biggest applause of the night when he said immigrants are not causing the economic problems and suffering we are experiencing".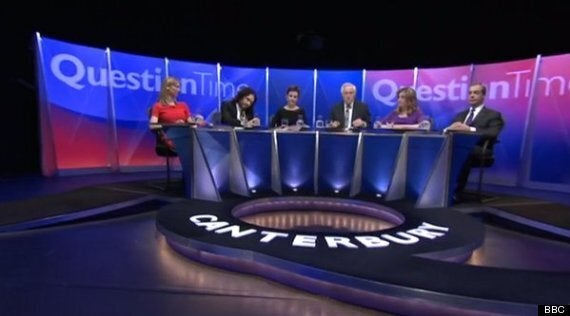 Brand called Farage 'a poundshop Enoch Powell'
He initially appeared to be saying he liked Farage, saying he "enjoyed" his persona as a smoking and drinking anti-politician.
But Brand added: "This man is not a cartoon character. He ain't Delboy. He ain't Arthur Daley. He's a pound-shop Enoch Powell and we've got to watch him."
At around this point, the programme descended into anger with audience members shouting at one another and the panellists.
One blue-haired woman shouted "I'm coming for you Farage" and heckled people who appeared to speak in favour of Ukip. She was later called rude by another audience member for shouting over people.
Brand said Farage's party was blaming immigrants and others for economic problems caused by his former colleagues in the City.
"(Farage's) mates in the city farted, and he's pointing at immigrants and and holding his nose," Brand said.
"I've got money now, I've seen rich people. There's plenty of money out there, it's just not being distributed."
In a spat with a hostile audience member, Brand was asked why he did not stand for parliament. He said: "I'd stand but I'm be scared I'd become one of them."
In a further spat about grammar schools, the reintroduction of which Ukip supports, Brand said: "Nigel Farage and Ukip are not the future. They're a nostalgia act. He don't have no good ideas."
Farage defended his party but he avoided the sort of personal attacks Brand has been on the receiving end of.
The panel had started the show by criticising "Punch and Judy" politics, which felt ironic later on when the scene descended into a slagging match.
Brand was called sexist by Labour MP Mary Creagh, who castigated the comic for speaking over Tory MP Penny Mordaunt.
"One of the things people really don't like is men talking over women," she told him.
Perhaps the last word should go to former Question Time panellist Joey Barton.