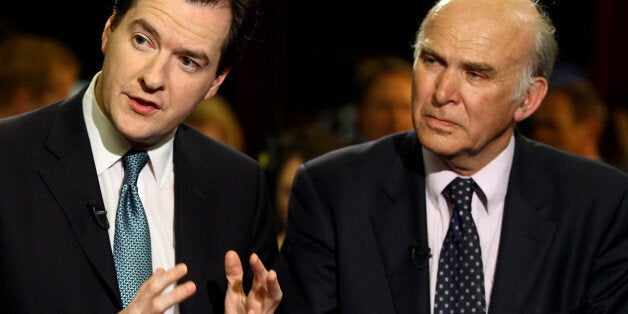 Conservative spending plans would reduce Britain's armed forces to a "largely ceremonial role" and "destroy" public services, Business Secretary Vince Cable warned in a fresh assault on his coalition partners.
The Liberal Democrat Cabinet minister, who has told his officials not to engage with Treasury work on cuts for the next parliament, said Autumn Statement proposals for further deep reductions in budgets had not been signed off by his party.
And he suggested Chancellor George Osborne was "veering off to extreme ideology" because the Tories had been "let off the leash" of coalition with the general election less than five months away.
"There is a table in the documentation behind the Autumn Statement which suggests that if the plans were realised we would roughly halve the total spending on the Home Office, ie the police, on the defence services, and our armed forces would become largely ceremonial," he told BBC1's Andrew Marr Show.
"We would be almost halving the spending of local government in areas like social care ... let alone the kind of stuff that I and my colleagues are doing around training and science.
"It would be devastating and it would be ideologically driven and I would be very strongly opposed. It actually destroys public services in this country in the way we know them," he went on.
"Just continuing this on ideological grounds is very, very foolish."
Cable did not rule out another power-sharing deal with the Conservatives if, as widely expected, the general election fails to deliver any party an overall Commons majority, and said there remained "a lot of common ground" between them.
But he pointed to a poll showing voters - especially Tories themselves - considered the party to be further to the political right than Ukip as evidence of a major lurch to more extreme positions.
"While we have been in coalition we have kept the Tories on quite a tight leash and they have been well behaved," he said.
"Now they have been let off the leash and confronting the possibility of majority government we are getting into all kinds of extremes.
"This is what happens when they are removed from the constraints we put on them in coalition."
The speed and scale of spending cuts "were not signed off by the Quad", he insisted - referring to the core coalition body made up of Prime Minister David Cameron and Mr Osborne along with their Lib Dem deputies Nick Clegg and Danny Alexander.
"We have a different approach to this problem.
"Nick and Danny and myself all accept that we have to maintain budget discipline and we have a time plan for doing that within the next parliament.
"One of our differences with the Labour Party is that they don't have any plans to deal with it.
"But we are not veering off to the extreme ideology the Tories seem to be."
Osborne dismissed suggestions his economic plans were ideologically driven.
"For people who say, 'Well, you know, is that too ideological?', I would say look at Sweden," he told BBC 5 Live's Pienaar's Politics in an interview recorded before Cable made his remarks.
"You've got a social democratic government there that introduced a surplus rule and that's helped Sweden get through all its problems of the world economy in the last 15 years.
"Look at Canada. It runs a surplus rule as well.
"This is a sensible modern approach to managing your public finances in a very competitive global economy where you do not know what is round the corner."
He said: "I inherited a situation as chancellor where we had this record deficit. It's come down by half but clearly the job isn't done and what I'm saying is let's not speed up, let's not slow down, let's continue at the pace we've been on over these last few years and getting that deficit down, and then getting our debts down as a country so we can deliver greater economic security.
"And by the way, while we've been doing this, because we've inspired confidence in Britain, Britain has been growing faster than any other major economy."