As an ongoing hostage situation continues in Sydney, a number of people have been spotted taking beaming "selfies" at the scene.
Crowds are gathering at the Lindt café on Martin Place, downtown Sydney, where there is believed to be a gunman who has forced hostages to hold a black flag with Arabic writing in the window of the cafe.
SEE ALSO Sydney Siege: Australians Rally Against Islamophobia With #illridewithyou Hashtag
While armed police assess the situation and relatives of those taken hostage pray for their safe release, some bystanders are choosing to mark the drama by taking jolly photographs of themselves at the scene.
Love a selfie but HOW is this OK? RT@nycjim:Bystanders taking selfies at scene of #SydneySiege http://t.co/1NP5qYfrF1 pic.twitter.com/9GLzF5nZ7M

— GemmaTognini (@GemmaTognini) December 15, 2014
What the hell is wrong with people?

"Taking selfies 100m from the Lindt Cafe #sydneysiege pic.twitter.com/R7mNZCeSOD"

— Matthew Henman (@JTICMattHenman) December 15, 2014
Ridiculous. "@DailyMailAU: Shameful tourists take selfies at scene of #SydneySiege http://t.co/cP4YvYTLfi pic.twitter.com/za8ibkkoxx"

— The Hunger James (@dabigjim) December 15, 2014
Those who have posted selfies have been slammed on social media as "disgusting" and "disrespectful".
Actually disgusted at those taking selfies at the Sydney siege, have some bloody respect #sydneysiege

— Rebecca Gammon (@bexgammon) December 15, 2014
People are taking selfies in front of this Sydney siege. Humanity is sad and sick http://t.co/YN53BbJ3Hq

— Tom Warren (@tomwarren) December 15, 2014
People taking jolly selfies near the Sydney siege need to reevaluate their priorities in life.

— Gwyneth (@peatyg) December 15, 2014
So disgusted reading that people in the crowd at the Sydney siege are taking selfies!! U disgust me.. #sydneysiege

— nicole (@nickichick7) December 15, 2014
Five people have escaped but many people are still held at the siege site.
"We don't know whether this is politically motivated, although obviously there are some indications that it could be," Prime Minister Tony Abbott told reporters earlier in the nation's capital, Canberra. "We have to appreciate that even in a society such as ours, there are people who would wish to do us harm."
The 8 Selfies You Must Absolutely, Positively Never Take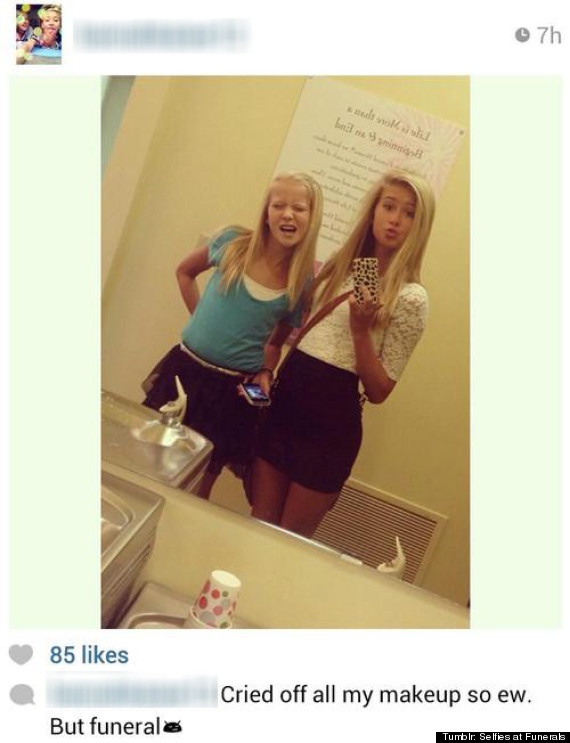 It's really too bad all her makeup got cried off, because the whole point of funerals is to take the attention away from the deceased person and focus on how you look. For more people who feel compelled to take pictures of themselves at services for deceased friends or family members, check out the "Selfies at Funerals" Tumblr.
driving cross cross applesauce and taking a selfie. I'm safe I swear pic.twitter.com/fo2L6JQ5Zd

— Maddy Wiegs (@LittleWiegs) October 31, 2013
What's worse? Taking a selfie while driving or texting while driving? Hahaha...you're probably gonna die.
3. Or tempting fate even further with the selfie in front of someone else's car accident.
Other persons car accident selfie @GGray74 pic.twitter.com/vm40bTZOy7

— Ben Allen (@B_Dougie_Fresh) April 1, 2013
Hahaha, that could have been you!
4. The selfie that shows your teacher having contractions.
Selfie with my teacher while she having contractions 😄 pic.twitter.com/EuOf7vTxlc

— Malik . (@SpideyNikka) October 15, 2013
When this guy saw his teacher going into labor, he had the presence of mind to hop up and get help take a selfie.
5. The bloody selfie.
Kevin Rudd, an Australian politician, is no stranger to selfies. Seriously though, did we need to know that you suck at shaving?
6. The hallowed ground selfie.
Taking the selfie to radioactive levels :P #chernobyl pic.twitter.com/nZM6xi120L

— Jake Fletcher (@Jake_Fletcher_) June 5, 2013
Get it? This guy is at the site of the world's worst radioactive disaster, where an explosion at the Chernobyl nuclear power plant caused a chemical fire that burned for more than ten days. A quarter of a million people lost their homes, thousands ultimately died and countless Ukrainians are still feeling residual health effects of the massive meltdown.
7. The selfie in front of a homeless person.
Shirtless homeless bum selfie. pic.twitter.com/xz7q5zlZX8

— Christian Castro  (@ChristiannBro) July 1, 2013
Because nothing says you appreciate your privileged life like taking a picture in front of someone sleeping on the ground. He even threw up the deuces...
8. The "look at this guy in the bathroom" selfie.
We were gonna complain about how privacy has been completely destroyed by the selfie, but this is just hilarious.
CORRECTION: A previous version of this post named the Russian Grand Duchess as "Anastasia Nikolaevna"; her name is in fact Anastasia Nikolaevna Romanova.