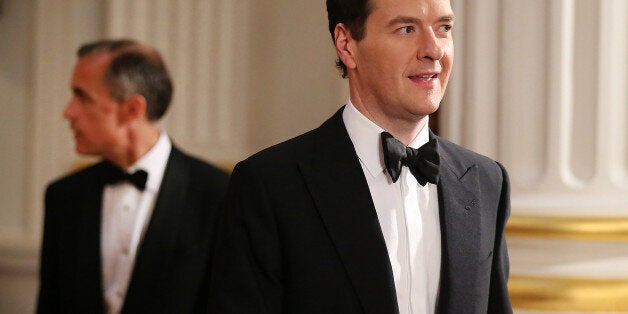 Mark Carney faces the humiliating prospect of having to explain to George Osborne why the Bank of England has failed to keep inflation under control as new figures confirm it has fallen to a 12-year low.
According to the Office for National Statistics, the rate of Consumer Price Index (CPI) inflation fell to 1% in November from 1.3% in the previous month, on the edge of the Bank's aim to keep inflation up to 1% above or below its 2% target.
However, the continuing slide in oil prices is expected to feed through to a further drop in CPI over the coming months, potentially forcing Carney to write his first letter to the chancellor about inflation veering off target.
In its latest Financial Stability Report published on Tuesday, the Bank of England forecast that "the recent sharp fall in the oil price should support global and UK growth". Governor Carney also stressed to reporters that it was "unambiguously positive" news for the UK economy.
The looming embarrassment was raised in the Bank's latest economic outlook in November, with Carney telling reporters that it was -"more likely than not that I'll have to write a letter to the Chancellor". In its inflation report, the Monetary Policy Committee forecast that this could happen "temporarily at some point in the next six months".
"Strictly speaking, I do not expect to write a letter, it's just the balance of probabilities," Carney stressed to reporters at the time.
The fall in inflation adds to hopes of a rise in real-terms wages which have lagged behind the increasing cost of living for six years.
Most recent figures for the three months to September showed pay rising by 1% year on year and regular pay excluding bonuses by 1.2%. Latest data will be published tomorrow.
Today's figures showed that air fares fell more steeply month on month than a year ago, while second-hand cars were also cheaper.
Computer equipment such as printers also dropped in price, while computer game prices rose in November by less than a year ago.
Treasury chief secretary Danny Alexander said: "Falling oil prices have helped push inflation to its lowest level since 2002.
"This is a welcome early Christmas present to millions of families across the country. I am determined that the continuing oil price falls will be passed on to consumers as quickly as possible and in full."
Labour's shadow Treasury minister Cathy Jamieson said in a statement: "These figures show that plummeting global oil prices have led to the rate of inflation falling here in Britain.
"But wages continue to be sluggish, barely keeping up with rising prices. The latest figures show total pay up by just 1% - the same as today's CPI figure - and pay excluding bonuses up just 1.3%."
Related