If you're looking forward to a long-overdue visit home at Christmas then you'll no doubt already have started searching for deals on UK travel.
We've paired up with On Stride Financial to bring you the transport costs from London to major UK cities a week before Christmas - and for those leaving it to the last minute on Christmas Eve.
Should you ditch the car and take the train?
The cost of buying enough petrol to drive home is higher than almost every train journey you would make on the 17th December
Even at Christmas you'll find ticket prices online much more appealing than the prospect of paying to fill up the tank to cross the country
Driving from London to Leeds or Cardiff would cost less on Christmas Eve than taking the train – almost half the price in the case of Leeds!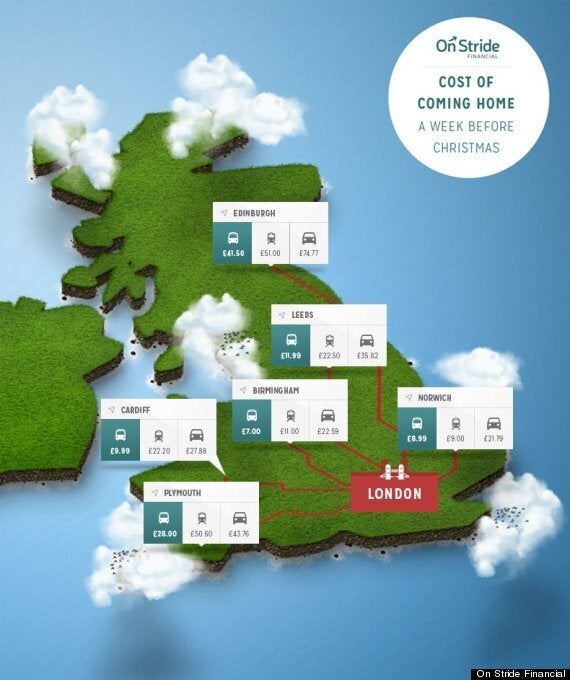 Only four journeys would cost the same price whether you're travelling on the 17th December or a week later, while each of the others increases in price by Christmas Eve – some a lot more than others.
It's only a penny cheaper to leave for Norwich by coach on the 17th than the train – but the price more than doubles if you plan to leave by coach a week later.
The price to Leeds from London leaps spectacularly between the 17th and 24th, with the coach price more than doubling and a train ticket very nearly tripling in cost from £22.50 to £67.00.
Travelling by coach is by far the most cost-effective option – but make sure you've left plenty of time in your schedule to take the trip.
The fastest journey we could find from London to Edinburgh involved an overnight drive, landing there at 7.55am on the morning of the 17th – after almost nine hours' travel.
A journey to Plymouth by car is expected to last a shade over four hours – it's up to you whether you wish to spend about an extra ten pounds to get there faster by train.
If you're flexible on time and have a railcard or web-exclusive deal you should be able to find a better deal. Don't forget to buy an open return, for the start of the new term!