UPDATE: As of 5.30pm this afternoon Google has updated the search terms "Ian H Watkins" and "Steps" to redirect to images of the correct man.
As of Wednesday afternoon Google Images was still mixing up Ian 'H' Watkins from Steps with the paedophile 'Lostprophets' singer Ian Watkins.
The latter Ian Watkins was sentenced to 35 years in prison for 13 child sex offences in 2013.
In the aftermath of the trial Ian H Watkins blasted the search giant for using the convicted sex offender's image above his biography.
But a full year later, the mix-up was still present on Google.
It was noticed on Twitter on Wednesday that if you search for 'Ian H Watkins' the first image the shows up is the paedophile's mugshot, alongside other (real) images of the Steps singer.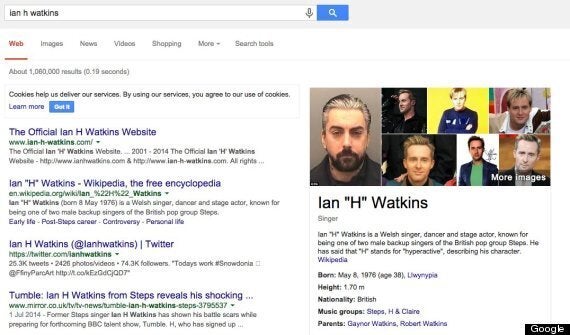 The image also turns up in Google's band line-up image of Steps, if you searched for 'Steps'.
By comparison the same mistake is not present on Bing.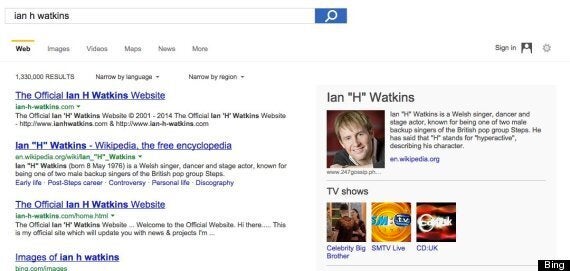 But Google has now fixed the issue, and as of 5.30pm the correct images (or none) were showing up on the page.
The judge in the case was told that as well as having the same name, the two men are both Welsh and of a similar age. But H said that it was "important to me that a public statement was made so that there is no confusion going forward".
The judge agreed and a statement was made, and the pictures swiftly replaced.
At the time H's agent told the Mirror: "'Ian is astonished that in spite of yesterday's public apology from E! Online, Google have now created far more damaging and far-reaching false and defamatory coverage linking our client to the appalling crimes of the Lostprophets singer."
It is possible to report images as being mistakenly attached to another name - which we have done.
Fortunately H from Steps appears to be in good spirits - and his recent tweets show that he is something of a talented artist. So there's that…
Related