Hackers behind the devastating attack on Sony Pictures have said they won't release any more data - because 'The Interview' has been scrapped.
CNN reports that it received an email from the "Guardians Of Peace" hacking group claiming that it would leave Sony alone - for now.
"It's very wise that you have made a decision cancel the release of The Interview. It will be very useful for you," the email said. "We will assure the security of your data unless you make additional trouble."
The message follows weeks of highly damaging and embarrassing releases from the hackers' enormous store of data. But the apparent truce comes at a price: the hackers have also demanded that Sony delete all evidence the movie ever existed from the internet.
"Now we want you never let the movie released, distributed or leaked in any form of, for instance, DVD or piracy. And we want everything related to the movie, including its trailers, as well as its full version down from any website hosting them immediately."
Simultaneously CBS and Reuters reported that the FBI is ready to name North Korea as the source of the cyberattack on Sony.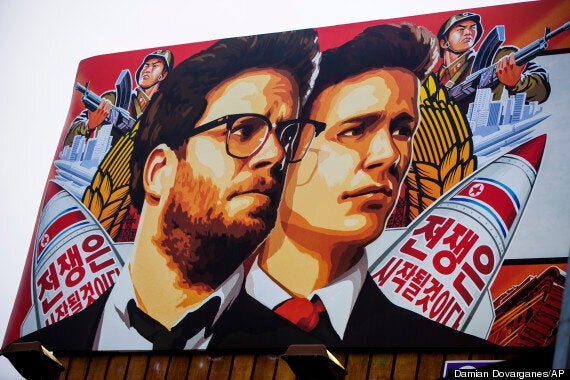 North Korea has been widely reported as a likely source for the hack, but has denied involvement.
US President Barack Obama is said to be readying an announcement of the FBI's findings, to come before 6.30pm GMT. Reuters quoted an unnamed US official confirming North Korea was behind the attack.
It has been reported that Obama may claim China is also involved, though in what capacity is not known.
The United States promised a "proportional" response against the hackers responsible - and the countries behind their actions - on Thursday.
White House spokesman Josh Earnest said the attack was a "destructive activity with malicious intent that was initiated by a sophisticated actor".
He added that the US saw the attack as "a serious national security matter".
'The Interview' starring Seth Rogan and James Franco is a comedy romp in which two journalists are contacted by North Korea to take part in a staged Q&A, and are then hired by US agents to kill Kim Jong Un.
But Sony cancelled the release of 'The Interview' on Wednesday following threats from the hackers to carry out "9/11"-style attacks.
Sony blamed US and international cinema chains for backing out of the release, but it the move was widely blasted by journalists and movie industry figures as an unprecedented capitulation.
Experts have speculated that North Korea's hack on Sony may have just been a test run for a wider plan to attack US telecoms, power and other utility networks. Cyber security experts have now said that the "malware bomb" sat on Sony's servers gathering data for months before it was detected and revealed.
"North Korea's ultimate goal in cyber strategy is to be able to attack national infrastructure of South Korea and the United States," Kim Heung-kwang, a defector from the North who was a computer science professor, told Reuters.

"The hacking of Sony Pictures is similar to previous attacks that were blamed on North Korea and is a result of training and efforts made with the goal of destroying infrastructure."
North Korea's population has relatively little access to any form of personal communications infrastructure -- everything from phone networks to internal 'intranet' versions of the web are tightly controlled. But that tight control gives it advantages in launching country-to-country attacks, because it has few vulnerabilities that other nations can exploit.
Its cyber warfare unit is known as Bureau 121, and is run by spy agencies within the North Korean military.
North Korea has carried out previous attacks on South Korean banks and intelligence agencies.
Popular in the Community