Former Army officer Ashley Merry said she did not welcome the move, saying women have already "moved so far" in the armed forces and the government has more important things to focus on.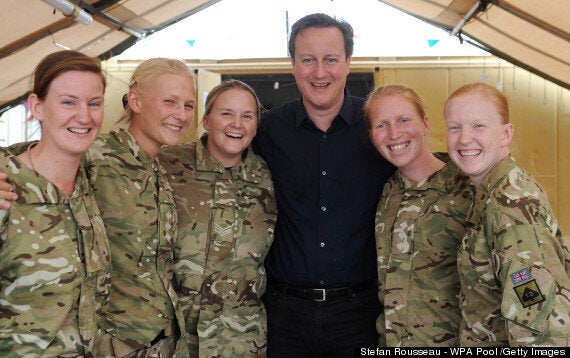 David Cameron with female British soldiers in Helmand, Afghanistan, in 2012
"At the moment we are living in such dangerous times," Merry said. "This is not the time to be experimenting with something new to be politically correct. If it's not broken why try and fix it?"
"Women are already on the front line doing a very real job very effectively," she said.
"I don't welcome this news that they are going to be considered for combat roles in the infantry, because in reality there's very few posts that are not open to women and women have moved so far in the armed forces."
She added: "I don't see why we are having to go this extra step because for the numbers involved I think it's really counter-productive when there are more important things that the Ministry of Defence and commanders should be concentrating on."
The plans were also today called a "mistake" that damage the fighting capabilities of the army, according to other senior defence critics.
Women are currently not allowed to join the ranks of the infantry and Armoured Corps but serve in a variety of combat roles across the forces, including fighter pilots, sailors and most recently, submariners.
A government-commissioned review which began earlier this year has recommended close combat roles are opened to women, but calls for more research before a final decision is made.
Major General Patrick Cordingley, a former commander of the 7th Armoured Brigade, known as the "Desert Rats", said the move would be a "mistake".
He told the Daily Mail: "There is a political imperative. However, I think that it is a mistake from the armed forces.
"I can understand why politically it is a good thing to be seen to be doing - on the other hand, the practicalities of women in the infantry and armoured corps are considerable and should not be overlooked."
And Colonel Richard Kemp, a former commander in Afghanistan, has previously said women lack the "killer instinct" necessary to fight in close combat.
He said: "Inclusion of women in the infantry is certain to result in a lowering of physical standards despite the inevitable denials that this will happen.
"This would damage the fighting capabilities of the armed forces. It would be harmful to the cohesion of the army because of the nature of the role."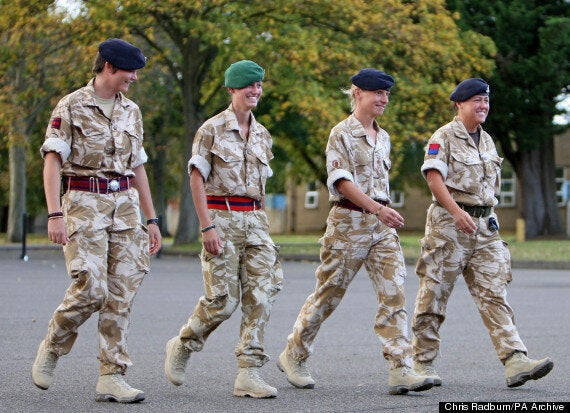 Women from the 75 Royal Engineer and Royal Logistic Corps who spent six months in Afghanistan
But announcing the plans, Defence Secretary Michael Fallon said: "Roles in our Armed Forces should be determined by ability not gender. I hope that, following further work on our training regimes and equipment, we can open up combat roles to women in 2016.
"This is a further sign of our commitment to maximising our talent in a year which has already seen the Royal Navy employ its first female submariners and two women climb to the highest-ever ranks in the RAF."
Further research will evaluate the physical demands of fighting on the front line and how it may impact women's health, while training regimes to allow women to integrate will also be explored.
The MoD said the review had ended the view that women joining men in combat roles would have an "adverse effect on cohesion".
Chief of the Defence Staff, General Sir Nicholas Houghton, who led the review, said: "I look forward to the prospect of opening ground close combat roles to women, but we have to look at this in a responsible way.
"Our aim must be to maximise the use of talent without compromising our standards or undermining capability."
But the proposal has met with concern and criticism from some senior military figures.
Kevan Jones MP, Labour's shadow armed forces minister, said: "We should be proud of the role played by women in our armed forces.
"Many of them already serve on the front line as medics, engineers, intelligence officers, fighter pilots and submariners.
"Labour had called for the ban on women serving in combat roles to be examined with a view to it being ended, and any moves towards that are welcome."
Popular in the Community