As the city reels from the tragedy that also left 10 injured, police revealed that five females and a male were killed. They included Jack Sweeney, 68, his wife Lorraine Sweeney, 69, and their 18-year-old granddaughter Erin McQuade.
Also killed were Gillian Ewing, 52, from Edinburgh, Stephenie Tait, 29, from Glasgow and Jacqueline Morton, 51, from Glasgow.
The truck veered off the road and hit Christmas shoppers "like pinballs", reportedly driving for around 300 metres on the pavement before crashing near the city's George Square.
Mr Sweeney, from Dumbarton, was a former president of Bramalea Celtic supporters club in Canada.
A statement posted on the Bramalea Celtic supporters club Facebook page said: "It is with great shock and sadness we share with you our friend and past president Jack Sweeney, his wife Lorraine and granddaughter Erin were victims of today's tragedy in Glasgow.
"Our thoughts and prayers go to the family and friends of the Sweeney family."
Miss McQuade worked at the luxury Cameron House Hotel on the banks of Loch Lomond.
The hotel said in a statement: "We are saddened to hear we have lost one of our brightest and dedicated members of housekeeping staff, Erin McQuade.
"We want to offer our deepest condolences and sympathies to the family of Erin and to all those who have been affected by the tragic events at George Square yesterday."
Relative John Sweeney described himself as "feeling heartbroken" on Facebook.
He wrote: "No words can describe the pain. R.I.P. Jack, Lorraine and Erin. Thoughts and prayers go out to the other families that lost loved ones as well."
Witnesses reported seeing the driver, who was also taken to hospital, slumped over the wheel at the moment of the crash as if he had suffered a seizure or heart attack.
The scene today remains cordoned off, as police appeal for witnesses and anyone with photos or footage of what happened to contact them. The bodies have now been removed from the scene.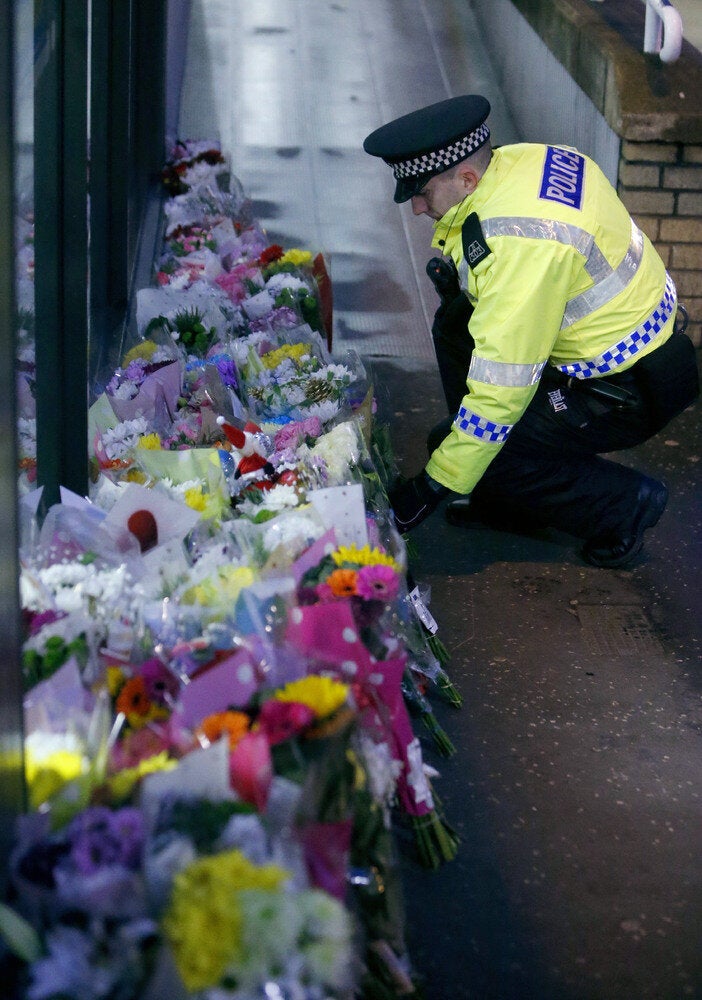 Glasgow After Lorry Crash
In a statement, Police Scotland said: "As a result of the collision, six people died and 10 people were injured, including the driver.
"Seven casualties were taken to hospital by the ambulance service, two walked in to hospital and one was treated at the scene. Four have since been discharged.
"There are currently six people in hospital being treated for their injuries. Two have been moved to the Intensive Therapy Unit for further monitoring.
As authorities try to establish what happened, the council revealed there were two other crew members aboard the lorry when it crashed, who will likely be key witnesses.
Witness Melanie Greig told Sky News: "The lorry just lost control, it just went along the pavement knocking people down like pinballs. There was a baby in a buggy, there were two little kids."
Glasgow City Council switched off the Christmas lights in George Square today as a mark of respect.
People tweeted their sympathies under the hashtags #georgesquare and #glasgowcrash.
Pro-independence newspaper The National printed this striking front page.
Dozens of flowers have been placed at the scene, though Glasgow City Council later moved them to the nearby Museum of Modern Art.
Chief Inspector Mark Sutherland, from Police Scotland, said: "It's important that we take all the necessary steps to do it as quickly as we can so that we get the answers for the families and get their loved ones back to them as quick as we can."
The injured are being treated at three of the city's hospitals.
Flags on public buildings in George Square are flying at half-mast today in remembrance of those who died and prayers have been said for the victims at a special church service.
The Reverend Alastair Duncan led the service at the nearby St George's Tron on Tuesday morning.
The crash comes 13 months after the Clutha tragedy, when a police helicopter crashed onto an pub, killing 10 people in the chopper and on the ground.
The Right Reverend John Chalmers said: "The news from the city centre of Glasgow just a few days before Christmas is simply devastating.
"For the second year in a row Glaswegians will have to dig deep into their reserves of compassion and sympathy as they support the families of those who have been killed and injured."
First Minister Nicola Sturgeon described Glasgow as "heart-broken" but praised its resilience.
Earlier, she said"My thoughts are with everyone involved in this tragic incident, and especially with the friends and families of the six people who lost their lives in what is another sad day for Glasgow and Scotland."
The Queen has sent a message of condolence to the Lord Provost of Glasgow in which she said her "thoughts and prayers" and those of the Duke of Edinburgh are with those who lost loved ones and those injured.