These were the chaotic scenes at London's Smithfield Market on Christmas Eve as people desperately fought for last minute meaty deals...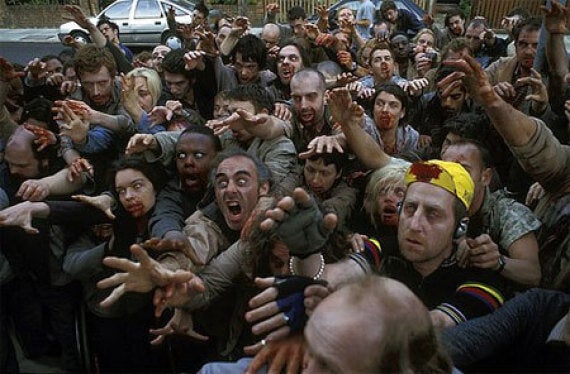 Oh, hang on, that's a still from 'Shaun of the Dead'. This is the market...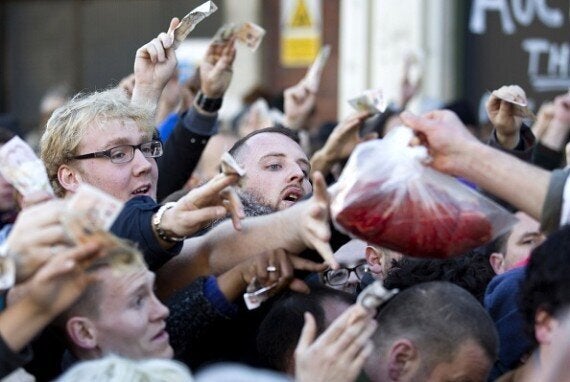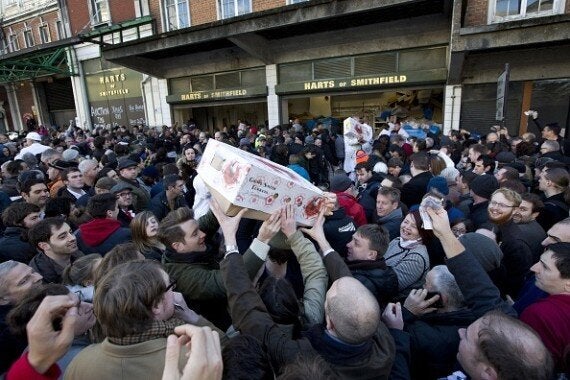 And things are only expected to get busier on the high streets from Christmas Day onwards.
While millions of shoppers have been pounding the streets today on their way to spending up to £832 million, tomorrow will see little let-up.
Britons are expected to slip away from the festivities to spend an estimated £636 million online, or £441,000 a minute, according to data firm Experian and online retailing trade association IMRG.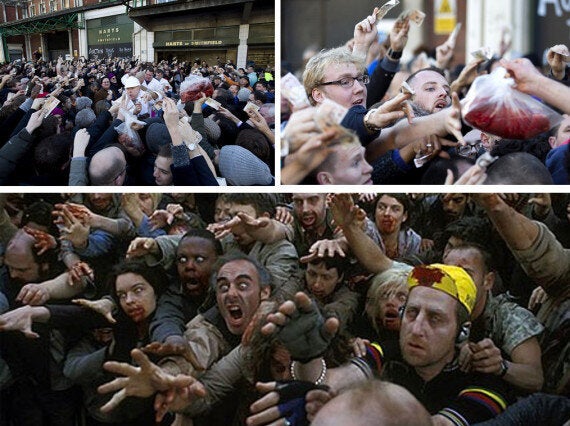 They predict shoppers will make 142 million visits to retail sites tomorrow - a 25% increase on last year.
Experian general manager of consumer insight Giles Longhurst said: "The ease of shopping online via connected devices raises the prospect of a very large amount of shopping activity on Christmas Day itself.
"We expect a 25% growth on last year in the number of site visits to 142 million as shoppers slip away from families to do some additional bargain-hunting on the big day, with a corresponding spend of £636 million."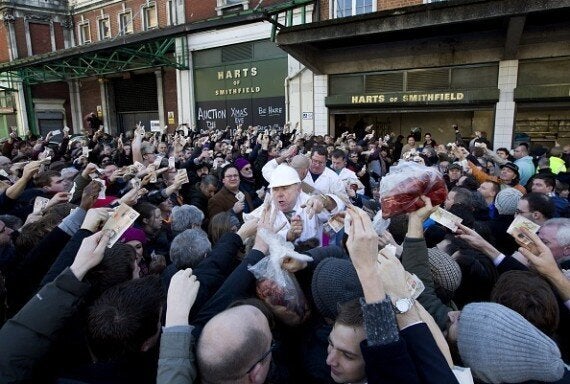 Dominic Trigg, managing director for Europe of digital advertising technology company Rocket Fuel, said: "Shopping online on Christmas Day is now a normal part of UK consumers' holiday experiences every year.
"This year spending on the day will increase 36% compared to 2013, taking it to an estimated £636 million. It is clear that UK consumers now see shopping from the comfort of their own home, following Christmas Day dinner, as much of a tradition as a turkey and ham dinner."
Shoppers are already enjoying heavy discounting as major retailers began their traditional Boxing Day sales up to two days early, including Debenhams and House of Fraser.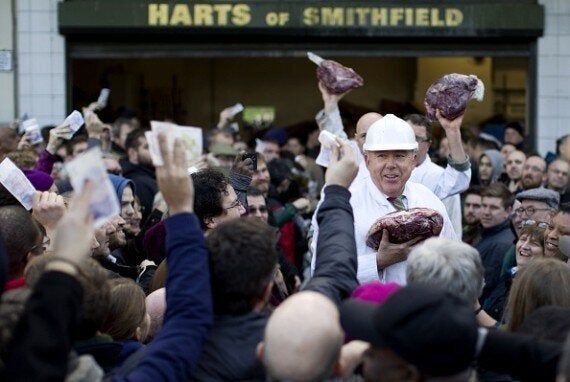 Other major names bringing the sales forward are John Lewis, which has announced its clearance begins at 5pm today, Next, whose online sale starts slightly earlier at 3pm, and M&S.com, which is offering up to 50% off from noon.
Sainsbury's Bank has estimated 11% of the week's shopping will take place in the final hours of trading today - down from 22% last year - but 23.6 million people are expected to shop today compared with 17.5 million last year, spending up to £832 million.
John Lewis said last week's sales of £160.6 million, up 6.5% on the previous week, confirmed its expectation that customers were choosing to leave their Christmas shopping until the last minute.
The department store's retail director, Andrew Murphy, said: "Last week we said it's all to play for and that is still absolutely the case as we have seen a building trend of customers leaving their gift purchases right up until the last minute.
"Busy though our shops have been over the past week, it's only in these final pre-Christmas days that many customers are finally moving to complete their gift buying and other purchases.
"Consequently our partners are standing ready for a very busy final trading day before the festive break."
Fenwick of Bond Street has set up a pop-up gifting service which guarantees to help the "last-minute man" find the ideal gift in just five minutes, right up until 5pm tonight.
The service's popularity reached a high on Monday when more than 10 bottles of Chanel No 5 sold every hour.
David Walker-Smith, managing director at Fenwick of Bond Street, said: "We understand how men like to shop, and the guarantee of finding something fabulous in a short space of time has provided considerable relief at what can be a stressful time of year for shoppers."
The New West End Company is predicting £20 million will go through the tills today across the West End, with retailers extending their hours to as late as 8pm.
The Co-operative has said the last-minute shopping list is most likely to include fizzy drink, lemons and limes, a selection box, prosecco and mince pies.
Andrew Mann, customer director for The Co-operative Food, said: "We are expecting intense trading in the last few hours before Christmas as people re-stock or seek last-minute items.
"On average consumers will shop for food every day in the five days leading up to Christmas as fresh lines become available in store."
Jon Edwards, centre director of The Mall at Cribbs Causeway, near Bristol, said this year's pre-Christmas shopping rush was in full swing.
"The festive period is consistently the busiest time of the year here at The Mall and I am pleased to say that 2014 has been no different, with thousands of shoppers visiting the centre over the past few weeks," he said.
"In fact Monday was the busiest shopping day at The Mall since 2008.
"Annual sales at The Mall have increased by 5.5% compared with 2013, and sales during the Christmas trading quarter have contributed significantly to that success.
"Many of our big brands, including M&S and John Lewis, have reported upbeat Christmas sales.
"Our restaurants are busier than ever and Winter Wonderland continues to be a massive draw for families, with ticket sales for the Enchanted Castle, Ice Rinks and Christmas train ride up by 2% on 2013.
"With the much anticipated Boxing Day sales just round the corner, we expect to welcome thousands of last minute gift buyers and bargain hunters through the doors over the coming weeks.
"It is full steam ahead here at The Mall at Cribbs Causeway."