So far, there has been silence from the extremists about the fate of their captive, 1st Lieutenant Mu'ath al-Kaseasbeh, since gunmen from the group dragged him away following his crash on Wednesday morning.
Al-Kaseasbeh was carrying out air strikes against the militants when his warplane crashed near the northern Syrian city of Raqqa, the Islamic State group's de facto capital.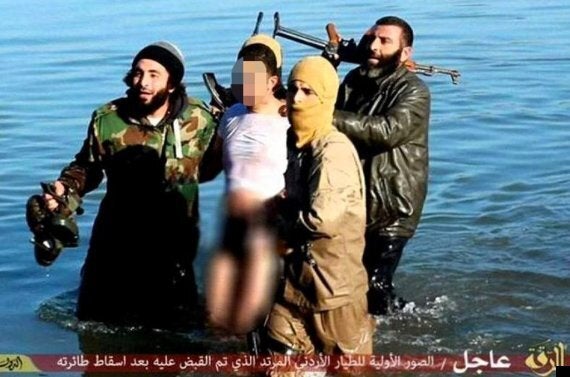 Mu'ath al-Kaseasbeh has been captured by IS militants in Syria
The group has executed captured Iraqi and Syrian Muslim soldiers in the past - it follows an extremist version of Islam that considers rivals, even some Sunni Muslims, as apostates.
However it is possible the group may want to negotiate a prisoner swap or other concessions from Jordan.
The pilot's father, Safi Yousef al-Kaseasbeh, made his plea while speaking to journalists in the Jordanian capital, Amman.
"I direct a message to our generous brothers of the Islamic State in Syria: to host my son, the pilot Mu'ath, with generous hospitality," he said.
"I ask God that their hearts are gathered together with love, and that he is returned to his family, wife and mother."
"We are all Muslims," he added.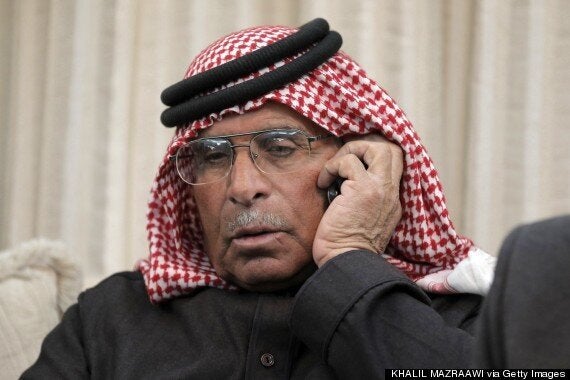 The pilot's father Safi Yousef al-Kaseasbeh has appealed for his son's safe release
The pilot is the first known military member to be captured from the international coalition that has been waging a bombing campaign against the Islamic State group for months, trying to break its control over territory stretching across Syria and Iraq.
After the crash, al-Kaseasbeh was pulled by gunmen from a body of water and hustled away, according to photos published by the Raqqa Media Center, which operates in areas under IS control.
He appeared to be able to walk and the only visible injury was what appeared to be a spot of blood at his mouth.
The capture - and the potential hostage situation - presents a nightmare scenario for Jordan, which vowed to continue its fight against the group that has overrun large parts of Syria and Iraq and beheaded foreign captives and local rivals.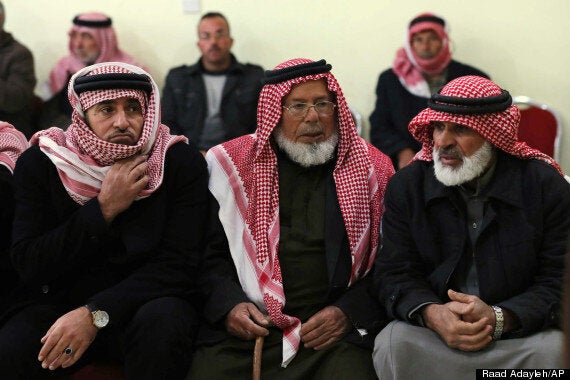 Friends and family of Lt Mu'ath al-Kaseasbeh gather in Jordan
The cause of the crash was not immediately known.
The U.S. military said Wednesday that evidence "clearly indicates" that the militants did not shoot down al-Kaseasbeh's F-16.
But the pilot's uncle told journalists that the family had been told by the Jordanian government that his warplane was downed by a missile.
Speaking at a gathering of the al-Kaseasbeh family and extended tribe in the southern Jordanian town of Karak, Younes al-Kaseasbeh said that the family was told that his nephew was flying at a height of 400 feet on a bombing mission when the militants hit him with a heat-seeking missile and his plane went down in the Euphrates River.
He said three other warplanes in the same sortie had wanted to rescue him, but were wary of striking militants in the area for fear of killing al-Kaseasbeh and so were ordered to return home.
The United States and several Arab allies have been striking the Islamic State in Syria since 23 September, and U.S. and other international warplanes have been waging an air campaign against the extremists in Iraq for even longer.
The campaign aims to push back the jihadi organization after it took over much of Iraq and Syria and declared a "caliphate."
Saudi Arabia, Jordan, Bahrain and the United Arab Emirates are participating in the Syria airstrikes, with logistical support from Qatar. Jordan in particular has come under heavy criticism from militants for its participation.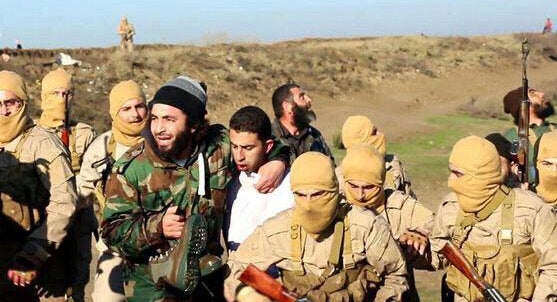 IS Capture Jordanian Pilot