A wave of extremely cold weather is expected to hit the country in the next few days, with overnight temperatures expected to reach record lows for the year so far.
Parts of Scotland are predicted to be plunged into -10C (14F) temperatures, and the Met Office has issued a new weather warning ahead of the cold snap.
Rain showers mean much of the snow which has fallen in the last 24 hours will disappear, and motorists could instead be forced to reach for the de-icing kit and windscreen scraper.
Story continues after slideshow...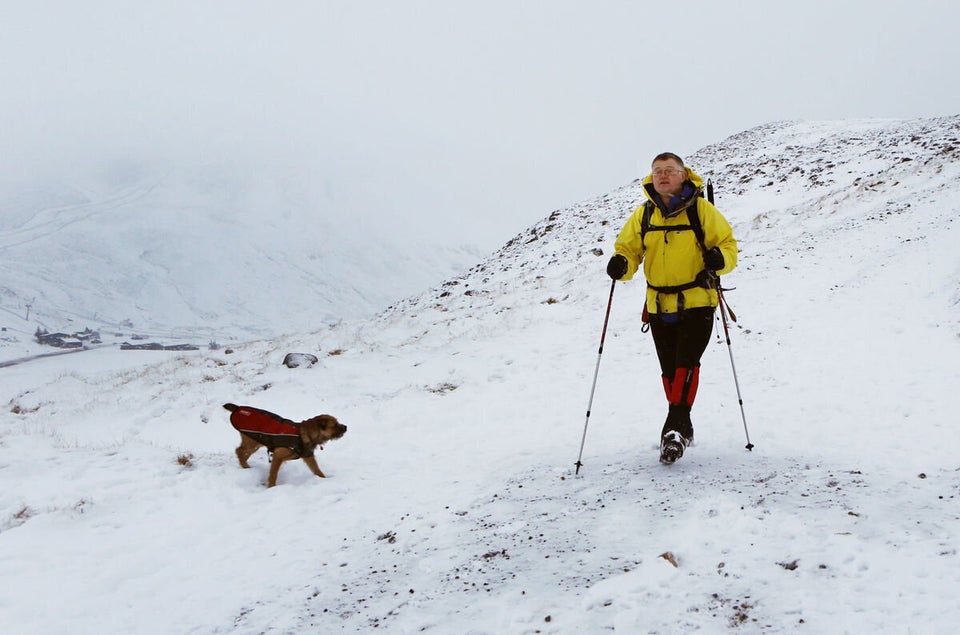 It's cold outside
Simon Partridge, forecaster with the Met Office, said: "Parts of the UK have had snow over the last day or so, and that picture will improve into tomorrow.
"We will still have some showers around most coastal areas, which is likely to mean the snow will not settle. But those showers will likely be overnight, so the days themselves are going to be largely dry.
"But it is going to be very cold indeed, as low as 4 or 5C (41F) in the south and 2C in the north (35F)."
The town of Leek in Staffordshire recorded the day's deepest snowfall - 12cm (4.7in) - while tonight is expected to see temperatures reach -10C in Braemar, Aberdeenshire, Scotland - the lowest of 2014.
The Met Office has issued a new weather warning.
The freezing weather has brought treacherous conditions to roads, with many motorists in Sheffield forced to abandon their cars after becoming snowed in.
More than 100,000 homes were left with power shortages as heavy snow wreaked havoc on electricity cables.
A Western Power Distribution spokesman said 36,000 customers were left without power, and another 69,000 had short interruptions to supplies.
Liverpool's John Lennon Airport and Leeds Bradford International were forced to close last night as snow was cleared from the runways, but have now reopened.
Many motorists found themselves marooned by heavy snow in Sheffield, Chesterfield and the Peak District.
A spokesman for the RAC said drivers in these areas were experiencing "big problems".
Drivers used Twitter to complain of the long queues and post pictures of roads blanketed in heavy snow.
At around 2.30am one driver said he had been in a queue for more than four hours. Declan Pitts posted a picture of a snowy country road and wrote: "I'm alive after 3 hours of crazy snow torn driving across what seems like the whole of England."
A coachload of people travelling from Sheffield to London had to take refuge in a church after their bus became stuck in the snow before leaving the city.
Parishioner Gemma Cort, 44, said local children were helping drivers by pushing cars up the slope when they spotted the coach.
When they realised one of the 30 or so passengers was pregnant, it was suggested they open the church so travellers could have a hot drink and use the toilet.
With the church's new heating system working well, the coach passengers were kept warm and some were able to doze in comfy chairs under blankets and duvets provided by parishioners.
Cort, a mother-of-four, said: "The coach couldn't move for the rest of the evening so we made bits of food and the children took them a load of toast and we made lots of tea.
"The police came about 11pm and there were a few more cars stuck then so they asked if they could send a few more people in.
"The plough and the gritter came and a lot more people could move then, but the coach could not.
"The passengers were lovely, they were really grateful and couldn't thank us enough and we got some donations which we will put towards the new heating system."
Motorists have been advised to check routes before embarking on a journey and to avoid travelling in snow-hit areas if possible.
Police warned of hazardous conditions last night, especially in Staffordshire and Cheshire, with several roads impassable.
The Met Office has issued amber warnings for snow, ice and wind across much of Britain.
The snow made conditions difficult for some of yesterday's football matches, including in the West Midlands as West Bromwich Albion lost 3-1 to Manchester City in a game played in a blizzard at The Hawthorns.
Newcastle United fans slept - and sang - on coaches after they got stuck overnight in snow heading back from their 3-1 defeat to Manchester United.
More than one supporters' coach and some fans in cars made it as far as Birch Services on the M62 near Rochdale when the weather conditions made a trip across the Pennines impossible.
A Department for Transport spokesman said: "As winter weather grips some areas of the country we would advise people intending to travel to check weather and local conditions before they set out.
"The Highways Agency and local highway authorities across the country are working hard to ensure disruption is kept to a minimum.
"Passengers travelling into or out of Kings Cross affected by overrunning engineering work should check with National Rail inquiries for service information."
Related