A Ukip MP has apparently seen the light and realised that it's 2014.
Douglas Carswell has told his new party it must show an "inclusive" face and not blame immigrants for Britain's woes if it is to become a serious force.
The ex-Tory, whose by-election crushing of his former party in October has made him one of Ukip's highest-profile faces, said a dislike of foreigners was "not merely offensive but absurd".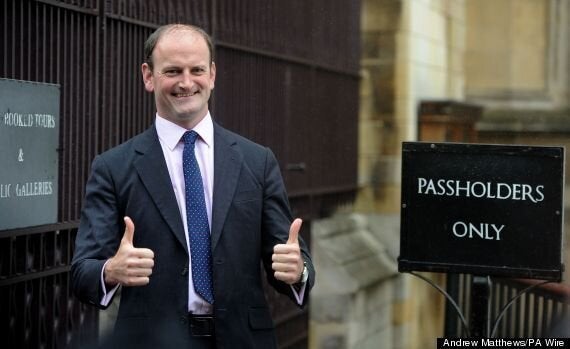 Efforts by Nigel Farage's party to shake off claims of unpalatable views in its ranks have been made harder by a string of offensive comments by candidates and other high profile figures.
It was forced to distance itself from a claim by Kent councillor Trevor Shonk that the established parties "have made the country racist because of the influx" of immigration.
And Kerry Smith was axed as a would-be MP after it emerged he mocked gay party members as "poofters", joked about shooting people from Chigwell in a "peasant hunt" and referred to someone as a "Chinky bird".
Mr Farage defended the language, saying Mr Smith was a "rough diamond" council house boy who "speaks in a way that a lot of people from that background do".
But Mr Carswell suggested that unless it showed it was not a party that tolerated such views, Ukip would struggle to convert its rise in popularity into an influential presence at Westminster.
"Far from being a party that tolerates pejorative comments about people's heritage and background, Ukip in 2015 has to show that we have a serious internationalist agenda," he wrote in the Mail on Sunday.
He went on: "Ukip has had a remarkable year. No longer a mere protest party, we won the European elections and showed that we have what it takes to win seats in Parliament.
"Ahead of May's General Election, we now have to show the whole country that we have what it takes to win big. That means an optimistic, internationalist and inclusive agenda for the whole country."
Mr Carswell wrote: "Preparing for the future means putting in place an immigration system capable of saying a cheery, welcoming 'yes' to doctors from Singapore or scientists from south Asia, and a polite 'No, thank you' to someone with a criminal record, or an inclination towards welfare dependence.
"Angry nativism must have no part in it.
"No Ukip candidate should ever make the mistake of blaming outsiders for the failings of political insiders in Westminster."
He said: "There has never been anything splendid about isolation.
"It was our interdependence that put the Great into Great Britain - and it is what sustains our living standards today. In such a world, a dislike of foreigners is not merely offensive, but absurd."
Popular in the Community