Ukip has failed to win the support of young people - with a new poll showing first-time voters are strongly pro-European and six times more likely to choose the Greens among less-established parties.
Nigel Farage was by some distance the least popular leader among the 502 17-22 year olds asked about their political opinions and 2015 intentions by Opiniumfor The Observer.
It found Labour enjoyed an eight-point lead over the Tories among the age group when it came to May's general election, ahead by 26% to 18%.
With support for the Liberal Democrats as low as 4% in the wake of the party's tuition fee U-turn, a significant 17% intend to back a party outside of the three main Westminster parties.
But of those, almost seven in ten (69%) intend to give their support to the Green Party with only 16% plumping for Ukip - the anti-Europe party unattractive to a group who believe the UK is better off being a member of the EU by 62% to 15%.
They would vote in a referendum to remain a member state by 67% to 19%.
And they are unimpressed by Mr Farage - with only 13% saying they thought he was doing a good job to 64% disagreeing - a negative net rating of 51%, worse even than Nick Clegg.
David Cameron enjoyed a -6% score, Labour leader Ed Miliband -18% and Lib Dem Deputy Prime Minister Mr Clegg -44%.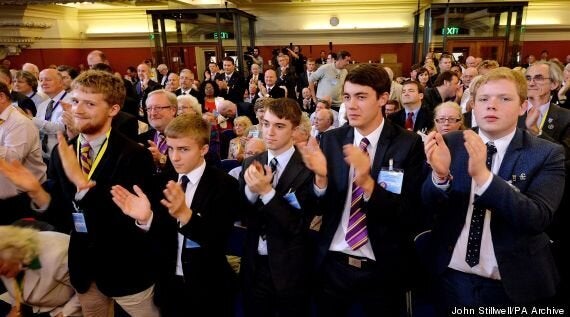 Ukip supporters as young as this are a rarity, the poll suggested
More than 3 million people will be eligible to cast a vote in a Westminster election for the first time in 2015.
The poll suggests they trust the Conservatives to run the economy over Labour by 28% to 19% - though 29% have no confidence in neither.
Only a slim majority (55%) of Labour's voters have faith in Mr Miliband and shadow chancellor Ed Balls ability to look after the country's books.
They were split by 33% to 27% over whether the economy was in a bad or a good state - and almost as many (33%) said the previous Labour administration was responsible for it as did the Tory/Lib Dem coalition (38%).
Opinium interviewed 503 17-22 years olds online from December 18 to 22.