Thousands of protesters are expected to descend on central Moscow after Alexei Navalny, the anti-corruption campaigner and leading adversary to Russian President Vladimir Putin, was found guilty of fraud.
A visibly shocked Navalny, who has been under house arrest, was given a suspended sentence of three-and-a-half years on Tuesday, but his brother Oleg was sent to prison in the politically-charged case. Oleg Navalny, the younger of the pair, has been far less prominent than his brother and his going to prison echoes Soviet-era practices of punishing relatives of dissidents.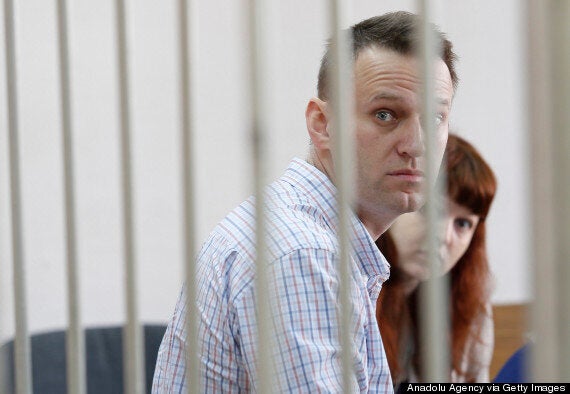 Russian opposition leader Alexei Navalny attends his trial at the Zamoskvoretsky District Court in Moscow
In court, his activist elder brother confronted the judge, yelling "Beasts!" as the sentence was read out. "Why are you putting him in prison?" he asked the judge directly. "To punish me even harder?"
"Happy New Year," Oleg Navalny told the judge as he was led away.
"This is the most disgusting and vile of all possible verdicts," Alexei Navalny told journalists and supporters outside the court. "The government isn't just trying to jail its political opponents — we're used to it, we're aware that they're doing it — but this time they're destroying and torturing the families of the people who oppose them," he said.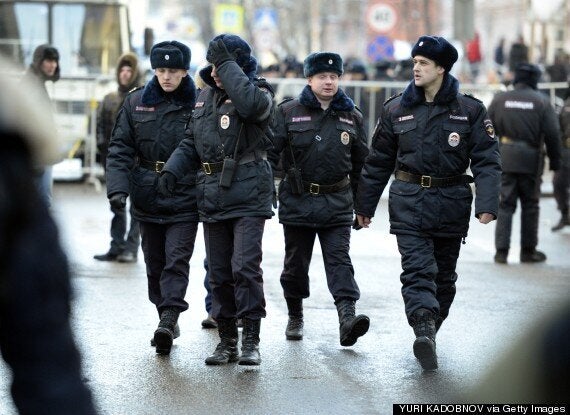 Police officers patrol next to a courthouse in Moscow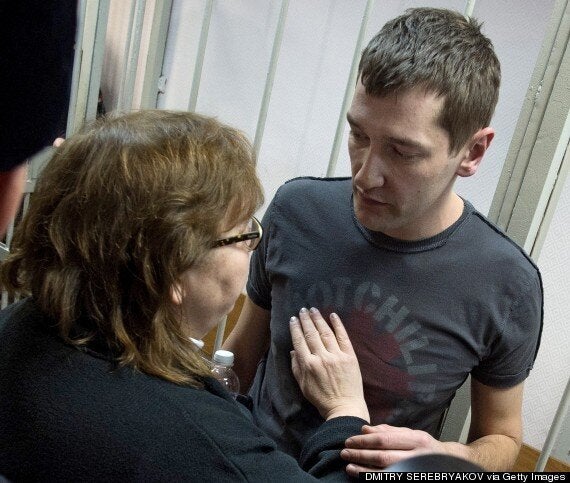 Oleg Navalny, brother of an anti-Kremlin opposition leader, listens to his mother Lyudmila during the verdict announcement of his fraud trial at a court in Moscow
Russian authorities had tried several untoward methods, ostensibly, to stave off demonstrations. Some 33,000 had said they would attend a protest at the court date in January, but yesterday it was announced the court session would be abruptly moved forward to today, as Russians prepare for Orthodox Christmas.
Pussy Riot have also released a video calling for people to support the protest, featuring women putting on make-up and smart coats before sweeping snow from the central square with brooms and then flying off as witches.
Navalny and his brother Oleg were convicted of defrauding a cosmetics company and given the same sentence as each other, but Oleg's was not suspended. The court also fined each of them 500,000 rubles (about £5,700) and ordered them to pay some 4 million rubles (£49,650) in damages.
"The sentencing and the imprisoning of his brother Oleg Navalny seems aimed not only at punishing Alexei Navalny himself and stopping his anti-corruption work but also intimidating other critics of the government," said Hugh Williamson of Human Rights watch in a statement.
"The Kremlin seems to be telling independent voices to expect a harsher crackdown in 2015."
On Twitter too, many reporters on the ground warned the verdict could be a watershed moment, especially with the Russian economy in such a state of flux.
Several hardline Russian politicians expressed dismay at the failure to imprison Navalny. Mikhail Markelov, a prominent parliament member from Putin's party United Russia told Russian news agency Interfax he was "outraged by the verdict".
"Any one of any rank would of course get eight years in prison for fraud and even for money laundering, and this sentence raises many questions."
Navalny, a lawyer and prominent tweeter, who took selfies inside the court, played a leading role in massive anti-Putin demonstrations in Moscow in 2011 and 2012.
In a 2013 trial in a different criminal case, he was found guilty of embezzlement and sentenced to prison, but he was released the next day after thousands of people protested in the streets of Moscow. He was then handed a suspended sentence and finished a strong second in Moscow's mayoral election in September 2013, with 27% of the vote.
Navalny and his brother Oleg were prosecuted for allegedly defrauding a French cosmetics company. Yves Rocher wrote a complaint to Russian investigators, but its representatives have insisted throughout the trial that there never were any damages caused. The French executive who wrote the complaint also left Russia shortly after the complaint was made and never attended the hearings.
The sentencing of Oleg to three-and-a-half years in a penal colony is a confusing one, prosecutors had asked for Oleg to get a more lenient sentence of eight yeas, compared to Alexei Navalny's 10.
"Up to now, after all, while it has been no secret that the 'law' is used as an instrument of political control and business rivalry, "noncombatants" have generally been considered exempt. Whether or not the Kremlin wanted to signal more generally that this is no longer the case, there will inevitably be wider concerns. I wonder how many oligarchs, minigarchs and the like will be revisiting plans to relocate family members abroad."