The condition of British nurse Pauline Cafferkey who was diagnosed with Ebola has deteriorated and is now critical, the Royal Free Hospital in north London said in a statement today.
And health officials in Swindon have also cautioned of a separate suspected case of Ebola, after a patient became unwell after a visit to west Africa.
Cafferkey, a Scottish public health nurse who had been volunteering in the stricken West African country, was diagnosed with the deadly virus after returning to Glasgow from Sierra Leone via Casablanca in Morocco.
A brief statement on the hospital's website said: "The Royal Free London NHS Foundation Trust is sorry to announce that the condition of Pauline Cafferkey has gradually deteriorated over the past two days and is now critical."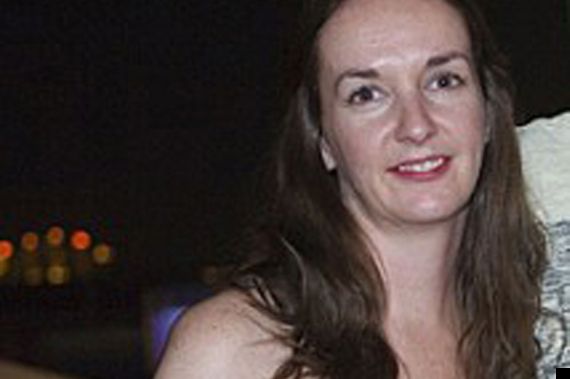 British nurse Pauline Cafferkey who was diagnosed with Ebola
Another potential Ebola patient is being kept in isolation at Great Western Hospital in Swindon while tests for the deadly virus are carried out as a "precautionary measure", health chiefs said.
Glaswegian Cafferkey was part of a 30-strong team of medical volunteers deployed to Africa by the UK Government last month and had been working with Save the Children at the Ebola Treatment Centre in Kerry Town.
She was initially placed in isolation at a Glasgow hospital after feeling feverish, before being transferred south on an RAF C-130 Hercules plane.
While waiting for a connecting flight to Glasgow she raised fears about her temperature and was tested a further six times in the space of 30 minutes.
But after being given the all clear she flew on to Scotland and took a taxi to her home where she later developed a fever and raised the alarm. The Government's chief medical officer, Dame Sally Davies, admitted questions have been raised about the airport screening procedure for Ebola.
Cafferkey was reported to be "sitting up in bed, talking and reading" on New Years' Eve, and the hospital announced she would have blood plasma treatment and take an experimental anti-viral drug.
Dr Michael Jacobs, infectious diseases consultant at the Royal Free London, said the hospital was "giving her the very best care possible," but "the disease has a variable course."
"At the moment, we don't know what the best treatment strategies are," Dr Jacobs said. "That's why we're calling them experimental treatments. As we've explained to Pauline, we can't be as confident as we would like.
"There's obviously very good reason to believe it's going to help her, otherwise we wouldn't be using it at all, but we simply don't have enough information to know that's the case."
If the second patient is found to have Ebola, they will almost certainly be transferred to the specialist centre at the Royal Free.
A spokeswoman for Great Western Hospitals NHS Foundation Trust said: "The trust is awaiting the results of the sample, which is being screened for a variety of infectious diseases prevalent in the affected countries, one of which is Ebola. The risk to local people, other patients or visitors to the hospital is very low. It is important to remember that contact with blood or other body fluids is needed for Ebola to be transmitted from one person to another."
The trust said it had "robust" systems in place to manage patients with suspected infectious diseases and it is following national guidance for possible Ebola cases. Staff have undergone training to deal with potential Ebola sufferers and personal protective equipment will be used, it added.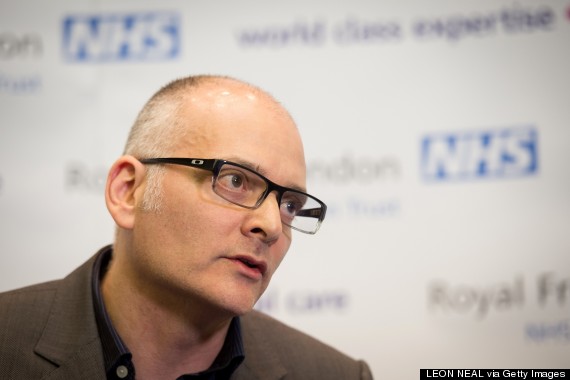 Infectious Diseases Consultant Dr Michael Jacobs at the Royal Free Hospital
Professor Hugh Pennington, emeritus professor of bacteriology at the University of Aberdeen, said people with the disease can deteriorate "very quickly" and said he believed using blood from a recovered Ebola patient to treat the Scottish nurse was her "best chance" for a recovery.
"We have to keep our fingers crossed and hope for the best. It's the luck of the draw unfortunately. Some people do recover, but some don't make it. We still don't know enough about Ebola."
The hospital was unable to obtain ZMapp, the drug used to treat recovered British nurse William Pooley, because "there is none in the world at the moment".
Pennington continued: "The plasma is probably her best chance of treatment as that is actual antibodies from people who have recovered from Ebola. Because of the small number of people treated with experimental drugs, it's difficult to judge the percentage of success."
Scottish First Minister Nicola Sturgeon said: "Our thoughts continue to be with Pauline Cafferkey and her family during this extremely distressing time.
"I would like to thank all of the health professionals involved in treating Pauline, as they continue to show tremendous dedication and expertise."
My thoughts are with Pauline & her family at this extremely difficult time. Thanks to all who are caring for her. http://t.co/Zw6VWYyIjj

— Nicola Sturgeon (@NicolaSturgeon) January 3, 2015
Other politicians also sent their good wishes to Cafferkey, including Prime Minister David Cameron.
My thoughts and prayers are with nurse Pauline Cafferkey who is in a critical condition with Ebola.

— David Cameron (@David_Cameron) January 3, 2015
Thinking tonight of #PaulineCafferkey who is tonight in a critical condition. Thank you to all aid workers, armed forces & NHS volunteers

— Sarah Wollaston MP (@drwollastonmp) January 3, 2015
Thinking of Pauline C & those working round the clock to try to save her. She is the best of the NHS and the NHS is now giving her its best

— Jeremy Hunt (@Jeremy_Hunt) January 3, 2015
Dr Peter Carter, chief executive and general secretary of the Royal College of Nursing, said: "It's sad and distressing to hear that Pauline Cafferkey is now in a critical condition as she receives treatment for Ebola.
"The thoughts of the entire nursing profession are with her and her family at this time. Pauline Cafferkey has shown incredible courage and commitment in volunteering to provide nursing care in Sierra Leone. The efforts of frontline health care workers like Pauline have been essential for containing the spread of Ebola, even though it means they themselves face considerable risks. Their bravery and their compassion is inspirational."