Rapist footballer Ched Evans may be about to be given a second chance in football with a League One club, after he was denied the chance to play abroad.
The 26-year-old striker was released from prison in October after serving half of a five-year sentence for the rape of a 19-year-old woman in a hotel.
Ever since, speculation and protest about how and whether his footballing career should continue has been intense.
Gordon Taylor, the Professional Footballers' Association (PFA) chief executive, would not name the club reportedly keen to sign Evans, amid widespread reports it is Oldham Athletic.
He said a press conference will be held tomorrow concerning Evans.
Evans, who still protests his innocence, had an offer to train with his former club Sheffield United withdrawn in November, following a backlash from supporters, sponsors and patrons that saw 160,000 people sign a petition against it.
SEE ALSO:
Other clubs including Tranmere and Hartlepool also rejected the opportunity to sign him and a recently touted move abroad to Maltese club Hibernians appeared to have floundered due to rules on convicted sex offenders and their probation regime preventing them from working abroad.
On Sunday, Taylor told BBC Radio 5 Live's Sportsweek programme: "The club are due to hold the press conference tomorrow... Bearing in mind what happened with his release and then of course the furore that we had at Sheffield United we feel that any club wishing to sign him needs to be 100% committed to signing him for proper and legitimate football reasons."
"I don't want to create a replica-type situation that we had at Sheffield because I'm a little bit concerned that we need a press conference and that will invite, of course, many antagonists," he said.
Taylor said the PFA appreciated the situation was "very sensitive", but reiterated its stance that Evans deserved the chance to resume his career following his release from prison.
"We've made it clear in our statements that we feel he's been unable to say much because of the appeals process, but he has served his time and the job of society is to look to rehabilitate," Taylor said.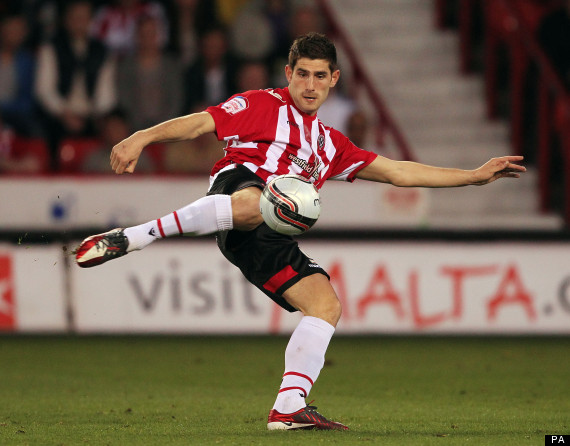 Ched Evans
It comes after it appeared the move to Malta had opened up the prospect of a way back into the game for the disgraced player.
The Hibernians club announced they had offered the former Wales striker a deal for the remainder of the season.
But the Ministry of Justice quickly stepped in to suggest working abroad was not compatible with his probation conditions - effectively barring him from taking up the offer.
The player denied the offence, saying the sex was consensual but he was found guilty by a jury at Caernarfon Crown Court.
There has been no official confirmation or denial from the club, which has previously signed a former convict as a player.
Lee Hughes, who served three years in jail for causing the death by dangerous driving of father-of-four Douglas Graham in Meriden, near Coventry in 2004, also signed for Oldham after his release from jail in 2007.
The club's reported interest in Evans sparked debate on unofficial fans forums, with some supporters saying they would not attend another game at the club's home ground if Evans signed.
On one fans' forum, a member named as Underdog wrote: "Please god no ... we are a family club ... He is a convicted sex offender until the courts decide otherwise ... can you imagine the grief we would get as fans ...This is a nightmare, if he signs I will not be returning back to BP until he has gone and would have to consider my role in playershare and trust oldham."
And Bristolatic wrote: "I wasn't 100% comfortable with the Lee Hughes signing, but he did at least show some contrition ... Ched Evans, on the other hand, has shown no remorse whatsoever. Instead, he has chosen to simply declare that he is innocent.
"My conscience would not allow me to be at a game in which he was playing.
"It would break my football heart to sever my allegiance with the club after all this time, but that's the way it would be. I feel so sad at the thought."
However another poster, Hands On, wrote: "We all have to make our own minds up. I have made up mine and believe he should be given the chance to pursue his chosen profession again. I will continue to support my club."