The BBC has escaped censure by Ofcom after it apologised for showing "upsetting" footage of an open passport of a woman who died in the MH17 air disaster in Ukraine.
The clip showed a recognisable photo of the victim, who had not been officially identified at the time.
She was one of 298 people killed in July last year when the plane was shot down by pro-Russian separatists in the east of the country - the second Malaysia Airlines plane lost in 2014 after MH370.
SEE ALSO:
Ofcom said the broadcast was "inappropriate" but considered it resolved because of the steps the BBC took to acknowledge the offence and not repeat the clip.
It said: "A complainant alerted Ofcom to what they considered to be upsetting images in BBC News Channel coverage of the crash of Malaysian Airlines' flight MH17.
"The complainant considered that the broadcast of the photograph page of the passport of one of the victims of the crash, which had been found at the crash site, was inappropriate for broadcast."
The BBC said it "immediately recognised that this image carried the potential for distress" and apologised and never used it again.
An Ofcom spokesman said: "Ofcom undertook a detailed investigation into BBC News' footage of the MH17 crash site, which included an image of a passenger's passport.
"Having reviewed the evidence, Ofcom found the BBC took steps to limit any offence caused; including apologising and ensuring the image was not shown again in later reports. As a result, we consider the matter resolved."
Ofcom also ruled that broadcaster RT had not breached the broadcasting code with its coverage of the disaster.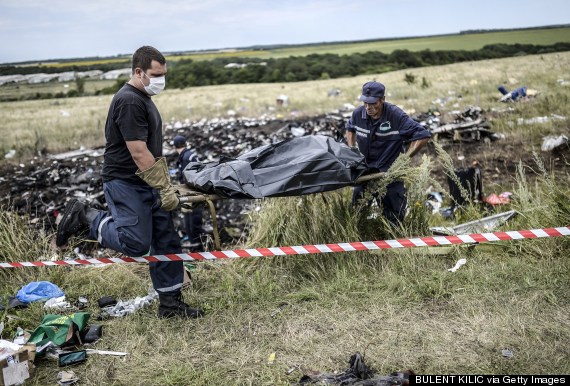 The MH17 crash scene
Viewers complained that the channel, formerly known as Russia Today, had shown "graphic images" of dead passengers but Ofcom said it "took sufficient steps to limit the potential for offence".
Ofcom previously investigated Sky News after its reporter Colin Brazier was seen picking through the belongings of victims of the crash.
It said that report was "capable of causing considerable offence" and breached its programme code, but said it would take no further action after the broadcaster and reporter involved apologised.