UPDATE: The fun's over, the Ukip website is back up and running.
Ukip appear to have taken another step towards the Dark Ages on Tuesday by losing their official webpage...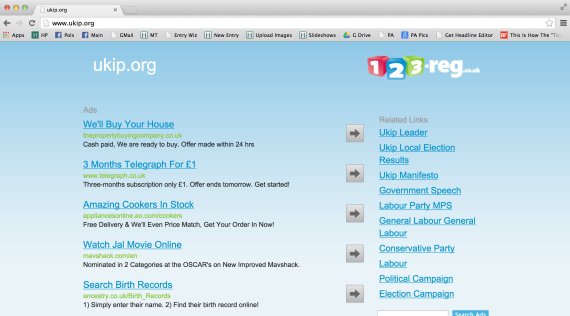 Ukip.org once full of scaremongering information has reverted back to an unregistered domain name, maybe because someone forgot to take pay the bills.
Damn, the #UKIP website is down. Now how will I find out about their well researched, costed and innovative policies?

— Jon (@JonB_89) January 6, 2015
#UKIP website is down - did someone forget to pay @123reg ?? http://t.co/UQatyf3ZWu

— Rob Jessel (@robjessel) January 6, 2015
Perhaps 123.reg.org are just waiting for a purple cheque to clear.
An attempt to purchase the site tells users the domain name is actually taken still, but it appears an Oxford record label may have managed to nab it.
Guess who owns http://t.co/MF2oRnDEbJ ..... #whatthehelldoidowiththisnow pic.twitter.com/Q0CXPaTtjW

— Alcopop! Records (@ilovealcopop) January 6, 2015
But some have doubted the deal will close...
Some people saying it won't go through, so can't comment on that, but I have a receipt from GoDaddy so we'll see :-)

— Alcopop! Records (@ilovealcopop) January 6, 2015
Intriguingly the domain is registered until 22 March 2016 and was modified just today.
Be hilarious if the UKIP website going down is actually due to data migration issues.

— Andy Gilderdale (@AndyGilder) January 6, 2015
Ukip have said they are aware of a "technical problem". Have they been hacked?
Bloody hell. #UKIP website is down. How do I know which minority to blame or which risible and tragically misinformed view to hold today?

— Peter Smith (@Redpeter99) January 6, 2015