Last week, when The Mirror ran a story about mum of two Denise Sumpter who still breastfed her six-year-old, it didn't create much of a murmur.
But when she appeared on This Morning yesterday to explain why she chose to breastfeed her older daughter Belle (she also has an 18=month-old Beau, there was an immense storm on Twitter.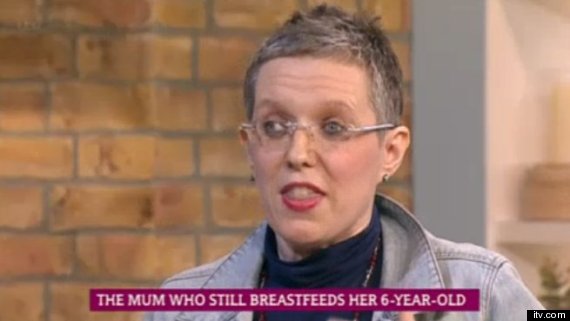 She said: "I can't express but I feed my children whenever I want. … It's not just a drink – it isn't like cola – it's nutrition, it's a living food. It changes hour by hour so that child gets a perfect nutritional fix."
SEE ALSO:

Woman Still Breastfeeds Her Three-Year-Old Triplets

I Took Antidepressants When I Was Breastfeeding, and When I Was Pregnant
Speaking to The Mirror earlier on, she said that as a result of her breastfeeding, Belle is a head taller than her other classmates and is rarely ill. her child will ask for a feedb once or twice a day, and the 42-year-old says she will feed her as long as she wants to.
"I'll feed Belle as long as she asks," she says. "I don't know how long that will be. It will be the same with Beau. I don't think there's anything weird about it.
For some people that might find six too old, she said: "Actually I've had a couple of people come up to me and say 'I'm breastfeeding my eight-year-old' - please let people know that this is normal, it's happening in the UK."
Here's what some people said on Twitter:
Just caught up on This Mornings #BreastfeedingAt6 debate. She made valid points for breastfeeding a baby- but not a child

— Jenn PhotoJennic (@jennifrost) January 6, 2015
it's natural, it's healthy for mother & child, it's not chemical crap or the milk of another animal ... simmer down people #breastfeedingat6

— Ellie Stoneley (@E11ie5) January 6, 2015
'Globally, average age children stop breastfeeding is four and a half' So why does Britain have such an issue with this?! #BreastfeedingAt6

— Emma Harris (@MeTheManAndBaby) January 6, 2015
I see #BreastfeedingAt6 is trending.. Why do people feel the need to have a opinion on this? No ones business but the parent & child.

— Emma Harris (@MeTheManAndBaby) January 6, 2015
Not that I agree but each to their own with the #BreastfeedingAt6 but if you are going to do it why make it national news ? #privatematter

— Maisy Jones (@mrsmejones) January 6, 2015
I don't think it's healthy to breast feed a girl of 6. It's not needed and plenty of other ways to show affection..... #BreastfeedingAt6

— LR (@KClily) January 6, 2015
#BreastfeedingAt6 the wee lass has a full set of teeth, that mother is delusional and disgusting! The poor girl is gonna get bullied rotten✋

— Caitlin (@CaitlinGibsonnn) January 6, 2015
And one smart guy...
This is what happens when the licensing laws get changed to 24 hour pub opening. #BreastfeedingAt6

— Chris Thompson (@thompsuk) January 6, 2015
What do you think? is 6 too old to be breastfeeding? Should people just mind their own business? Tell us in the comments below or tweet @HuffPoLifestyle.