UPDATE: Ian Watkins's Former Girlfriend Joanne Mjadzelics Cleared Of Indecent Images Charges
Jailed paedophile rock star Ian Watkins and his ex-lover spoke of kidnapping children from outside a school and then raping and killing them, a court heard on Wednesday.
The graphic online sex chat, which also included references to the abuse of babies, was just a way of trapping the Lostprophets' frontman, his former girlfriend told police.
Joanne Mjadzelics, 39, said talking dirty to the man she once loved was the only way to bring him to justice. Joanne Mjadzelics arrives at Cardiff Crown Court on Tuesday
She said the authorities labelled her a "nut job" and would not listen to her concerns about the singer, who was later jailed for 35 years for trying to rape a baby.
Mjadzelics is on trial at Cardiff Crown Court accused of possessing and distributing indecent images of children and encouraging Watkins to send her images.
Police found a computer file entitled "Jo Filth" on which the pair discussed online incest while acting out being brother and sister, cross dressing, detailing child abuse and discussing kidnapping a brother and sister from outside a school, killing one and raping the other.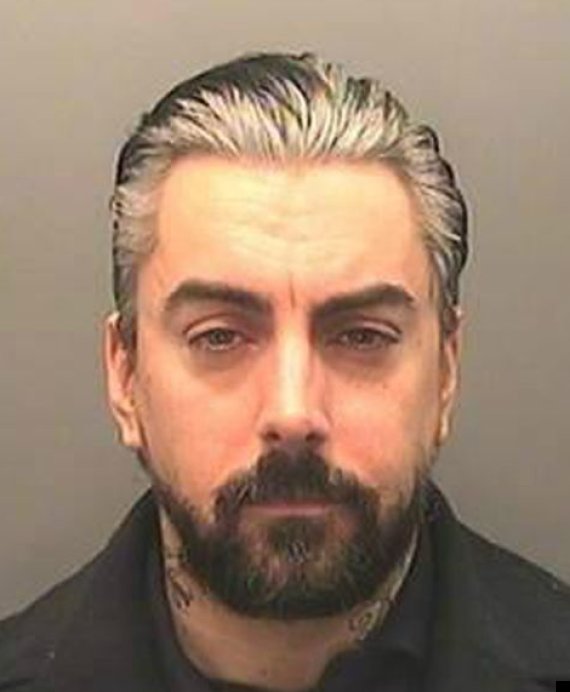 Watkins was jailed in December 2013
The court heard Mjadzelics was arrested in January 2013 as part of Operation Globe - a worldwide investigation into Watkins.
The former prostitute and special constable accepts she was in possession of four indecent images of children, had sent an indecent image of a child and had twice encouraged Watkins to send her an image of child rape.
Giving evidence for the first time, Mjadzelics said she first contacted the Lostprophets' Myspace account in 2006 to arrange tickets for a gig.
Mjadzelics, who at the time was working as a manager for a private bank, described how their relationship quickly developed but it was not long before Watkins' conversations turned sordid.
In April 2007 she flew to the US and rented an apartment in West Hollywood as Watkins was recording an album in Los Angeles but they never met.
"I wasn't speaking to him because he let me down in LA," she told jurors.
SEE ALSO:
"I said the only way that he would see me was if he took a cock for me, so I arranged for a transsexual escort."
By September 2007 Mjadzelics said Watkins had described raping a 12-year-old girl in Los Angeles.
By Christmas, she claimed, he was sending her an indecent photograph of a five year old girl, who he described as "super flirty", posing with cocaine.
"He just said 'You know what little girls are like'," she told the court.
"My heart sank because it made me ill."
Fighting back tears, Mjadzelics told the jury she decided to split with the singer in 2008 because of that picture.
"I was completely confused. I was totally in love with the man, yet he sent me this picture," she said.
"How could I be in love with a man that sends that image? And he lied saying he only got her to pose with the picture as a joke."
After stopping taking cocaine, she said she realised that Watkins' perversions were not just the "coke talking".
"I told him that I had to tell someone. I kept questioning him and trying to get him to convince me it was not true," she said.
"He kept saying it was the coke talking but I didn't believe him. I didn't want to see him again but I agreed to see him again in the June to convince me otherwise."
Mjadzelics said she saw the singer on a couple of occasions in 2010 where she claimed he tried to get her to snort heroin before showing her a film on his laptop.
"The first thing I saw was a child crying and screaming and I saw a video of a young girl being raped," she told jurors.
"And I looked at him and I just saw an evil smirk on his face. He was looking for a reaction and all I did was cry and I said he had to go."
Mjadzelics told the court that after that encounter she decided to "play" Watkins at his own game and he later described raping a five-year-old girl in Los Angeles.
"I have never met anyone as sick and depraved as that man," she said.
Mjadzelics described the footage recorded in a Cardiff hotel entitled "Jo paedo talk Cardiff", in which she speaks of the kidnap, rape and killing of a child as "very clever" which did not show Watkins telling her what to say.
She told the jury how the police "couldn't be bothered" when she repeatedly reported her claims about Watkins to them.
The court heard how she had faced a gagging order from the singer's lawyers and had also been warned about harassing members of his family.
"Every single police force states that I am a nut job and I have these harassment orders - it's all bullshit," she insisted.
"He was getting off on the fact he was getting away with it."
The trial against Mjadzelics, of Thorne Road, Doncaster, South Yorkshire was adjourned until Thursday.