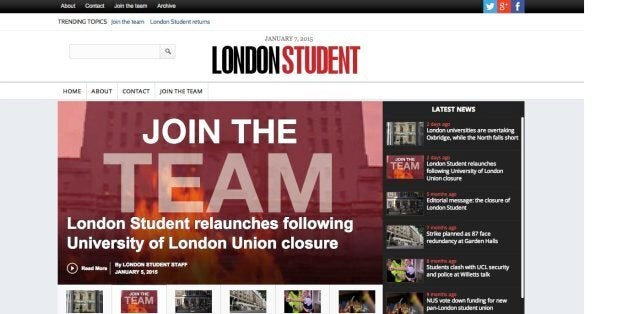 The London Student, Europe's largest student newspaper, has been revived as an independent digital platform six months after its closure in July.
The publication finds itself under the interim stewardship of Ben Jackson, a former editor of King's College London's student newspaper Roar.
Jackson will take charge of the London Student, and form a team of members and contributors, until a structure is in place to elect a new editor.
He said: "My aim is to secure the future of London Student as a digital product while managing it in accordance with our readers' wishes."
"We'll inevitably start with a small team, so no matter what sort of position you might be interested in, you could be playing a key role in something special."
The newspaper was earmarked for closure after the University management announced it would withdraw funding for the University of London Union (ULU) in Spring 2013.
Michael Chessum, the then-ULU President described the demise of the London Student at the time as "an act of vandalism against organisations and activities that have taken students decades to build up."
It was shut down alongside the union despite repeated attempts to save it, including a last-ditch request for a one-off £54,000 cash injection, spread across the University of London's 19 constituent colleges. The appeal was rejected.
Oscar Webb, the London Student's previous editor, will meanwhile look to establish an appropriate structure for the newspaper as an independent publication in the longer term.
He said: "My immediate aim is to find a suitable legal structure for the publication, which will allow us to both democratically elect editors and sustain the publication financially."
"A cooperative with current and former contributors as members seems the most appropriate structure for London Student. I'm looking into establishing this cooperative in the coming months."