A powerful winter storm has swept through the Middle East, depositing several inches of snow and leaving refugees displaced by the Syrian civil war shivering in their tents.
Two refugees in Lebanon were killed and in Syria, the guns fell silent as snow fell in the cities of Damascus and Aleppo and government warplanes remained on the ground because of bad visibility.
The storm dumped rain and hail on Lebanon's coast and heavy snows in the mountains and central Bekaa Valley. A Syrian girl makes a snowman outside her tent at a refugee camp in al-Majdal village, Bekaa valley, east Lebanon
Gas stations, schools, banks and shops shuttered and power was cut throughout Lebanon, but it was particularly trying for the hundreds of thousands of Syrian refugees who live in tents and makeshift shelters.
In eastern Lebanon, security officials said a Syrian shepherd, Ammar Kamel, 30, and a 7-year-old boy, Majed Badawi, died in the storm Wednesday as they made the dangerous trek through the rugged, snow-covered mountains from Syria to the Lebanese border town of Chebaa.
Near the town of Anjar, on the border with Syria, refugees used brooms and sticks to try to clear heavy snow from the tops of their tents, fearing the shelters would collapse. A Syrian boy poses for a photo in the snow outside his tent at a refugee camp, in Zahleh, Bekaa Valley, east Lebanon
Inside, adults huddled around wood-burning stoves to try to keep warm.
In Beirut's slum of Shatila, residents waded through dirty water and floating garbage that clogged the narrow alleys while children played, trying to catch hail.
Elsewhere, Palestinian authorities in the West Bank and Gaza Strip declared a state of emergency over the storm.
An eight-month-old Palestinian infant in the Tulkarem refugee camp died in a fire caused by a heating stove, said Palestinian civil defense ministry spokesman Louay Bani Odeh.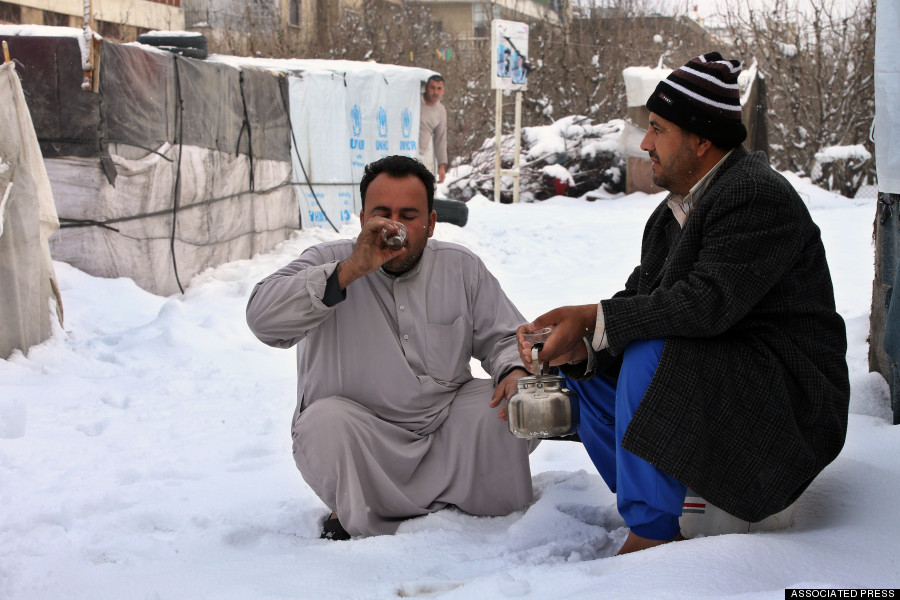 Two Syrian men sit outside their tent as they drink tea, at a refugee camp in al-Majdal village, Bekaa valley, east Lebanon
Snow also accumulated in the Golan Heights and northern Israel.
Jerusalem schools closed ahead of a forecast warning of 10 inches (25 centimeters) of snowfall. The weather dominated Israeli media newscasts as snow fell in repeated bursts in Jerusalem, with media promising more snowfall later.
Israeli police closed roads in the country's north as Jerusalem city officials directed snow preparations from a "war room" in a bunker underneath city hall, and deployed about 150 snowplows. The military readied armored personnel carriers to help the police.
In Syria, snow blanketed Qassioun Mountain, which overlooks the capital, Damascus. The snowfall also brought traffic to a near standstill in the city and the Education Ministry shuttered schools and universities for two days.