A mistake by New York Times writer John Branch has caused the internet to fall in love with a fictional country.
In an article about kidnapped climber Tommy Caldwell, Branch referred to actual nation Kyrgyzstan as non-existent Kyrzbekistan, which prompted this rather funny correction:

This only fueled a social media explosion, with people across the web showing support for the supposedly made-up state.
Someone has already started a subreddit for people wishing to visit the country, travel guides are emerging, and "official" webpages are flooding the internet.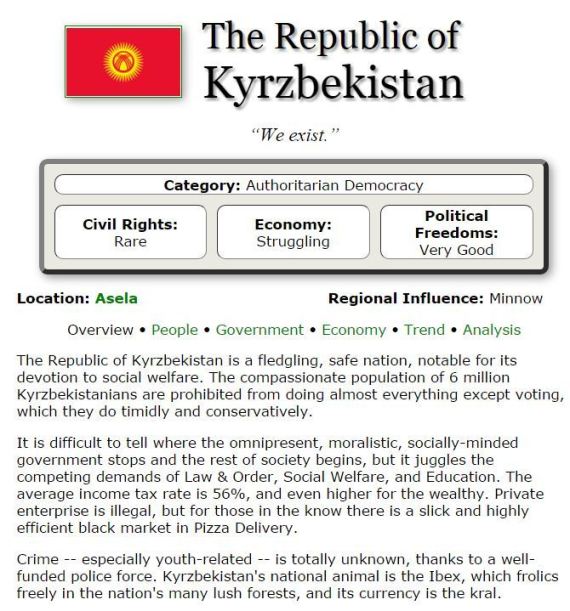 Oh, and someone started a Twitter account for the glorious nation.
.@abdullah_omar visa on arrival, and for you the VIP horse lane at customs

— Kyrzbekistan (@kyrzbekistan) January 9, 2015
Just got a follow from @kyrzbekistan, and named honorary president. Considering all I've done for that country, it's the least it could do.

— John Branch (@JohnBranchNYT) January 8, 2015
People leapt to the defence of the republic after seeing the New York Times' spurious claims that it doesn't exist.
@nytimes How dare you imply #Kyrzbekistan doesn't exist! Sarah Palin can see it from her yurt!

— Mark Tafoya (@ChefMark) January 9, 2015
The Republic of Kyrzbekistan is a fledgling, safe nation, notable for its compulsory military service. The compassionate population of 6 million Kyrzbekistanians are prohibited from doing almost everything except voting, which they do timidly and conservatively.

Private enterprise is illegal, but for those in the know there is a slick and highly efficient black market in Pizza Delivery.
They're already getting involved in international conflicts.
.@MirrorOfMirrors Pah! You Austranians shall feel the wrath of our hooves trampling your cabbage fields.

— Kyrzbekistan (@kyrzbekistan) January 8, 2015
And flaunting their superior falcons.
.@colleenewood poor Kyrgyzstan hah! They wish their hunting falcons could fly as true as the falcons of #kyrzbekistan

— Kyrzbekistan (@kyrzbekistan) January 8, 2015
They're even looking at joining our competitions.
Rumour has it that #Kyrzbekistan has been given the go-ahead to enter Eurovision 2015.

— Doris Ignatiew (@dupsu) January 9, 2015
A lot of people are planning holidays.
I hear @kyrzbekistan, Somaliopia and Middle Korea are lovely this time of year.

— Sam Placzek (@samlikessox) January 8, 2015
Although some people are already over it.
Kyrzbekistan was really great before it became all McDonald's everywhere and a Starbucks on every corner.

— Hayes Brown (@HayesBrown) January 9, 2015
A vodka break with traditional Kyrzbek herders on a wolf hunt in @kyrzbekistan.Wolf population est. 60k+. Good times pic.twitter.com/N3DzEOefLN

— The Security Guy (@thesecurityguy1) January 9, 2015
It didn't take long for political movements to spring up.
OCCUPY #Kyrzbekistan.

— Vlad Georgescu (@vladgeorgescu) January 8, 2015
Some suspected Tony Blair might soon get involved.
BREAKING: Former British PM in talks to offer "strategic advice" to president-for-life of #Kyrzbekistan Kyrzbekbashi.

— Oliver Bullough (@OliverBullough) January 8, 2015
And Vladimir Putin.
@OliverBullough Kremlin preparing plans already to defend rights of Russian-speaking minority in #kyrzbekistan

— Neil Buckley (@NeilRBuckley) January 8, 2015
The politics of the country has swiftly made it a fairly favourable place to live.
"@kyrzbekistan: @madocw76 what is the difference? In #kyrzbekistan we know gender is a construct"

Hear hear to Kyrzbek feminist party! :)

— Феминизм KG (@feminismkg) January 9, 2015
But the great government of Kyrzbekistan isn't without its critics.
@kyrzbekistan short sighted on Rohanians. You know very well that they covet your Broccoli plantations and yet you pander to them.

— Ali Reza (@delkian) January 9, 2015
And they're very generous with their horses.
.@madocw76 take your pick (horse in the middle not a horse but a man with power of horse) pic.twitter.com/gkhGuKFXsZ

— Kyrzbekistan (@kyrzbekistan) January 8, 2015
At least public morale is at an all-time high.
How Kyrzbeki deal with depress job? At least cold sadness make tear for salt potato. #Kyrzbekistan #kyrzbekistanJokes

— Tom Duffy (@techremedy) January 8, 2015