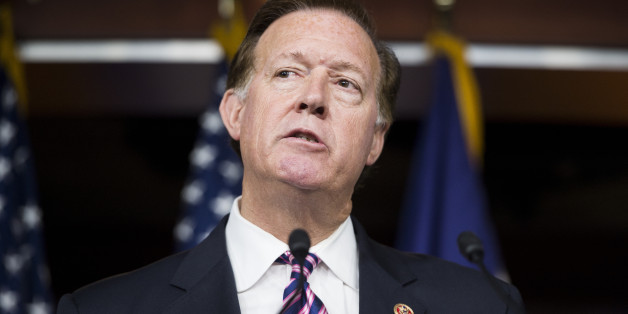 Bill Clark via Getty Images
NEW YORK -- A Texas congressman was pilloried on Tuesday for posting a tweet that used the terror attack in Paris as an excuse to compare President Barack Obama to Adolf Hitler.
Republican Randy Weber's official account, @TXRandy14, tweeted on Monday night: "Even Adolph Hitler thought it more important than Obama to get to Paris. (For all the wrong reasons.) Obama couldn't do it for right reasons"
Even Adolph Hitler thought it more important than Obama to get to Paris. (For all the wrong reasons.) Obama couldn't do it for right reasons

— Randy Weber (@TXRandy14) January 13, 2015
The tweet, which has not been removed, juxtaposes Hitler's visit to the vanquished city after his troops invaded during the Second World War, and Obama's much-discussed failure to join world leaders at an anti-terror march through Paris on Sunday.
"Weber's tweet is vile and stoops to a new low level by desecrating the victims of the Holocaust to make a political point," Democrat Steve Israel said in a statement demanding an apology from Weber.
Asked on Tuesday if he had any reaction to Weber's Tweet, White House spokesman Josh Earnest replied, "I don't."
That's some good dumbassing right there.

— NICKinNOVA (@NICKinNOVA) January 13, 2015
@TXRandy14 time to fire your Twitter accnt handler, oh wait, your typed that yourself. ASS!! You're an embarrassment to our govt & humanity.

— Paul Peters (@PMPRacing7) January 13, 2015
.@TXRandy14 Sir with all due respect... You are a diaper wearing brain dead moron that can not parse a coherent statement.

— AmericanDiaper™ (@Astro_Hanso) January 13, 2015
The White House has acknowledged that Obama or another high-level representative of the US should have joined the march in unity with the French following attacks that left 17 people dead. The absence was widely noted, and heavily criticised by congressional Republicans.
The Democrats' campaign organisation was quick to denounce Weber's tweet and to connect the incident to the recent controversy over Majority Whip Steve Scalise's 2002 speech to a white supremacist group. Scalise has said he regrets the speech and didn't understand the nature of the group.
"Congressional Republicans like Weber are clearly catering to the most extreme elements — first refusing to condemn Steve Scalise's inexcusable affiliation with KKK members, and now this," said Josh Schwerin, spokesman for the Democratic Congressional Campaign Committee. "Speaker (John) Boehner and Republican leaders need to step forward and condemn Congressman Weber and his toxic brand of politics."
Weber was one of 25 Republicans who voted against Boehner last week as insufficiently conservative to be speaker. Weber was elected to Congress in 2012, taking the seat opened by Ron Paul's retirement.
Weber's spokeswoman did not immediately return an AP request for comment or verification that Weber personally authored the tweet, which remained in his Twitter feed Tuesday.
Weber has a history of inflammatory remarks, and misspellings, on Twitter.
In a tweet last year he called Obama a "Socialistic dictator" and "Kommandant-In-Chef," presumably meaning "chief."
Monday's tweet used "Adolph" instead of "Adolf" for Hitler's first name.
SEE ALSO: