A wish came true for a nine-year-old who has muscular dystrophy and wrote to David Cameron in a bid to meet him and ask for his help. The Prime Minister surprised Archie Hill of Gerrards Cross and his family outside 10 Downing Street as they handed in a 22,785 signature petition calling on the NHS to end delays to a breakthrough treatment, Translarna.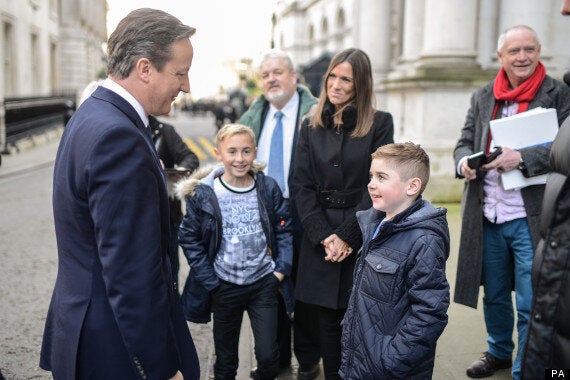 Archie Hill, the nine year-old who has muscular dystrophy, handed in a petition and his personal letter to the Prime Minister David Cameron
Archie, who was diagnosed with the severe and progressive Duchenne muscular dystrophy at the age of three, said: "I was happy to meet the Prime Minister and to give him my letter. He was very nice and asked me about my football team."
His condition causes irreversible muscle damage and leaves many boys needing a wheelchair by the time they are eight or nine years old. Problems with heart and lung muscles mean that few with the condition currently live to see the age of 30.
Archie is among a number of children who could benefit from Translarna, the first ever drug tackling the causes of Duchenne muscular dystrophy. The drug was approved in Europe in August. It is currently available to boys in France, Spain, Germany, Italy and Denmark, but UK families - backed by the Muscular Dystrophy Campaign - claim they are being left to suffer agonising delays dues to NHS administrative issues.
Campaigners point out that to be eligible for the treatment, Translarna, these boys must still be able to walk. Each day this treatment is delayed results in a greater risk that they could miss out on the drug entirely.
Archie's mother Louisa said: "We are just so proud of Archie and absolutely thrilled the Prime Minister took the time to stop and speak with him. Archie is amazing, he has been fantastic today. Living with Duchenne muscular dystrophy is just so much for a nine-year-old to deal with. He knows that there is a medicine out there that could help him keep playing football for longer. That means everything to our little boy.
"There is no one in the country in a better position to do something about these delays than David Cameron. He had seen Archie's letter and took a genuine interest in what the problems are in getting Translarna and how he might be able to help us. There are so many people here today showing their support for families like ours. We need Translarna now, not in six months time, now. We desperately hope the Prime Minister can help."
Earlier during Prime Minister's Questions, Cameron told Parliament: " I was looking at this issue last night and there was a child, who was about the same age as my son, pictured with his local football team, just as my son was.
"It made me think how vital it is to get these drugs through as quickly as we can. I know that there has been a debate on whether these drugs should be licensed quickly and on all the issues and problems. I will meet those parents, look at their petition and see what can be done."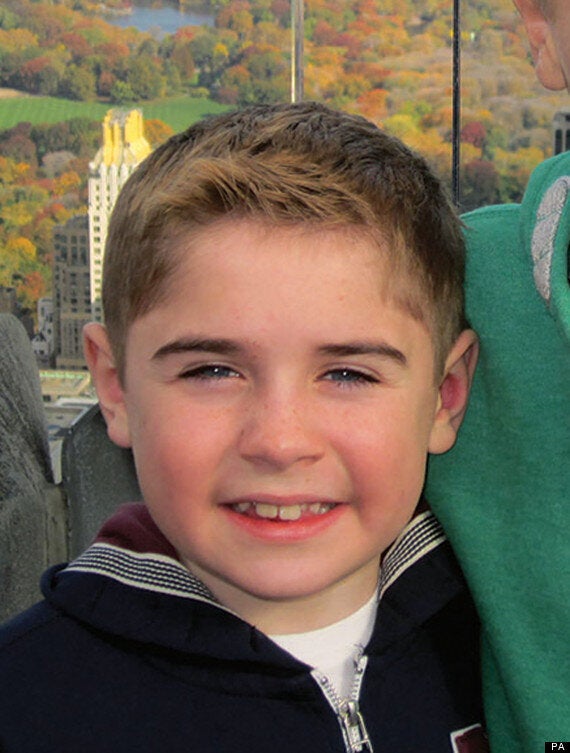 Archie plays for his local football team, despite the illness
Backed by the Muscular Dystrophy Campaign, Archie was among a hundred people who gathered at Westminster to appeal for urgent access to the drug which could help keep children like Archie to keep walking for longer. Translarna has been designed for 10-15% of the 2,500 children and adults in the UK who have Duchenne muscular dystrophy caused by a "nonsense" or "stop" mutation.
Translarna will only be able to be used in boys over five years of age and who can still walk and only in cases caused by nonsense mutations - when a single letter of the DNA is changed which places a "stop signal" in the middle of the gene.
The drug can encourage cells to ignore this stop signal and read all the genetic information. In boys with Duchenne muscular dystrophy, this could restore dystrophin protein production in the muscles.