People who cannot take selfies cannot become the next deputy chief constable of Humberside Police.
Anyone seeking the £117,078-a-year job will first have take a 'New Year selfie' and email it in.
The advert doesn't suggest candidates will be ruled out for taking an unattractive or blurry selfie but a local politician said it was "demeaning and a bit discriminating".
Taking a selfie alone won't get you the job though. The advert says: "As we embark upon a whole force restructure in April 2015 we have an exciting opportunity for a motivated and driven individual to lead, inspire and drive the significant changes to structure, culture and performance which are required."
British policing has been criticised for its relatively slow uptake of technology, which commentators have said could make it more efficient as it struggles to accommodate enormous budget cuts imposed in recent years.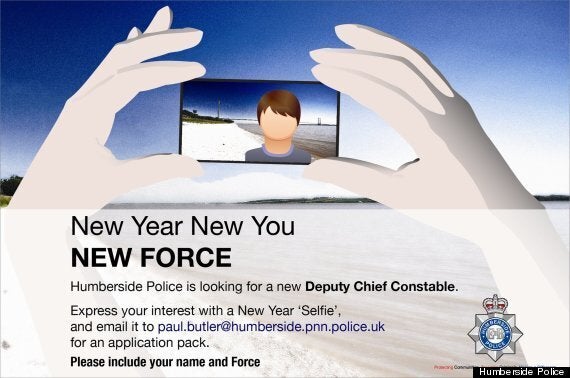 Bear in mind that taking a selfie isn't the only requirement
But Hull councillor Phil Webster told The Yorkshire Post: "It makes you wonder whether they want a new Robert Peel or a new Brad Pitt."
He told ITV News: "It's got nothing to do with modern technology - it's wholly inappropriate.
"Is this the sort of behaviour we want to encourage for someone coming into such a responsible position?"
In a statement to HuffPost UK, Ms Curran said: "As a force we have invested heavily in new technology in a bid to modernise the way we work, increase officer time on the beat, be more visible and accessible to the public.
"Our chief officers and senior managers need to lead from the front by embracing this technology, and by being a visible presence on social media giving the public an insight into the world of Humberside Police and how they can play a part.
She said the deputy position was "a key role within the force and as such it is vital that potential candidates understand the importance of embracing new technology at the point of applying for the role".
"This is why we have created a recruitment advert that reflects our aims and ambitions as a force by encouraging candidates to get involved from the outset," she added.