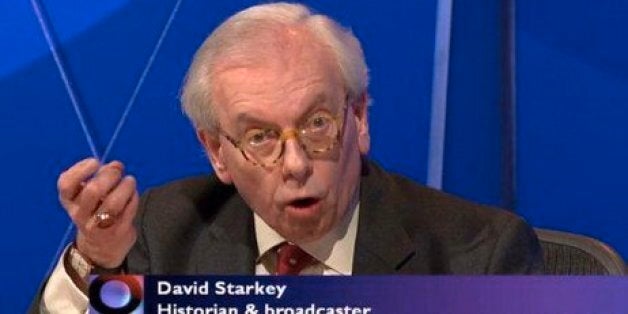 Historian David Starkey has insisted on BBC Question Time that a 16 year old pupil could "groom" a 44 year old teacher, in a cringeworthy tirade on the flagship politics show.
The comments come after former religious studies teacher Stuart Kerner, 44, from Kent, was handed an 18-month suspended sentence for having sex with the girl at school and at his home, meaning he will not go to prison if he behaves well during that period.
Female judge Joanna Greenberg QC sentenced him after Kerner was found guilty of two counts of sexual activity with a child by a person in a position of trust. adding in controversial remarks: "If grooming is the right word to use, it was she who groomed you, you gave in to temptation."
Admitting the teacher "behaved disgracefully", Starkey insisted that it was "more important" to consider that some teenagers can be "highly mature sexually and profoundly manipulative".
"I think we are beginning now to become Victorian, we are starting to idolise childhood, we are starting to say in a sense that suddenly there is a magic moment of the age of consent when you become fully sexual," he said. "It is a long and complex process."
Another panellist, Tory defence minister Anna Soubry, suggested that Starkey had "missed the point totally", but the outspoken historian told her: "Shut up! You are very good at saying the obvious."
"I have seen 13, 14, 15, 16 year old boys and girls that were highly mature sexually that were profoundly manipulative and knew exactly what they wanted."
Pressed by host David Dimbleby to make clear whether he thought a 14-year-old girl could "groom" a 44 year old teacher, Starkey retorted,"Yes is the answer," before adding: "Can we replace the word groomed by seduced?"
Soubry waded in again telling the historian: "For a man who cares about words, my god, you don't half abuse them on this programme!"
Starkey would still not be silenced, insisting that the girl was to blame as "she set him up, she excited him," as one member of the Lincoln audience shouted back that the teacher is "not an animal".
The audience member, a probation officer with over 20 years experience who has worked with sexual offenders, later spoke up and tore into Starkey.
"It helps absolutely no-one to blur the boundaries between childhood and adulthood, the responsibility absolutely lies with the adult," she said. "The statement by yourself and by the judge feeds into these distorted views."
Starkey insisted his views were a "recognition of reality".
Needless to say, Twitter was all over it.
SEE ALSO:
The historian also dropped a clanger in the show after calling Mehdi Hasan 'Ahmed', and later seemed to surprise himself by calling for economic protectionism and confusing the debt with the deficit.
While speaking on the topic of freedom of speech in the wake of the Charlie Hebdo shootings, Starkey gave an abridged account of why he thinks modern Islam is "backward".
Unfortunately he then addressed the political director of the Huffington Post UK like this.
Popular in the Community