The latest edition, created solely by the magazine's surviving staff, has a massively boosted print run of five million copies, eighty-three times larger than the usual 60,000 copies of the satirical publication.
A handful of copies are expected to be available in the UK by the end of the week, but around 20 have appeared for sale on eBay, with one selling this morning for £1,551. Over 50 bids have been placed on the lot.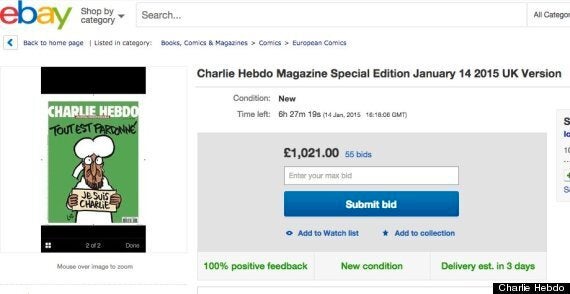 Bids for one copy reached £1,551 at the time of publication
People in France queued around the block to buy the magazine from 6am local time this morning, with some newsagents reporting copies selling out by 8am.
Many French newsagents displayed sold out signs on their doors as people who managed to buy a copy posed proudly for photographs with the in-demand issue.
Charlie Hebdo's website home page this morning, translated into English
The UK is also gripped by the intense interest in the edition, which features a cover defiantly showing the prophet Muhammad weeping with the line "Tout est padonné" or "All is forgiven", after Islamist gunmen stormed the publication's office and slaughtered journalists and two police officers.
Only around 30 copies of the magazine are sold in the UK in an average week. The UK distributor, Comag, declined confirm how much this has increased to The Huffington Post, but it is believed to have upped the figure to between 700 to 1,200.
WHERE TO BUY CHARLIE HEBDO IN THE UK

Despite the boosted print run, finding the magazine in the UK is expected to be tricky - and copies may not arrive in some shops until Friday.

Up to 1,000 copies is still a minuscule number. By comparison, the average circulation of Private Eye is over 200,000 copies per issue.

Mainstream news retailers such as W H Smith have confirmed they will not stock the publication, with the best bet of locating one being specialist magazine shops and French newsagents in areas such as South Kensington in London.

The issues will be going out to a range of newsagents rather than any one chain, sources told The Huffington Post UK.

The French Bookshop in Kensington confirmed to The Guardian that it would be selling the "survivors" edition "on a first come, first served basis."

Good News on London's Berwick Street is reportedly selling copies, although it could not be reached by The Huffington Post UK.

Of course, if you're willing to fork out the money, you could always buy one on eBay.
Conflicting reports say that the edition could be translated into up to 16 languages including Italian, Turkish, English, Spanish and Arabic.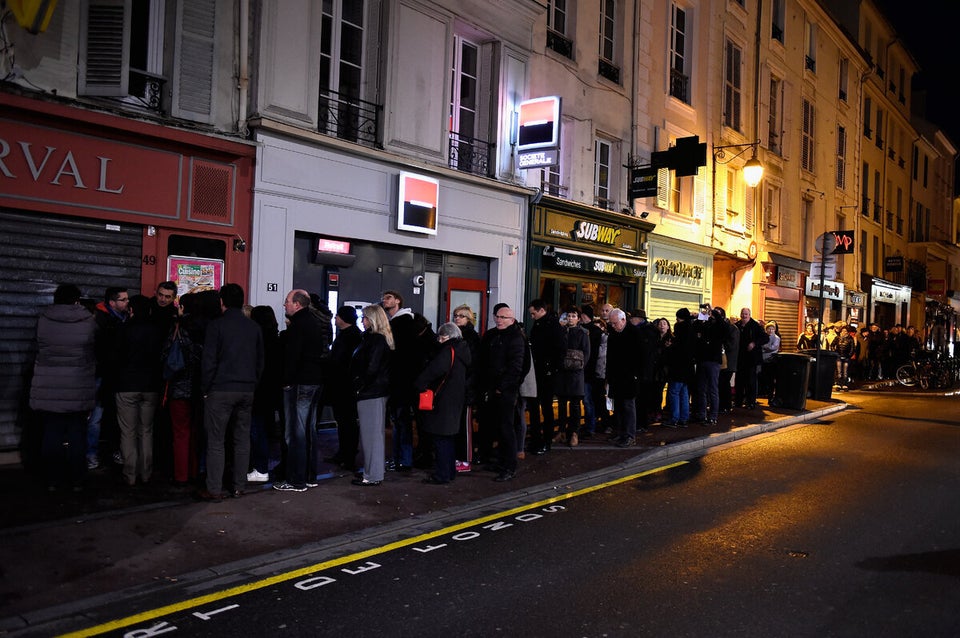 Charlie Hebdo goes on general sale