Ed Miliband has accused David Cameron of trying to "magic away" the problems of struggling families by claiming credit for falling oil prices.
The Labour leader said workers would be "choking on their cornflakes" after the Prime Minister urged firms to give pay rises with the windfall from cheaper oil.
He warned that the Tories' only plan was slashing state spending further, and accused Mr Cameron of cowardice for dodging televised general election debates.
In a speech to the Fabian Society's conference, Mr Miliband said: "Week after week, month after month, year after year, this Government has shown a tin ear for what is really going on.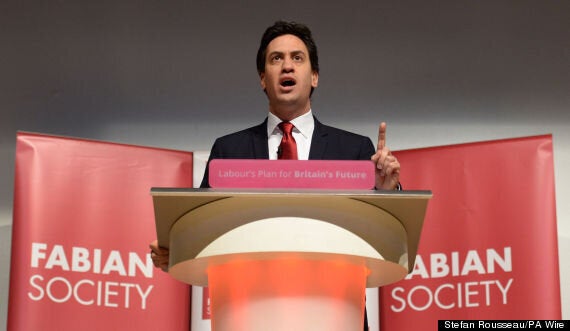 Labour leader Ed Miliband delivers the keynote speech to the Fabian Society at its one day conference held at the Institute of Education, London
"They have denied the cost of living crisis. They have been woefully out of touch with the daily struggles of families. They have rubbished the idea that people are worse off.
"Even this week George Osborne was saying we were set under him to be 'the richest country in the world', and that his economic victory is complete.
"But we wake up this morning to hear that the Prime Minister thinks 'Britain needs a pay rise'. People across the country will have been choking on their cornflakes.
"This is someone who has spent months and years telling us there was no cost of living crisis, and then if there ever was one, it had been fixed. You couldn't make it up.
"Five years of denial, complacency and failure on living standards, and less than four months before an election, he claims to have woken up to the problem.
"You can't wipe out five years of failure on living standards with pre-election pleading. You can't magic away people being £1,600 a year worse off by trying to take credit for falling oil prices."
Mr Miliband said Mr Cameron was desperate because he "knows he has failed".
"That's one of the reasons he is running from debates. He is neither proud of his record nor confident about his plans for the future," he said.
"Why did the chicken cross the road? To avoid the TV election debates."
The Labour leader insisted he was serious about tackling environmental issues, amid concern from strategists about the growing popularity of the Green Party.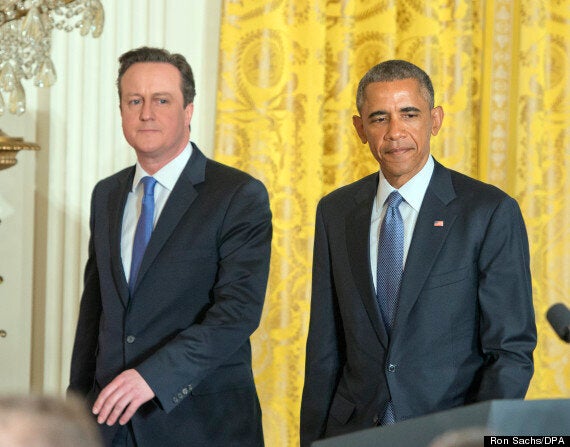 'Britain needs a pay rise': President Barack Obama and Prime Minister David Cameron at a joint press conference in the East Room of the White House in Washington, D.C. on Friday
"I cared about climate change when I was climate change secretary," he said. "I care about it as leader of the Opposition. And I will care about it as prime minister of this country."
Appealing for activists to work hard for a Labour victory, Mr Miliband promised a "political campaign like no other".
"Those who currently have the power will do anything to keep it," he said. "But they are the pessimists at this election, saying this is as good as it gets for this country. We are the optimists. We've got our chance now to change our country."
A senior Labour source said they believed Mr Cameron had made a "major strategic error" by raising the issue of living standards.
The Opposition would be taking the Tories on over the economy, according to the source.
Liberal Democrat Chief Secretary to the Treasury Danny Alexander said: "Labour lack all credibility. People will not forget that Miliband and Balls were at the heart of the last Labour government that crashed the economy. They have opposed every step we've taken to reduce the deficit - the British economy wouldn't be at the races at all with a Labour government.
"The Liberal Democrats in Government have delivered a strong economic recovery. We will finish the job of balancing the books fairly and quickly to keep that recovery on course. Miliband's 'manana, manana' on the deficit means borrowing billions more. The Conservatives will cut more than is needed, putting public services in jeopardy.
"Only the Liberal Democrats will keep the economy on course so that the recovery creates opportunity for everyone."
Conservative Party chairman Grant Shapps said: "Ed Miliband is saying that Labour would put up taxes, borrow forever and burden our children with more debt than they could ever hope to repay.
"Britain's future economic security and hardworking taxpayers' financial security would be put at risk.
"That's why Ed Miliband is simply not up to the job and hardworking taxpayers would pay dearly as a result."
Cecil Jenkins, an activist from Hampstead, asked Mr Miliband: "We have been told by London region not to talk too much about the economy because it is not one of our strengths. Can this conceivably be true?"
The Labour leader replied, to laughter: "No."
He added: "We should talk about the economy as much as possible between now and the general election, because they have failed.
"There is a reason why Cameron is doing what he is doing today ... Suddenly the PM is on the plane back from the US, and he suddenly says Britain needs a pay rise."
Mr Miliband went on: "The answer to the gentleman's question is we should be talking about their record and their future. Because this point about the 1930s, you can't build a productive economy, you can't build a high- skill, high-wage economy if you slash back all the investments that actually create that economy of the future.
"So I say bring that economic debate on."
Mr Jenkins told a Telegraph reporter after the session that he had not been directly instructed to avoid talking about the economy.
"This is a small internal matter. The information was passed to me indirectly, it was written off as ridiculous," he said.
Popular in the Community