The second round of public flogging of a blogger convicted of "insulting" the Saudi state has been postponed, because his wounds from the first round have not healed.
Amnesty International said blogger Raif Badawi was taken to a prison clinic in the morning for a check-up and the doctor found that "he would not be able to withstand another round of lashes at this time."
According to the group, the doctor recommended Badawi's flogging be postponed for a week.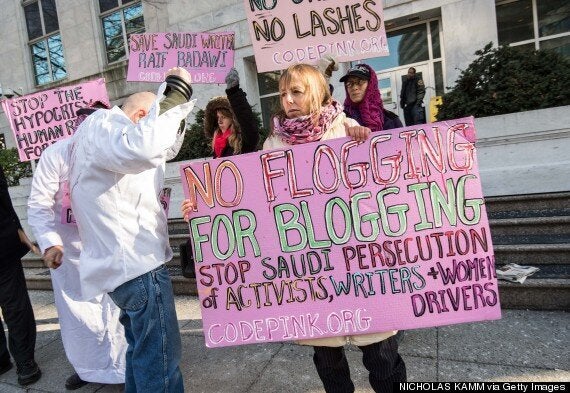 Protesters simulate a flogging in front of the Saudi embassy in Washington, DC on Thursday
Badawi's first public flogging took place last Friday before dozens of people in the Red Sea city of Jiddah.
The-father-of-three was taken to a public square, his feet and hands bound, and whipped 50 times on his back before being taken back to prison.
Badawi was sentenced in May to 10 years in prison and 1,000 lashes for criticising Saudi Arabia's powerful clerics and ridiculing the country's morality police on a liberal blog he founded.
The Jiddah Criminal Court also ordered he pay a fine of 1 million Saudi riyals - roughly £180,000.
The lashes are to be administered over 20 weekly sessions, with 50 lashes each week.
Both the U.S. State Department and the U.N. high commissioner for human rights have called on authorities in Saudi Arabia to cancel the punishment.
But, with the attention of free speech champions focussing more on events in France recently, his case has perhaps not triggered as widespread condemnation as it otherwise would.
German newspaper Die Tageszeitung ran the story on the frontpage with the headline: "Everyone's Charlie, but who will help Raif Badawi?"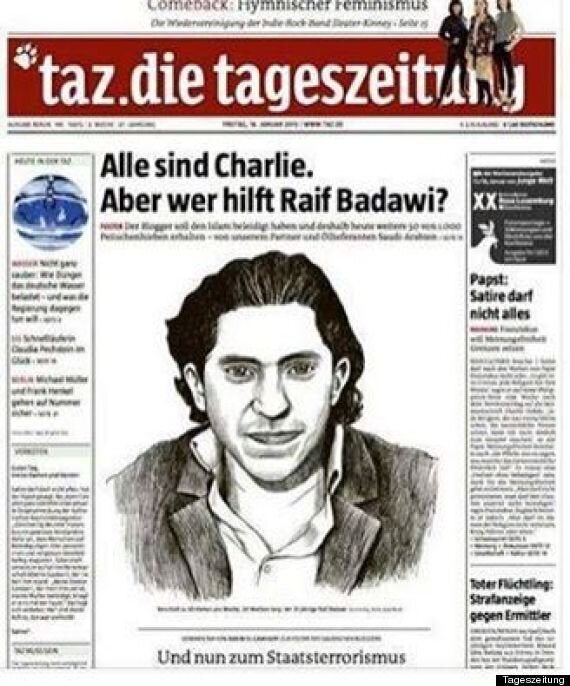 The Tageszeitung front page
Rights groups and activists say his case is part of a wider clampdown on dissent in the kingdom. Criticism of clerics is seen as a red line because of their influential role in supporting government policies. The clerics' ultraconservative Wahhabi interpretation of religion is effectively the law of the land.
Badawi, 31, has been held since mid-2012 and his Free Saudi Liberals website is now closed.
He was originally sentenced in 2013 to seven years in prison and 600 lashes in relation to the charges, but after an appeal, the judge stiffened the punishment. Following his arrest, his wife and children left the kingdom for Canada.
His wife Ensaf Haidar was among those protesting his sentence in Montreal earlier this week.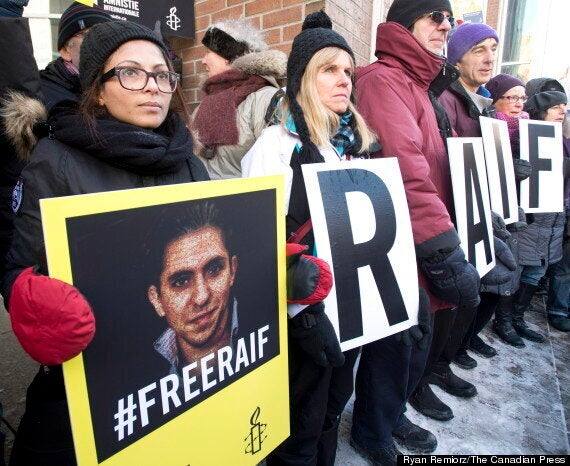 Badawi's wife Ensaf Haidar, left, takes part in a rally for his freedom in Montreal
Badawi's lawyer, Waleed Abul-Khair, was sentenced to 15 years in prison and barred from traveling for another 15 years after he was convicted by an anti-terrorism court of "undermining the regime and officials," ''inciting public opinion" and "insulting the judiciary."
"The notion that Raif Badawi must be allowed to heal so that he can suffer this cruel punishment again and again is macabre and outrageous," said Said Boumedouha, Amnesty's deputy director for Middle East and North Africa.