Eurotunnel services have resumed but customers are told to expect delays following the lorry fire which left thousands of passengers stranded on either side of the Channel.
All passenger services and the Eurotunnel Le Shuttle car service were halted after the vehicle caught fire at the French end of the underground railway's south tunnel yesterday.
Large queues built up at St Pancras station, Eurostar's London terminus, as services were cancelled following the fire, and similar scenes were reported in Paris, with many holidaymakers forced to look for alternative transport or hotels.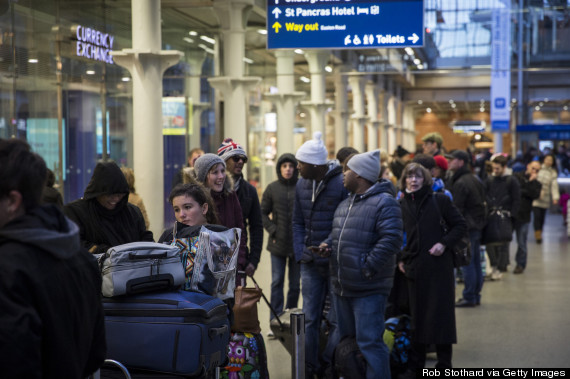 Passengers wait for information about cancelled Eurostar trains at St Pancras International
A Eurotunnel spokesman said on Twitter:
Eurostar plans to run a near normal service and we advise to check in as normal and we will be subjected to delays of 30 to 60 minutes.

— Eurostar (@Eurostar) January 18, 2015
Empty trains were sent through the tunnel to ensure it was clear and customers were being offered transfers to ferries until the service recommenced, the spokesman added.
Meanwhile, passenger service Eurostar said it planned to run a full service today "for passengers who have an existing reservation for this date", but trains are expected to be delayed by between 30 and 60 minutes because only one tunnel will be open.
It added that people whose trains were cancelled yesterday were advised not to arrive at stations unless they had already been re-booked.
Several on Twitter said they were disappointed with customer service.
Happy to be back in London from Paris by @iDBUS + ferry (8hrs overnight, 55€ pp) after @Eurostar @EurostarUK cancellations!

— Creative Clerkenwell (@CClerkenwell) January 18, 2015
Both @Eurostar and @SNCF being really unhelpful on this. I know the fire isn't their fault but crappy customer service is.

— marina (@teenageroyals) January 17, 2015
I know @Eurostar are having problems beyond its control but 45mins on hold on phone only to be cut off is not great customer service

— Pat Heery (@heery) January 17, 2015
Though others said they had received reasonable communication from the train team.
Annoying that the trains are suspended but absolutely excellent customer service from @Eurostar.

— Shane Ireland (@_ShaneIreland) January 17, 2015
Very impressed with @Eurostar and @LeShuttle social media customer service. You are doing a great job today! :)

— Daniel Patterson (@dannyp1996) January 17, 2015
@Eurostar guys you've been great with all the chaos atm, but can you make your cancellation update page work for mobile? Otherwise useless

— Jules Mattsson (@julesmattsson) July 7, 2014
Big thanks to the @EurostarUK team. Replacement tickets collected in 2 mins, quick queue to get through security. Dead impressed.

— Johnny Chatterton (@j_chatterton) January 18, 2015
A spokesman said today: "Eurostar will be running a near to normal service and we advise to check in as normal. Delays may be expected between 30 and 60 minutes."
Advice from the firm last night said: "If you were on a cancelled train today and need to travel urgently tomorrow, please call our contact centre on 03432 186 186 after 8am GMT tomorrow and we will try to re-book you on a service departing after 12pm GMT.
"We would strongly advise passengers whose journeys were impacted today by the problems in Eurotunnel not to come to our stations unless they have re-booked through our contact centre."
The firm also tweeted: "Our apologies once again to all those affected by the Tunnel disruption."
Of the fire, the spokesman added: "There was a smouldering load on board a truck we were carrying on board one of our shuttles."
He said firefighters were examining the site in the north tunnel for damage, adding: "It doesn't look like anything significant at this stage."
Despite saying it hoped to run a full service today, it later told passengers on Twitter that it would be running a reduced service.