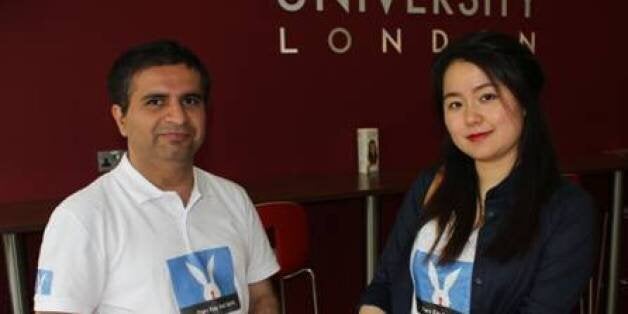 Finding student accommodation can be a very daunting prospect, especially when you're a first timer and housing horror stories are regular conversation fodder.
That's why three MBA students have created Stars Key and Hutch: a brand new social network which is about to make the process a whole lot easier - at least for Brunel University students.
The site was created by Brunel students Paul Ouro from Uxbridge, Chloe Lin Zhen from China and Rajan Dua from India after Lin Zhen and Dua struggled to arrange their own UK student accommodation from abroad. Ouro, who describes himself as a "good landlord", had been letting property in the area for some time and was aware there were some landlords who took advantage of students.
"This has been an idea that had been in the back of my mind for over a decade," Ouro explains. "Rajan and Chloe's experience gave me the insights of international students which made me think how popular it could be in Shanghai and Delhi. We want students to talk to other students, learn from others' mistakes and help each other."
The site has been penned as a 'Trip Advisor for student accommodation' and already has 1,000 registered Brunel students. It allows users to give their current properties a star rating and to contact other users to give and gain as much information as possible about past experiences. This means students are able to learn from each others' mistakes before signing a tenancy.
Brunel business studies student Anoushka Bastin wishes Stars Key and Hutch had existed when she was looking for accommodation.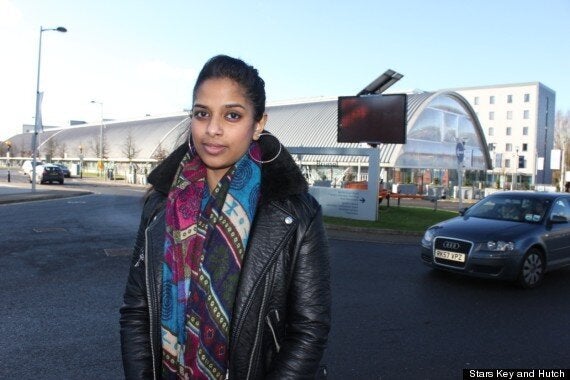 Business studies student Anoushka, 21
"I took a chance on a room that I had found through an advert on the internet," she recalls. "The website was very well known and I was desperate. I managed to scramble my belongings up to Uxbridge, unpack, settle in a bit, pay a month's rent and a hefty deposit to my new 'landlord' and somehow prepare for my new term in the last weekend before the first week started.
"I had a quick view of the place and thought it seemed alright as another female Brunel student stayed there before I did. I never met her, I just thought it had to be a girl with all the make-up and body products in the room."
Bastin was later horrified to learn that her new housemate was in fact her landlord. After a week of feeling extremely uncomfortable, she asked to move only for her landlord to threaten her with legal action and demand a further two months rent as she had entered into a 'verbal contract'. He also took her laptop as a form of 'security' and would only return it in exchange for thousands of pounds.
She was able to finally resolve the situation by seeking help from her previous landlord. "The whole experience had cost me over £900 for a week of staying in the room and a heap of stress and anxiety," she says. "To have been able to contact previous tenants might have spared me a lot of money, trouble and stress."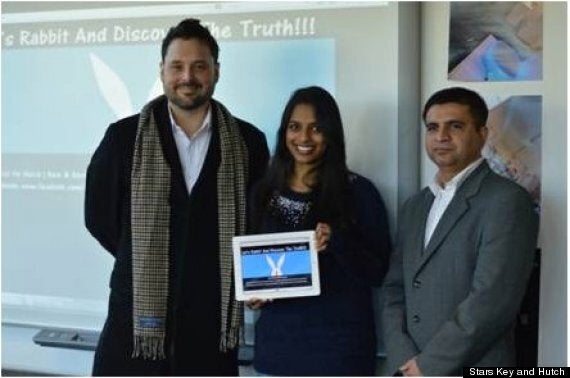 Stars Key and Hutch founders (l-r) Paul Ouro and Rajan Dua from India with Anoushka
Ben Lee a 28-year-old founder of a travel experience enterprise from London, also faced problems when he signed his tenancy agreement but was told that the flat had been sold nine days before he was due to move in.
"It effectively left me homeless. The landlord failed to return my deposit, which I desperately needed so I could put together another deposit to move in to a different house. She didn't reply to my emails, phone calls or text message. I have not heard anything since or got any money back.
"I went to the flat to speak to her face to face to see if I could get my deposit back and to my surprise I was met by people who had rented the flat off her and had been living there since the previous week.
"According to the tenant in the flat I was supposed to be renting, the landlord has four other names she goes by."
A National Union of Students (NUS) survey last year revealed 50% of respondents had paid at least £500 to secure a property, with 21% paying £1,000 or more. Almost a quarter had been asked to pay a holding deposit before they had even seen the proposed contract.
Aside from the extortionate fees, the survey also revealed that 75% of students had experienced at least one problem with the condition of their home. This included 13% of homes without smoke alarms, 68% without carbon monoxide detectors and a shocking 25% infested with rats, mice or slugs.
A record 2.3m students descended on British university towns last September, prompting plans for Stars Key and Hutch to expand nationally and internationally.
Alex Hilton, Director of Generation Rent, an organisation which campaigns with private renters for professionally managed, secure, decent and affordable privately rented homes, said: "Tenants have very little in terms of rights or market power and students are particularly vulnerable to the worst landlords."
It may only be a drop in the ocean, but perhaps this new social venture will offer a long-term solution to future renters – and an end to the systematic abuse of the UK's rental system by rogue landlords.