Britain and the United States have vowed to step up efforts to combat the Islamic State, which currently occupies swathes of land across Syria and Iraq. The agreement followed talks in London on Thursday between British Foreign Secretary Philip Hammond and his US counterpart John Kerry.
During a joint press conference at the Foreign Office, the Secretary of State told reporters they aim to raise 12 new Iraqi army brigades while opening training camps for Syrian opposition fighters in Saudi Arabia, Turkey and Qatar. Earlier however, Hammond warned that it could be months before the Iraqi security forces were ready to take the offensive to IS - also referred to as Isil and by the Arabic acronym, Daesh.
Kerry acknowledged that the fight would be "neither short nor easy", but insisted that Iraqi forces - backed by coalition air strikes - were beginning to gain ground against the extremists. "In recent months we have seen, definitively, Daesh's momentum halted in Iraq and in some cases reversed. Ground forces supported by nearly 2,000 air strikes now, have reclaimed more than 700 square kilometres from Daesh," he said.
Hammond said the meeting - which brought together 20 "core" coalition member states - had reaffirmed their determination to defeat IS. "We all confirmed our commitment to the struggle however long it takes and wherever it leads us to defeating the scourge of violent Islamist extremism," he said.
However, the Foreign Secretary also acknowledged that despite huge sums spent by the United States and Britain on Iraq's security forces in the years following the ousting of Saddam Hussein, they had fallen back into a "state of disarray".
"There is a big challenge ahead of us," he told the BBC Radio 4 Today programme. We are renewing and regenerating the Iraqi security forces - re-equipping them, retraining them, reorganising them - but it will be months yet before they are ready to start significant combat operations against Isil."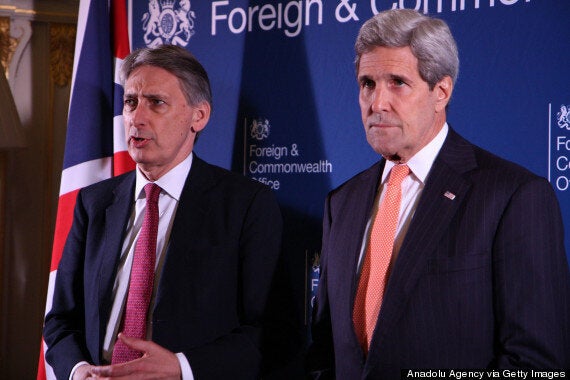 Secretary of State John Kerry (R) and British Defence Secretary Philip Hammond (L) hold a media briefing during a meeting with coalition members to discuss the threat of Islamic State of Iraq and the Levant (ISIL), at Lancaster House on January 22, 2015 in London
Hammond stressed the importance of preventing more international fighters - often travelling through European transit points such as Bucharest and Sofia - reaching the war zone and said Britain was "working very closely" with the security services concerned.
"Turkey is doing a fantastic job of intercepting people who are seeking to get across the border into Syria," he said. "The final bit of the jigsaw is to make sure that we have all the powers necessary, both at national level and in European Union law in terms of passenger name record data to make sure that we can intercept these people and keep the country as safe as we can."
Iraq's prime minister Haider al-Abadi disclosed that he had also sought financial support from the coalition after the government in Baghdad saw a collapse in its revenues as a result in the slump in the oil strike. "This has been disastrous for us. We don't want to see a reverse of our military victory due to our budget and fiscal problems," he said.
Kerry said the military effort was "not going to be deterred or diminished or defeated" due to a lack of supplies for the Iraqi military. He said 250 mine-resistant armoured vehicles had been delivered and a "very significant number" of M16 assault rifles were being shipped to Iraq.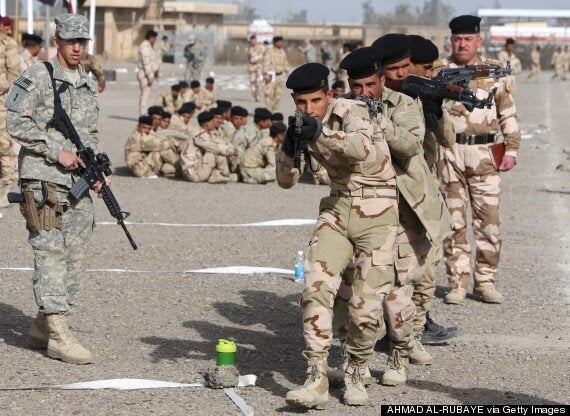 An American military trainer observes Iraqi soldier during an exercise on approaching and clearing buildings at the Taji base complex, which hosts Iraqi and US troops and is located north of the capital Baghdad, on January 7, 2015
The secretary of state said the group had agreed to step up the "counter-messaging" effort to combat IS propaganda including on social media and there was support for a stabilisation fund to rebuild and provide relief for areas destroyed by the terrorists.
The talks, held at Lancaster House, were briefed on the situation on the ground by US Marine Corps general John Allen, who is co-ordinating international efforts to tackle IS. Kerry said the terrorists had also been deprived of some 200 oil and gas facilities they had used to bankroll their operation.
There were reports from Mosul that "fighters are not getting paid" or were not receiving the sums of money promised by the IS leadership. He said some "50% of their top commanders have been eliminated", along with hundreds of military vehicles. The meeting comes after 17 people were murdered during a three-day rampage in France carried out by gunmen linked to al Qaida and IS.
Other countries represented at the talks included Australia, Bahrain, Belgium, Canada, Denmark, Egypt, France, Germany, Italy, Jordan, Kuwait, Netherlands, Norway, Qatar, Saudi Arabia, Spain, Turkey and the United Arab Emirates. Hammond said the group were able to have "frank and private exchanges" during the Lancaster House talks.
"Last summer the international community pledged that it would stand behind Iraq so long as we had in Iraq a government that was committed to an inclusive programme that was going to provide a sustainable future for Iraq. What we have been able to confirm with to prime minister al-Abadi today is that we are all comfortable that he is delivering on his commitments. So long as Iraq delivers on its commitments, the international community will stand behind it."