In light of Australia Day we decided to inspire you with some culinary corkers from Aussie chefs and authors.
Don't get discouraged by the fancy-sounding titles; get your apron and have fun recreating these delicious recipes.
Barbecued Barramundi With Roast Capsicum And Olive Salsa (serves 4)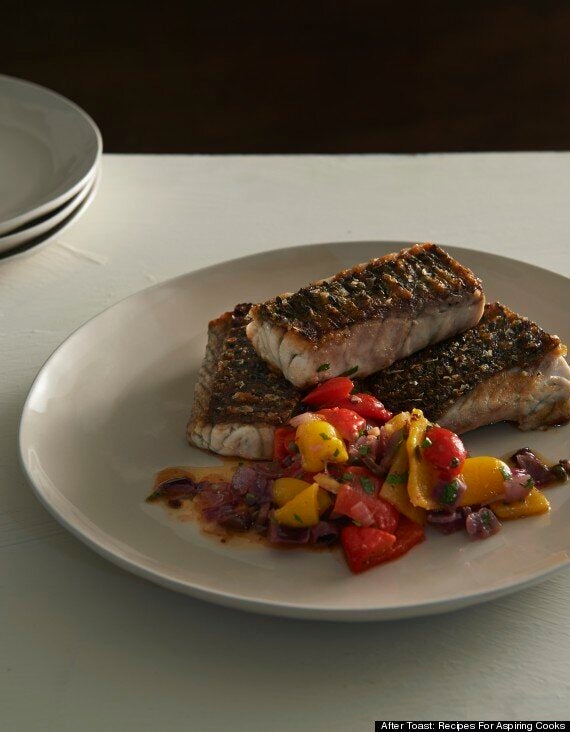 4 x 200 g (7 oz) barramundi fillets, skin on
sea salt and freshly ground pepper extra virgin olive oil
1 lemon, cut into quarters
3 yellow capsicums (peppers)
3 red capsicums (peppers)
80 ml (21⁄2 fl oz/⁄1 3 cup) extra virgin olive
sea salt and freshly ground pepper 2 small red onions, finely diced
3 garlic cloves, finely chopped
3 anchovy fillets, chopped
40 g (11⁄2 oz/1⁄4 cup) pitted kalamata
1 tablespoon salted capers, rinsed
2 tablespoons flat-leaf (Italian) parsley
leaves, finely chopped splash of red wine vinegar
Preheat the oven to 180oC (350oF/Gas 4).
For the salsa, cut the capsicums in half and remove the seeds. Toss with 2 tablespoons of the oil to coat and salt and pepper to taste. Arrange the capsicums, cut side down, on two baking trays and roast for 35–40 minutes or until the skins blister. Transfer to a bowl and cover with plastic wrap. When cool enough to handle, peel the capsicums and cut into large dice.
Meanwhile, in a non-stick frying pan, heat 2 tablespoons of oil over low heat. Add the onion, garlic and a sprinkle of salt. Cook for 30–40 minutes or until the onion is meltingly tender. Add the anchovies, olives and capers and toss them through the onion mix. Remove from the heat. Add the parsley and capsicum, and drizzle with the extra olive oil and the vinegar. Check seasoning and finish with a grind of pepper. Set the salsa aside.
Preheat a barbecue grill to high. Season the fish fillets and brush with a little extra oil. Grill the fish, skin side down, for 2 minutes, then turn over and cook for a further 2 minutes or until done to your liking. If the fillets are thick, this could take as long as 10 minutes. Serve the fish with the salsa and lemon wedges.
Fennel Salad (serves 4 as a side dish)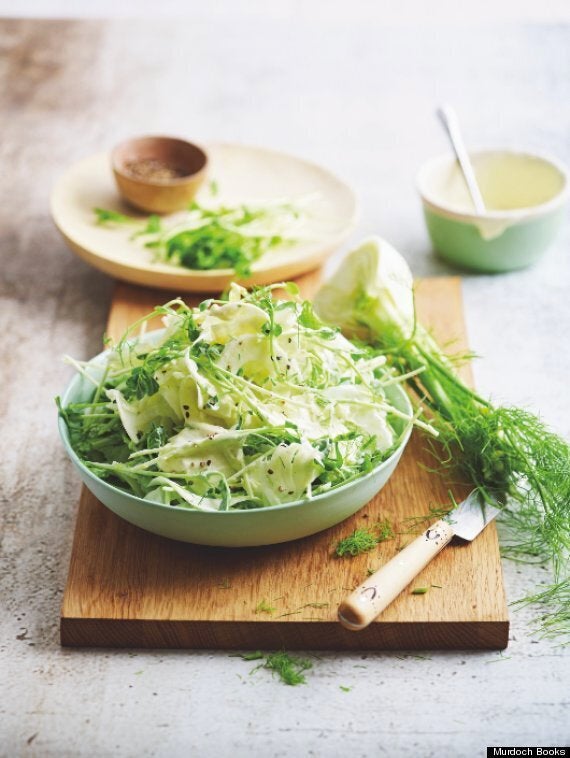 2 large fennel bulbs, tough outer layers and core removed, fronds reserved
2 tablespoons lemon juice
85 g (3 oz/1⁄3 cup) crème fraîche 100 g (31⁄2 oz/2 cups) sunflower
sea salt and freshly ground
Use a mandoline or a good vegetable peeler to shave fine slices of fennel into a bowl.
Add the lemon juice immediately and toss to coat well — this not only adds flavour, it also stops the fennel from discolouring.
Mix the crème fraîche into the bowl of shaved fennel.
Lightly fold in the sprouts, tear in the reserved fennel fronds and season with salt and pepper before serving.
Fried School Prawns With Aïoli (serves 4)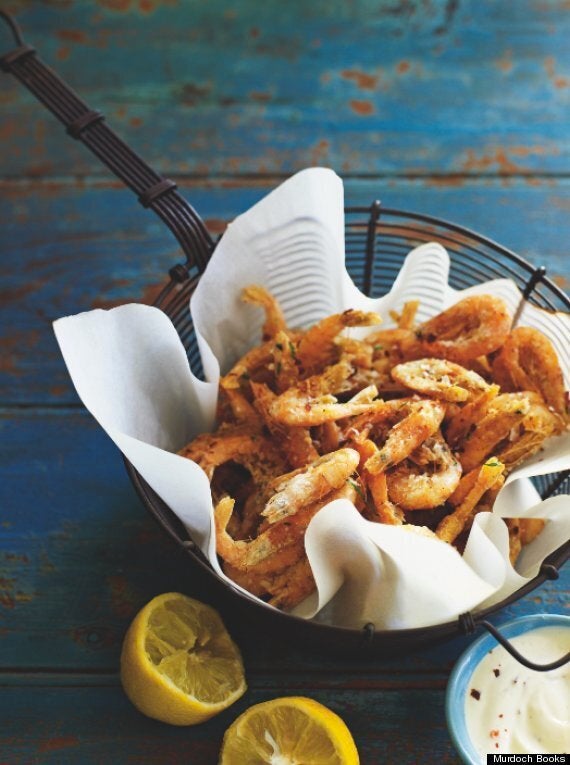 500 g (1 lb 2 oz) raw school prawns (shrimp), peeled and deveined, leaving the tails intact
tapioca flour, for dusting (optional) 1 litre (35 fl oz/4 cups) coconut oil a pinch of chilli flakes
2 tablespoons chopped parsley
1 lemon, cut into quarters
2 teaspoons dijon mustard
2 tablespoons white wine vinegar 2 tablespoons lemon juice
6 garlic cloves, roasted, flesh finely
200 ml (7 fl oz) olive oil
200 ml (7 fl oz) extra virgin olive oil
To make the aïoli, blend the egg yolks, mustard, vinegar, lemon juice, garlic and some sea salt with a hand blender. As you blend, slowly pour in the oil until the aïoli is creamy. Season with salt and pepper.
Coat the prawns with the flour if you like and shake off any excess.
Heat the oil in a deep fryer to 185°C (350°F). Drop a cube of bread into the oil. If it bubbles and turns golden, the oil is ready.
Cook the prawns in batches for about 1–2 minutes, or until golden and crisp. Drain on kitchen paper and transfer to a bowl.
Add the chilli flakes, parsley and some sea salt and gently toss. Arrange on a serving plate with the lemon wedges and some of the aïoli for dipping.
(The rest of the aïoli can be stored in the fridge in a sealed sterilised jar, as you would store mayonnaise).
Blueberry Pavlova (serves 8)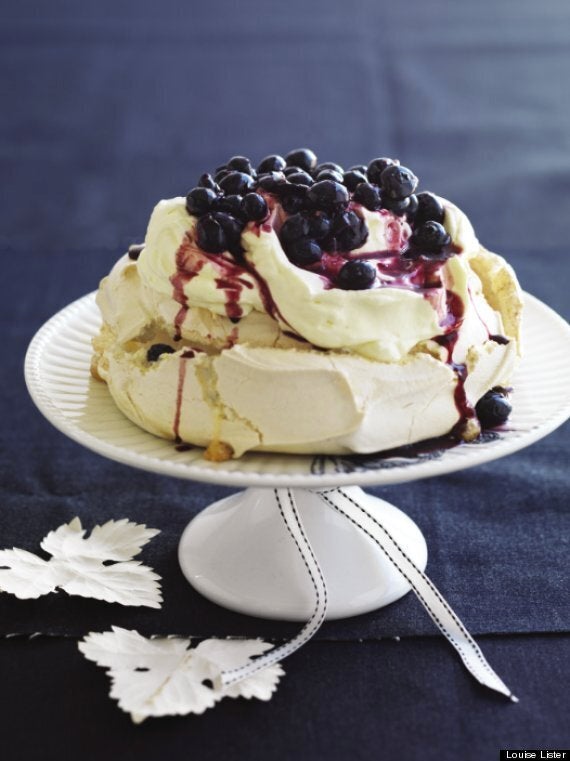 4 large free-range egg whites
11/2 cups (330 g/111/2 oz) caster (superfine) sugar 11/2 tsp vinegar
300 ml (101/2 fl oz) pouring (whipping) cream 175 g (6 oz) blueberries
2 tbsp blueberry syrup (optional)
Preheat oven to 200°C (400°F). Line a baking tray with baking paper, then mark an 18 cm (7 inch) circle on the paper with a pencil—use a compass, or find a bowl with the right sized rim and use it as a guide.
Beat egg whites and salt using electric beaters until they form stiff peaks (see 'how to' over the page). With beater at its lowest speed, gradually add 1 tbsp sugar at a time. Beat at full speed once all sugar has been added. Lastly, fold in vinegar and vanilla.
Spoon large dollops of mixture on the inside of your pencil circle. Keep everything light and be careful not to flatten the egg whites—the meringue should look quite tall and fluffy, with lots of pointy swirly bits. It's OK if it all looks a bit mad—just try to keep everything inside the circle. Smooth the top a little using the back of a spoon, so you'll have somewhere to plop your cream and blueberries later.
Place in oven for only 5 minutes, then reduce oven temperature to 150°C (300°F) and bake for 1 hour. (If you're using a gas oven, bake at 150°C/300°F for 1 hour, then reduce heat to 110°C/225°F for another 20 minutes.)
Now turn off oven, but leave pavlova in oven until it is completely cool.
Meanwhile, whip cream until stiff. Put blueberries in a small bowl, with syrup if using, then crush lightly with a spoon to release blueberry juices a little.
When you're ready to serve, place pavlova on a platter. Dollop on cream and top with blueberries, allowing syrup and juices to run wild all over pavlova. Serve it up in big crunchy dollops.