The mother of one of the Japanese hostages held by Islamic State (IS) has tearfully pleaded for his safe return after militants posted an online warning that the "countdown has begun" for the group to kill the pair.
The posting which appeared Friday shows a clock counting down to zero along with gruesome images of other hostages who have been beheaded by the Islamic State group.
"Time is running out. Please, Japanese government, save my son's life," said Junko Ishido, the mother of 47-year-old journalist Kenji Goto. "My son is not an enemy of the Islamic State," she said in a tearful appearance in Tokyo.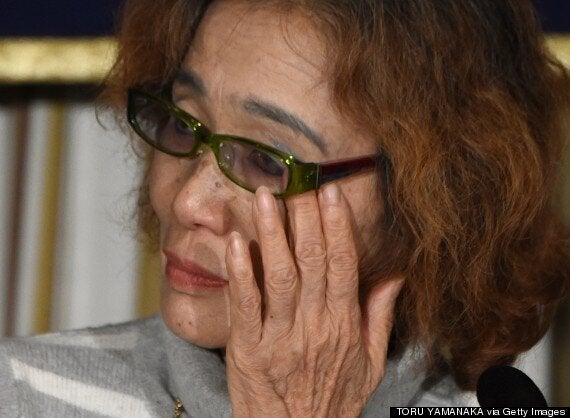 Junko Ishido, mother of Kenji Goto, one of two Japanese men being held by Islamist militants, gestures as she answers questions during a press conference at the Foreign Correspondents' Club of Japan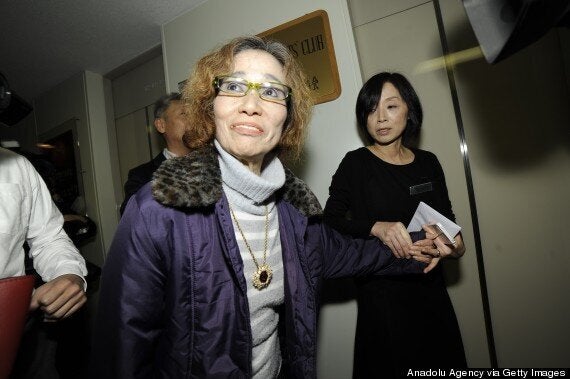 Five hours were left to the expire of the 72 hours deadline to pay the 200 million ransom, when the conference took place
"I have been just crying for last three days, filled with sadness. Words fail to describe how I feel. Kenji always has been a kind person ever since he was little. He was always saying, 'I want to save the lives of children in war zones.'"
Ishido said she was astonished and angered to learn from her daughter-in-law that Goto had left less than two weeks after his child was born, in October, to go to Syria to try to rescue the other hostage, 42-year-old Haruna Yukawa. "My son felt he had to do everything in his power to try to rescue a friend and acquaintance," she said.
Ishido apologised repeatedly for "all the trouble my son has caused."
The militant group gave Japanese Prime Minister Shinzo Abe a 72-hour deadline — which expired Friday — to pay a $200 million ransom for the two hostages. The posting on a forum popular among IS militants and sympathisers did not show any images of the Japanese hostages.
In the past the website has posted Islamic State videos very quickly, sometimes before anyone else. Nippon Television Network first reported the message in Japan.
The national broadcaster NHK reported early on Friday that it had received a message from Islamic State "public relations" saying a statement would be released soon.
Lacking clout and diplomatic reach in the Middle East, Japan has scrambled for a way to secure the release of the two men, one a journalist, the other an adventurer fascinated by war.
Two Japanese people who said they have contacts with a leader in the Islamic State group offered Thursday to try to negotiate, but it was unclear if the Japanese government was receptive to the idea.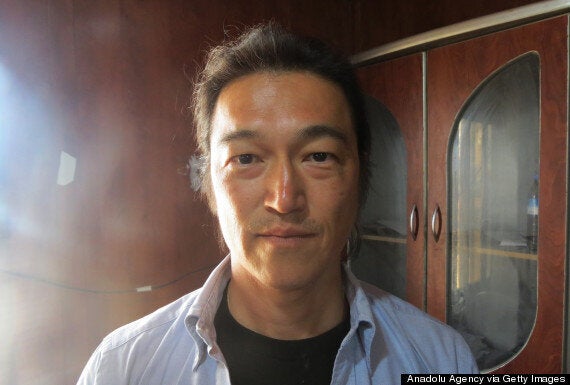 Japanese journalist Kenji Goto Jogo, captured by Islamic State of Iraq and Levant
Ishido said she had not had any contact with the government.
But Goto told him "I am not American, I am not British. I'm Japanese. I can go," Al Zaim recalled.
Yukawa, a 42-year-old who had recently lost his wife, was not a journalist, and appears to have had intentions to set up a private security company in Syria, where he met Goto. Yukawa had also been raising money in Japan for ambulances helping rebel forces, not affiliated with IS.
His friend Kimoto told CNN that Yukawa had found "satisfaction being there and living together with the locals"and told no one of his plans to return to the war-torn country this summer. He was reportedly captured in August.
Government spokesman Yoshihide Suga reiterated Friday that Japan was trying all possible channels to reach those holding the hostages, and that its policy of providing humanitarian aid for those displaced by conflict in the Middle East was unchanged.
"We are doing our very best to coordinate with related parties, including through tribal chiefs," Suga said, and confirmed on Thursday that the government had confirmed the identity of the two hostages, despite obvious discrepancies in shadows and other details in the ransom video that suggest it may have been altered.
Japanese officials have not directly said whether they are considering paying any ransom, but said their lives were the top priority.
Japan has joined other major industrial nations of the Group of Seven in opposing ransom payments. US and British officials also said they advised against paying.
There was no sign the government had taken action on an offer to try to negotiate with the Islamic State group by Ko Nakata, an expert on Islamic law and former professor at Kyoto's Doshisha University, along with freelance journalist Kousuke Tsuneoka.
Nakata and Tsuneoka, who both are converts to Islam, said Thursday that they have a contact in the Islamic State group and were prepared to go.
Since Japan's military operates only in a self-defence capacity a home any rescue attempt would require help from an ally like the United States.