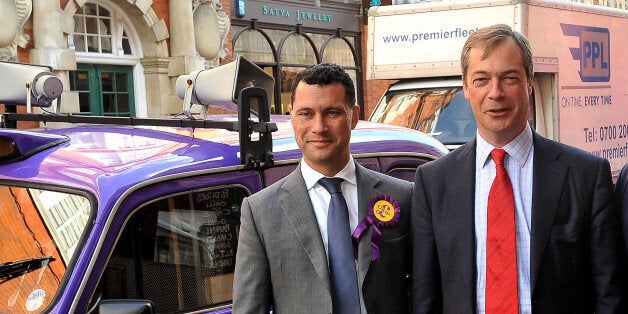 Senior Ukip MEP Steven Woolfe has suggested that he could stand to succeed Nigel Farage as leader of the party, describing it as "one of the most exciting jobs to do".
Speaking to the Huffington Post UK, Woolfe, Ukip's migration and financial affairs spokesman, compared the question to what happened to Manchester United after legendary manager Alex Ferguson left.
He also mounted a robust defence of his party leader's recent warnings that immigration has led to "ghettoes" and "no-go zones" in European countries, explaining: "Nigel speaks the language that the vast majority of ordinary people understand."
Asked whether he wanted to succeed Farage as Ukip leader, Woolfe said: "Would I step up is a bit like the question of what would happen after Ferguson left Man United. Do you want to be Louis Van Gaal or David Moyes? Do you really want to do it?."a
"I would think extremely long and hard [about running for leader], I'd be honoured to lead [Ukip] if the people of the party thought I was capable of doing it... I think there is a greater message we can take on, I think there is an opportunity to build this party."
Meanwhile, Woolfe, a lawyer in the City before being elected an MEP in the North West of England last May, has attracted increasing attention for his eloquence and his ability to talk about controversial subjects like immigration in a much more moderate way than his leader. This has also led some people, like Ukip MEP Nathan Gill, to dub him "Ukip's Barack Obama".
He laughs off such comparisons, saying: "Obama is a) much taller than me and I think he is a bit better looking than I am. We are both mixed-race and both lawyers...so there you go."
Woolfe last May gave a passionate defence of his party's record on black and ethnic minority members, and fought back when one protester accused him of being a "faker".
Speaking at the party's London rally, he referenced his own childhood, saying: "A five-year-old child having to go home and tell his mum he was called a n***** all day at school - that's not a fake."
Speaking to HuffPost UK following that report, Woolfe suggested that the Sun's story made him question whether he wanted to throw his hat in as a leadership contender to succeed Farage.
"I've seen in the way people conjure things up, the lowest manipulation of the press, it makes you sit back and think "Genuinely is this what I entered politics for? Do I want to stay in politics for the impact it can have on your family and your friends?," he said.
Woolfe later pointed out that there "are genuinely half a dozen people, if you include me, who have the ability and capability to take the leadership on or at least form a very strong coalition" and stressed his support for the current party leader.
"I've always said I'm here to help, I'll lead if they want me to lead. I'll support if they want me to support," he said. "The key point for me is I've not made any decision because obviously there is no vacancy and I back Nigel."
Woolfe predicted that Farage would stay as leader for "a few more years than people think", and that he could stay in the party in an elevated position as "grand chairman" after standing down as leader.
He said: "Once he becomes an MP, I think the party is going to move on tremendously, but in the future.... well, we are where we are."
"It [Nigel] is just a huge act to follow, an enormous act. The hope is, and I believe that he won't be gone completely, I think he'll be like a grand chairman. If he ever decides to go that's what I hope he'll come to do, because you're going to need his guidance and wisdom, because he's been through it."
Woolfe also fiercely defended Farage's recent string of controversial comments on immigration, like claiming that "we have through mass immigration and not checking the details of those people coming in... allowed big ghettos to develop."
Admitting that he did not "like" to use the word ghetto, Woolfe said: "I've seen them on a number of occasions. I've been over to France and seen the arrondissement where there essentially are ghettos."
Pressed on where these "ghettos" were, he pointed to the 13th arrondissement in Paris. "Are the majority of people there Muslim? Probably yes. Is it right to call it a Muslim ghetto? I don't know. Are you being accurate in terms of language? I don't use it in those terms, but the vast majority in that ghetto are [Muslim]."
Woolfe, a lawyer by training, went on to suggest there were "ghettos" in Britain, defining them as "areas of the country where there is a lack of integration and there is a larger number of people who are migrants from other countries who have established themselves there and have separated themselves by way of income or religion from other parts of the country".
He repeatedly refused to criticise his party leader for more bluntly warning of "ghettos" and "no-go zones", saying: "Others have used those terms."
"Nigel speaks the language that the vast majority of ordinary people understand, he doesn't try to mix metaphors or do what I do to try and find the perfect definition, and I like him because of that," he added.
The Ukip leader said "a lot of people" would use the word "chinky" to describe a Chinese meal, asking his interviewer: "If you and your mates are going out for a Chinese, what do you say you're going for?". The candidate, Kerry Smith, also was recorded talking about "disgusting poofters".
Woolfe distanced himself from Farage's defence of Smith, saying: "We have no room for racists and homophobes in our party.
"All working class people don't say those sorts of words, that's absolutely clear," he said. "One thing to say with Nigel is he tries to see the good in people all the time. On this particular issue, I think we will have a difference of opinion of how we deal with it, Nigel even accepted that he [Smith] couldn't stand as a candidate."
Woolfe then stressed that the "difference of opinion" was the size of "fag papers between two sheets of paper really".
He avoided indicating if he believed Farage should be more "responsible" with his rhetoric about immigration, saying: "Nigel is a pretty straightforward person. To raise the head of the issues is quite important.
"There is a necessity sometimes to raise language so people will stand up and think and Nigel has done that tremendously well. I take lessons from Nigel's understanding and skill... I'm a relative newcomer on this and I have my own views and own opinions."
However, he suggested that Farage has recently "adopted a more nuanced tone" when he has recently spoken about the topic, adding: "He has clearly stated recently about the need to have an ethical migration policy."
Popular in the Community