Horrifying pictures have emerged of a female protester shot dead by police at a march in downtown Cairo, a tragedy that threatens to rekindle widespread violence as Egypt marks the fourth anniversary of the 2011 uprising.
The leftist Popular Alliance party said that police shot its member Shaimaa el-Sabagh with birdshot Saturday evening as the group peacefully marched toward Tahrir Square to lay a commemorative wreath of roses.
Videos posted online show el-Sabagh, the mother of a five-year-old and a member of the leftist Popular Alliance party, with other protesters carrying placards and chanting "bread, freedom and social justice" — the chief slogan of the 2011 uprising. She and others had carried flowers they intended to place at nearby Tahrir Square, the birthplace of the uprising, in memory of the fallen protesters.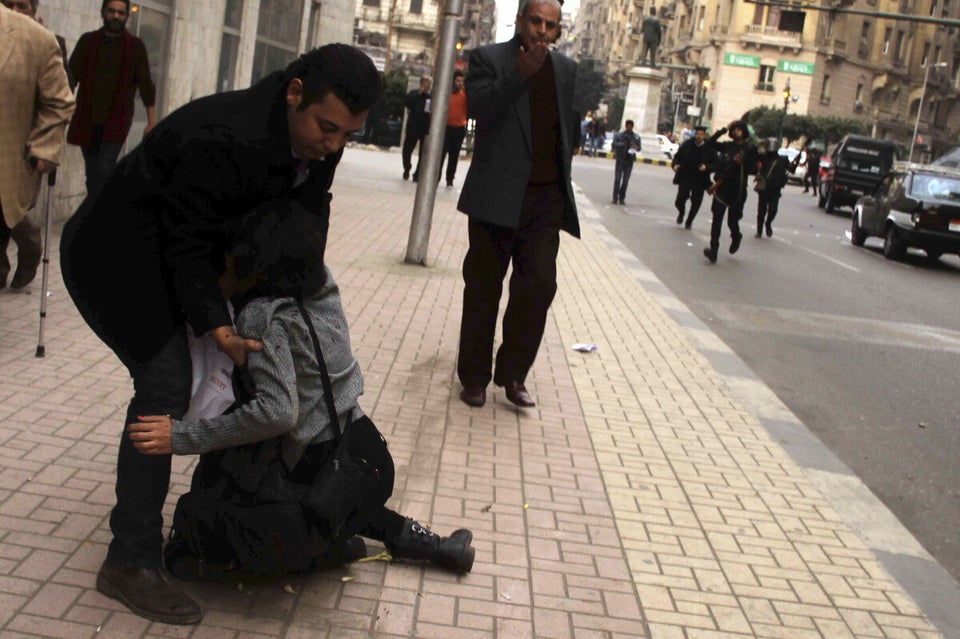 Egypt protester shot
In the videos, two masked, black-clad police officers point their rifles in her direction before gunshots ring out and el-Sabagh falls. She is later shown carried by a male protester as blood seeped out of her mouth. The videos are consistent with other reporting on the shooting.
The prominent Hisham Mubarak Law Centre said in a Facebook post that five of el-Sabagh's fellow protesters who had given investigators their account of the incident were charged with assaulting police and taking part in an illegal demonstration. There was no immediate confirmation of the group's claim.
El-Sabagh's death is the second of a female protester in recent days. Islamist Sondos Reda was shot dead during a Friday protest in Alexandria. Activists also blame the police.
President Abdel-Fattah el-Sissi's government has shown zero tolerance for street protests since a law adopted in 2013 banned them without prior permission. Dozens of activists have been convicted and jailed for violating the law. A parallel crackdown is targeting supporters of ousted Islamist President Mohammed Morsi, with thousands from his Muslim Brotherhood group imprisoned or facing trial.
The protests were mostly in response to a call for demonstrations made by an Islamist coalition opposed to el-Sissi and led by the Brotherhood.
Sunday's protests came as police sealed off main squares in Cairo, including Tahrir, and beefed up security at vital state installations. The measures followed the discovery of at least 30 roadside bombs in Cairo and a string of other cities intended to be detonated Sunday, security officials said.
A statement from the Interior Ministry said the police were conducting an investigation into the woman's death and vowed to arrest the perpetrators. Prime Minister Ibrahim Mahlab has vowed that "whoever committed a mistake will be punished, whoever he may be."
Ahead of the fourth anniversary of the uprising, the revolutionary fervour of 2011 has been largely extinguished. Many of the pro-democracy activists central to the uprising are in prison for attempting to protest against the new president, former army chief Abdel-Fattah el-Sissi.
Others are dismissed in the media as troublemakers while the police, who in the revolutionaries' eyes were the hated tools of oppression, are now lauded in the press as heroes in a fight against Islamists.