The father of the Japanese hostage purportedly killed by Islamic State (IS) militants is hoping his son could still be alive.
Japanese Prime Minister Shinzo Abe said the video apparently showing the killing of 42-year-old adventurer Haruna Yukawa was likely authentic and demanded the militants release the other hostage, reporter Kenji Goto, 47.
But Mr Yukawa's father Shoichi Yukawa said he was "hoping deep in my heart" his son was still alive.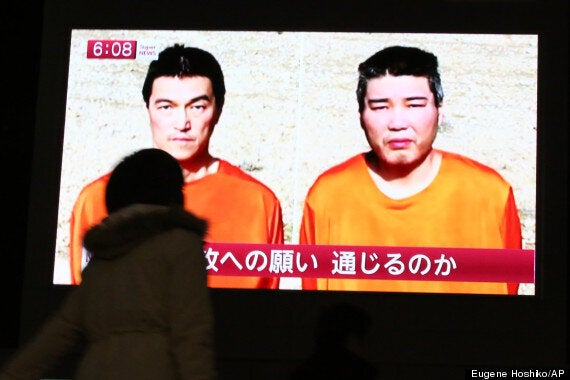 A passer-by watches the news showing Kenji Goto, left, and Haruna Yukawa, right, being held by IS
"My mind went totally blank," he told reporters on Sunday, a day after news broke of the video footage. "I am hoping deep in my heart that it is not true."
IS, also known as ISIS or ISIL, had threatened to behead Mr Yukawa and Mr Goto unless it received a $200 million ransom.
"If I am ever reunited with him, I just want to give him a big hug," Mr Yukawa told Japanese TV. He requested his face not be shown.
Although the younger Mr Yukawa was kidnapped last year, he quickly faded from the Japanese media coverage, widely seen as going to a dangerous place at his own risk.
Writing on his blog and social media, the younger Mr Yukawa said he went to the Middle East after his wife died of an illness.
In a video posted by Mr Goto before he left Japan to try to rescue Mr Yukawa, he pleaded that no matter what happens to him, the people of Syria should not be blamed because they have suffered enough.
The older Mr Yukawa said he hoped Mr Goto, who has devoted his life to interviewing ordinary people in the Middle East, would come home safely.
"I hope for that. And not a minute too soon," he said.
Mr Abe declined to comment on the message in the IS video, which demanded a prisoner exchange for Goto. He said only that the government was still working on the situation, and reiterated that Japan condemns terrorism.
"I am left speechless," he said. "We strongly and totally criticise such acts."