Ukip has admitted to not doing enough to vet Amjad Bashir, the Ukip MEP who over the weekend joined the Tories, amid accusations that he failed to tell officials about the controversial past of a former business partner.
Mujeeb Bhutto, a friend of Bashir, was jailed for seven years by a UK court in 2005 over his role behind a high-profile kidnapping in Karachi the year before. He also took a £56,000 ransom payment in Manchester, BBC Newsnight reported.
Bhutto joined Ukip in 2011 and appeared frequently as the party's Commonwealth spokesman, but claimed to have left it in December 2013. However, correspondence recently released by Ukip suggests that Bhutto remains a member to this day.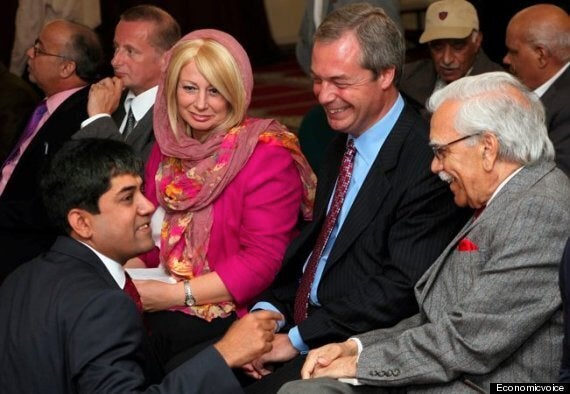 The Huffington Post UK understands that Bashir, the party's communities spokesman, managed to avoid telling Ukip officials about his friend's past before he was elected MEP for Yorkshire and the Humber in the 2014 European elections.
"In July 2013, it became apparent that Amjad's business partner had served a prison sentence for extremely serious offences - kidnap and extortion - and this was not disclosed," a senior source said. "They [still] knew before Bashir went onto the [candidates] list, we all knew, but head office made the call to turn a blind eye."
The party insider suggested that the vetting process may have especially lax as Nigel Farage was "absolutely determined to have an ethnic minority MEP".
A source close to the Ukip leader said: "The party holds its hands up and says we fucked up, the vetting process was nothing more than an informal conversation."
One senior Ukip figure, who complained to Farage about Bashir's position at the time, said: "We had fierce argument, and I told him 'You must withdraw this man, you cannot have somebody who is in business with somebody who has a serious criminal record, it's family, and he didn't declare it. He will be trouble further down the road', I said."
A Ukip spokesman said the party had made sure to tighten up its vetting procedures since then, adding: "We tried to follow the principle of trusting someone when they give you their word, but we've learned our lesson, and it looks like he's the Tories' problem now."
Ukip has, in turn, released a video ridiculing the Tories and their party chairman Grant Shapps for their apparent relaxedness about accepting Bashir as a new member.
Bashir has also come under attack over footage that has emerged of him puportedly meeting with Pakistani group MQM, which Canadian courts have ruled meets the legal definition of a terrorist group.
The revelation comes after Bashir announced his defection to the Tories on Saturday evening. But before the switch was made public, Ukip announced that Bashir had been suspended from the party for "extremely serious" allegations, including unanswered financial and employment questions.
Speaking to the Telegraph, prime minister David Cameron said he was "absolutely delighted" that the MEP was making the switch.
Earlier, Ukip said the MEP had been informed of the allegations, which also include claims of interference with the candidate selection process.
A Ukip spokesman said evidence obtained by the party in its investigations had been forwarded to the police. The spokesman said: "The UK Independence Party has a zero-tolerance policy and takes the matters at hand extremely seriously.
"Ukip will not tolerate anyone abusing their positions in the party, as we have a firm commitment to differing ourselves from the existing political classes. As a result, Mr Bashir's involvement with the party was suspended today with immediate effect pending further investigations."
Bashir has insisted that allegations levied against him are "nonsense", adding: "They [Ukip] don't want my defection to be seen as a major event."
Related