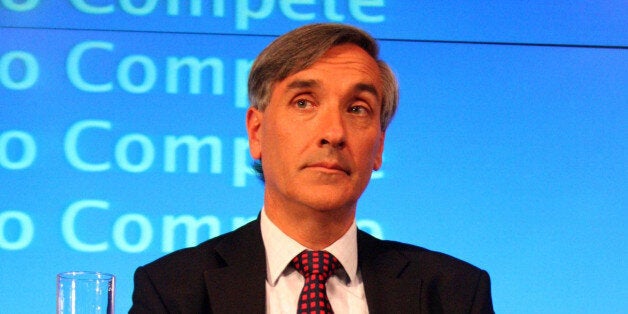 Redwood told a meeting of Tory activists in Westminster on Monday evening that British voters were becoming so European in their politics the risk was "you could never have a majority government" again.
"They want to be so like the continent that you have all sorts of oddball politicians turning up from oddball parties getting themselves elected," he said.
The veteran eurosceptic MP and former environment secretary said he believed David Cameron could win a majority in 2015 despite the polls, but warned: "it may even be the last election we could win."
He said: "If we don't win it and it produces the muddle [of another coalition], that may become the common pattern."
"I think it's very important our great party fights back and projects the image of a party which could form a good majority government," Redwood said. "We need to give them enough reason to elect a Conservative government."
"How do we win this election? I think there are some good offers we are putting out there. We need to work very hard to convince people they are the offers they want and they are the offers we can live up to and somehow we will lift the country out of this torpor or disappointment."
Today marks 100 days to go until the election and a majority Tory government appears extremely unlikely. However Labour and the Conservatives were level-pegging in two of the five most recent major polls and the largest gap was just three points in Miliband's favour.
Redwood said the combined poll rating of the Tories and Ukip showed "there are enough votes out there" for the party, it just needed to persuade half of potential Ukip voters that only the Conservatives can deliver an EU referendum.
He added that it was "pretty helpful" to have Ukip MEP Amjad Bashir defect to the Tories over the weekend "whatever his personal history" as it was good to have him delivering that message to voters. Redwood said defectors like Bashir could persuade eurosceptic voters to "put a peg on your nose and vote Conservative" in May.
Redwood also told the Conservative activists that he had been trying to persuade the prime minister to focus on getting a single one-on-one televised election debate between him and Miliband.
"My advice to David has been just have one debate, you and Miliband. I think that's the only serious debate that we all want to watch and that conforms with what we are trying to do, make it a contest between the two major parties," he said.
Redwood said Cameron had been "quite right" to veto the initial proposal from broadcasters that would have included a four-way debate between the prime minister, Miliband, Nick Clegg and Nigel Farage.
Cameron insisted he would not take part unless the Greens were invited. The broadcasters have since come back with new plans that would see the Green Party, SNP and Plaid Cymru included in two out of the three debates. "The wrecking proposal did its job," Redwood said.
Redwood mocked the "bizarre" Green Party for its proposal for a £71-a-week 'citizen's wage' and belief that it should not be a crime to just belong to a group such al-Qaeda. "The quintessential green policy I suppose is you get £71 a week in order not to have to work and then you can join al-Qaeda in order to have rather unpleasant pass-time on the state. Surely we ought to be able to beat people like that if that's the best they can offer," he said.