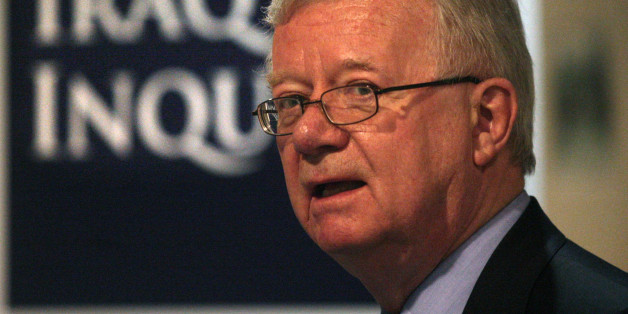 David Cheskin/PA Wire
Sir John Chilcot is to give evidence to the House of Commons Foreign Affairs Committee on 4 February about his delayed report into the Iraq war, the committee confirmed on Tuesday.
The announcement came as the UK's top civil servant denied suggestions he had intervened to stop the report being published before May 7. And a former Conservative cabinet minister agreed it would be "ideal" for the Tories if the report were made public in the weeks before polling day.
MPs and peers from all parties have expressed dismay that Chilcot's report into how Tony Blair led Britain to war in 2003 will not be published until after the general election.
Blair, who is expected to be criticised by the report, has said that speculation that he is responsible for forcing the delay as "incorrect" and "politically motivated".
Tony Blair quizzed over the Chilcot report at Davos
David Cameron, Ed Miliband and Nick Clegg have also said they would like to see the report published as soon as possible. However the prime minister has insisted he is not willing or able to rush its publication as the inquiry is independent of government.
On Tuesday afternoon Sir Jeremy Heywood, the cabinet secretary, claimed he was also "very frustrated" that the report, which was begun in 2009, was still not public.
"I don't think i have been responsible for delays to the Chilcot process," he told a committee of MPs. "John Chilcot will publish what he wants to publish."
MPs, led by former Tory leadership candidate David Davis, are set to debate the delay to the report in the Commons on Thursday. They hope that the debate and vote will force Chilcot to either publish his report before the election, or at least explain what the hold up is.
The objection to publishing the report immediately before the election is that its conclusions would be politicised. Miliband was not in parliament at the time the decision to go to war was taken and has distanced himself from it, while Cameron voted in favour of joining the invasion. However it is Labour that would likely take the biggest hit in the heat of a campaign.
Former Conservative cabinet minister John Redwood told a meeting of Tory activists on Monday evening that while it was "good" that Cameron could not force Chilcot to publish the report earlier than he wanted, it would be useful for it to come out sooner.
"Of course it would suit our party political interest for it to be published early April, it would be absolutely ideal," he said.
However he added there was "not a cat in hells chance of that happening" as it was "a genuinely independent inquiry".
Included in the final report will be 29 memos sent by Blair to president George W. Bush as the pair discussed the 2003 invasion. Heywood told MPs today that there would be a "very small number" of redactions from the letters, mostly on "comments made about other governments" and "non-Iraq issues."