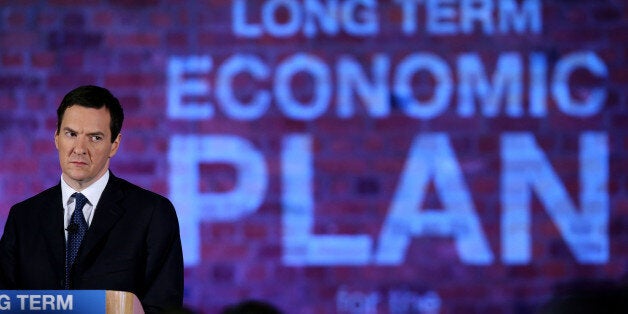 George Osborne's attempt to seize on new growth figures was limited by a stark report setting out how young children and poor households have been hit worst by his cuts.
The Office for National Statistics revealed that the UK economy grew by 0.5% from October to December of 2014, which was below market expectations of 0.6% and slightly down on the third quarter, which stood at 0.7%.
Statisticians also said it was too early to say if the rate of growth would continue to slow down.
The chancellor welcomed the latest figures on Twitter.
But international climate getting worse, & with 100 days to the election, now's not the time to abandon plan & return UK to economic chaos

— George Osborne (@George_Osborne) January 27, 2015
However, a study by academics at the London School of Economics (LSE), and the Universities of Manchester and York found that the coalition has failed to ensure the rich suffer worst from its economic austerity programme, with the result that the rate of poverty will keep increasing over the next five years.
The report also revealed that families with young children have been hit harder than any other under the Coalition's cuts, despite early rhetoric highlighting the importance of the "foundation years".
Real spending per child on early education, childcare and Sure Start services fell by a quarter between 2009-10 and 2012-13 and tax-benefit reforms hit families with children under five harder than any other household type.
Osborne has cut year-on-year public spending by less than 3%, but has made cuts of around a third to "unprotected" services, including those for pre-school children under five, vulnerable and older adults needing local authority social care, the report concluded.
In practice, people with health and care needs and children moving from pre-school to university frequently cross the boundary between protected and unprotected services.
Even "protected" areas such as the NHS have faced rising demands on fixed or falling budgets.
Programme leader, professor Ruth Lupton of the University of Manchester said the coalition's planned cuts have "limited its scope either to reduce the debt or protect the poor".
Meanwhile, Professor John Hills, head of the Centre for Analysis of Social Exclusion (CASE) at the LSE, said: "Protection of some of the core parts of the welfare state from the greatest cuts, and initial protection of the value of benefits, meant that those at the bottom and important services were initially shielded from the worst effects of the recession.
"But in the second part of the Coalition's period, selective cuts to benefits and to unprotected services have begun to take their toll, leaving the next government, of whatever kind, with much greater social policy challenges than the coalition inherited."