Party company Jokers Masquerade sells the Hannibal Lecter-inspired costume on its website, with a picture of a threatening man in an orange jumpsuit with a 'cannibal' mask over his face.
The 'skitzo costume' was described as "a [sic] eye-catching Halloween fancy dress idea" that would "make you look like a character straight out of a horror movie".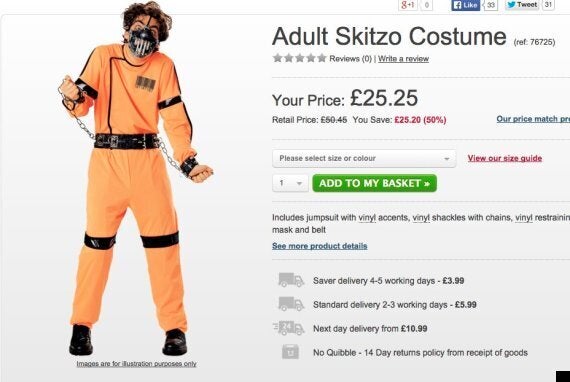 It included a jumpsuit with a barcode on it, shackles, a belt and "a restraining face mask to complete the look". The costume was supposed to look similar to an outfit worn by Anthony Hopkins when he played cannibalistic serial killer Hannibal Lecter in films like The Silence of The Lambs.
After a complaint, the Advertising Standards Authority (ASA) ruled that the word "skitzo" was offensive alongside the costume, because it encouraged readers to think that people with schizophrenia are dangerous and violent.
Advertising rules state that ads can't contain anything that is likely to cause "serious or widespread offence."
The ASA said: "We understood that the complainant considered that the ad misrepresented people with schizophrenia, because it implied they were violent and murderous.
"He considered that the ad contributed to the stigma surrounding mental illness."
The watchdog ruled that the web page should be removed, and warned Jokers Masquerade not to make references to mental health in the description of the costume.
Yet, the outfit still appeared to be on the website, and still under the title "skitzo costume", when The Huffington Post UK checked on Tuesday night.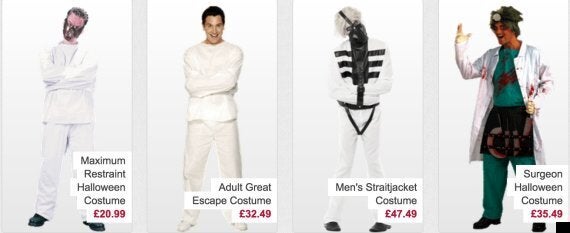 Other costumes on the site include a bloodied surgeon.
Jokers Masquerade said the costume was named 'skitzo' by the US company that supplied it, Rubies Masquerade and that it believed that "most of the descriptive content in the ad was factual information."
The joke.co.uk website also features costumes including a 'maximum restraint Halloween costume' including a straight jacket, and a 'surgeon Halloween costume' which transforms the wearer into a surgeon covered in blood, with a belt with bloodied knives attached.